The grind played out for about 5 months – including a sell-off in June ahead of earnings. Now, KB Home (KBH) finally managed to break out to a new high for the year.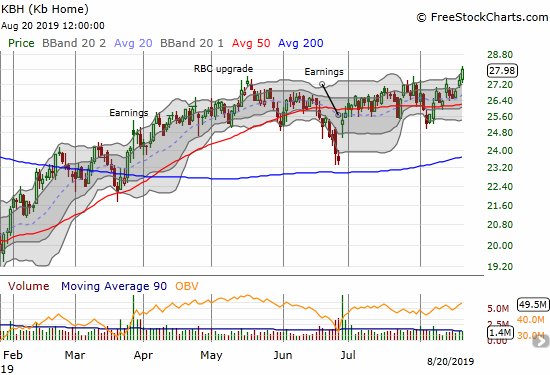 KB Home (KBH) finally joined the growing list of home builders breaking to prices last seen last year and earlier. KBH is at a 13 month high.
While KBH has a low valuation, I am still scratching my head at what now clearly looks like the market front-running the seasonally strong period for home builders (which begins in October/November). KBH reported earnings that were just lukewarm and showed key points of weakness despite the unabashed bullishness of management.
Catch-Up Time for Lennar
Lennar (LEN) has lagged the growing breakout among home builders, but it looks like catch-up time is finally here. I bought a call spread on LEN after its breakout above its 50-day moving average (DMA) earlier in the month. Today, LEN gained 1.8% on a fresh confirmation of its 50DMA breakout. With momentum building and a more bullish 401K stock market, this breakout should last for a run at least to 2019 highs. I will get more aggressive with LEN on dips; I have waited patiently for the ideal buying opportunities after assessing Lennar's last earnings report.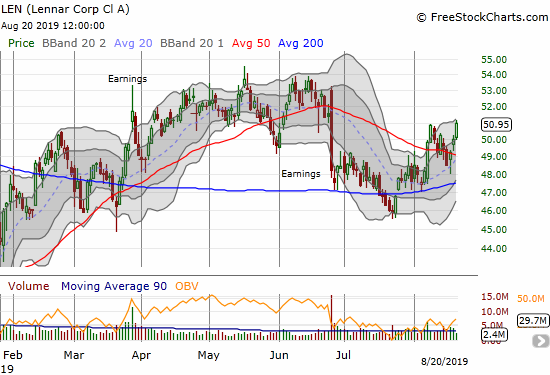 The Overall Picture
Rounding out the breakouts, the iShares Dow Jones Home Construction ETF (ITB) registered its own fresh breakout. This is exactly the moment I wish I had straight call options. Instead, I have a different trade in play including a January call spread on ITB. At least ITB looks well on track to hit my $44 upside target in the next 5 months.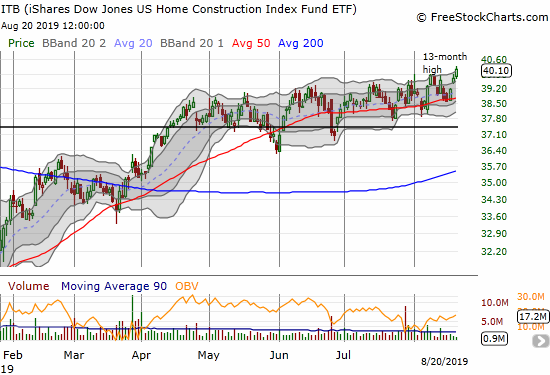 Meritage Homes (MTH) is a breakout "bonus." The stock printed an incredible 13-year after a large post-earnings breakout last month. Since then, the stock has churned in a tight range. The consolidation is now creating a Bollinger Band (BB) squeeze that looks ready to power a new and powerful breakout. If this BB squeeze instead transitions into a breakout, I will take such a setback as a major warning signal for the sector.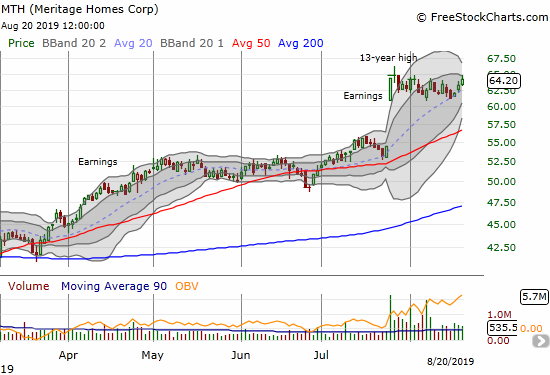 Be careful out there!
Full disclosure: long ITB call spread, long LEN call spread