Stock Market Commentary

The Presidential inauguration is a hallowed American tradition. The stock market celebrated the incoming Biden and Harris administration with new all-time highs on good trading volume. The start of a new American administration is as good a time as any to back down from my recent short-term bearish call. While this overbought period still looks tenuous, the price action renders even a short-term bearish call near meaningless. Sellers have yet to prove anything. Buyers gapped the market higher at the open and never looked back.
The Stock Market Indices
The S&P 500 (SPY) gapped up and never looked back. The index ended the day with a 1.4% gain and an all-time high. The trading action solidly confirmed last Friday's picture perfect test of uptrending support at the 20-day moving average (DMA).
The NASDAQ (COMPQX) out-performed as big cap tech reasserted itself. The tech-laden index gapped up and never looked back. It closed with a 1.9% gain and an all-time high.
Once again not quite in synch with the S&P 500 and NASDAQ, the iShares Trust Russell 2000 Index ETF (IWM) "only" gained 0.4%. At one point, buyers wavered and succumbed to a brief fill of the opening gap. IWM marginally managed to close at an all-time high.
Stock Market Volatility
The volatility index (VIX) pulled back 7.1% and closed right at the support line in place for the last 5 weeks. The positioning looks like a fresh launchpad for a burst of volatility.
The Short-Term Trading Call: Standing Down After Stocks Never Looked Back
AT40 = 73.7% of stocks are trading above their respective 40-day moving averages (day #6 of the overbought period)
AT200 = 89.1% of stocks are trading above their respective 200-day moving averages (TradingView's calculation).
Short-term Trading Call: neutral
AT40 (T2108), the percentage of stocks trading above their respective 40DMAs, gained a few percentage points and closed at 73.7%. While the move was not enough to convince me that the overbought period has staying power, the duration of overbought conditions passed my 5-day expiration on the short-term bearish trading call. As soon as I saw the gap open in the wake of the Presidential Inauguration, I knew it was it was time to stand down. Stocks never looked back, and I must do the same!
The S&P 500 is up 4.1% since I concluded that the end of the overbought period at that time ushered in the bear. Fortunately, the index failed to follow through to the downside. Accordingly, I never received a confirming signal to start shorting anything aggressively. Moreover, as I noted in earlier posts, I kept seeing bullish setups that were too good to pass up. Standing down to a neutral trading call allows me to avoid cognitive dissonance between my trading and my mindset. I cannot consider flipping back to bearish until the next descent below the 70% overbought threshold.
Today's rally put this overbought period back into positive territory. The S&P 500 is up 1.3% since this overbought period began. The index is already up 14.3% since the U.S Presidential election. These gains seem unsustainable in the short-term and beg for a pullback. However, clearly, the market remains very excited about the future and uninterested in looking back. I am loathe to remain a party pooper while the drums beat and the trumpets blare.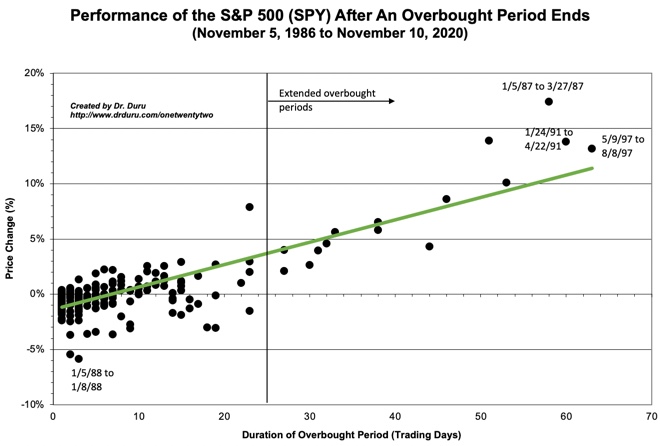 Stock Chart Reviews – Below the 50DMA
Quantumscape Corp (QS)
Battery technology company Quantumscape Corp (QS) came to life as a SPAC. QS makes solid-state lithium-metal batteries for EVs. Soon after the Presidential election the stock was making startling gains. Investors and traders chased the kind of green energy plays that might benefit under the new Biden administration and Democratic Congress. From election day to the all-time high on December 22nd, QS gained 913%. QS topped out just as rumors hit about Apple (AAPL) producing electric vehicles with new battery technology.
On January 4th, QS plunged 40% and confirmed a new bearish phase of trading. The announcement later that week of performance data failed to reignite excitement. Today's 7.2% loss on a 50DMA breakdown delivered fresh confirmation.
Stock Chart Reviews – Above the 50DMA
Acacia Communications Inc. (ACIA)
I completely lost track of Acacia Communications Inc. (ACIA). I thought the announcement of an acquisition by Cisco (CSCO) way back in July, 2019 was the end of the story. ACIA is still trading and last week the two companies finally settled a dispute over the merger deal. The final results are astounding. The chart says it all. The stock almost doubled from the original acquisition price.
Caterpillar (CAT)
I thought Caterpillar (CAT) would benefit from a day like today. Instead, CAT languished 0.9% and left me holding the bag on a fresh handful of call options. I plan to take the next swing ahead of earnings the morning of January 29th.
Goldman Sachs Group Inc (GS)
Financials were winners out of last week's earnings reports. This week is a slightly different story. Goldman Sachs Group Inc (GS) earned a 2.3% loss for its post-earnings efforts. GS followed through today with another 1.3% loss. I will likely buy if GS pulls back to uptrending 20DMA support.
Alphabet (GOOG)
The rumors of the "death" of big cap tech stocks have been greatly exaggerated. JP Morgan likely helped trigger the latest excitement with an upgrade of big cap tech stocks. Alphabet (GOOG) launched into a new all-time high with a 5.4% gain on strong volume. This breakout is quite bullish and makes GOOG a buy-the-dip stock as long as the breakout holds.
iShares Trust US Home Construction Fund (ITB)
The surge in the stocks of home builder stocks caught me completely by surprise. I was prepared to watch the months long trading range continue dragging out and even lead to a small breakdown. All the sudden, ITB broke out to an all-time high on a 4.2% gain. Like the major indices, ITB gapped open and never looked back. I could find no new news to explain the move. This sudden rally reminded me why I stick by the seasonal trade in home builders no matter what else is going on.
KB Home (KBH)
I was definitely prepared to wait around for weeks more in KB Home (KBH). The home builder reported earnings last week. The stock gapped open but quickly sold off. Buyers stepped in with increasing force the subsequent four days. I took profits as KBH traded well above its upper Bollinger Band (BB).
Meritage Homes Corporation (MTH)
Home builder Meritage Homes Corporation (MTH) gained 9.4%. The move confirmed a 200DMA breakout as well as punched a 50DMA breakout. MTH remains one of my favorite builders. However, the stock continued to trend downward from its last earnings report. This breakout gives me the signal to buy even ahead of earnings on January 27th.
Netflix (NFLX)
Speaking of standing down from bearishness, Netflix (NFLX) wiped away my lingering bearish sentiment with an impressive post-earnings breakout. NFLX gained 16.9% on its way to an all-time high. The lines of the 6-month trading range are drawn at stock closing prices.
U.S. Steel (X)
I am still waiting for a new entry point in steel names like U.S. Steel (X). The rally went on pause after last week's near 2-year high. A test of 20 and/or 50DMA support works as a fresh entry point. X is another stock I figured would rally impressively on a day like today.
Be careful out there!
Footnotes
"Above the 40" (AT40) uses the percentage of stocks trading above their respective 40-day moving averages (DMAs) to measure breadth in he stock market. Breadth indicates the distribution of participation in a rally or sell-off. As a result, AT40 can identify extremes in market sentiment that are likely to reverse. Above the 40 is my alternative name for "T2108" which was created by Worden. Learn more about T2108 on my T2108 Resource Page. AT200, or T2107, measures the percentage of stocks trading above their respective 200DMAs.
Active AT40 (T2108) periods: Day #68 over 20%, Day #52 above 30%, Day #51 over 40%, Day #50 over 50%, Day #49 over 60%, Day #6 over 70% (day #6 overbought)
Source for charts unless otherwise noted: TradingView.com
Full disclosure: long UVXY shares and calls, long SPY put spread, long CAT calls
FOLLOW Dr. Duru's commentary on financial markets via email, StockTwits, Twitter, and even Instagram!
*Charting notes: FreeStockCharts stock prices are not adjusted for dividends. TradingView.com charts for currencies use Tokyo time as the start of the forex trading day.