It seems every week I need to generate new superlatives to describe the epic collapse in the stock market. For the housing-related stocks, forget animal spirits getting trampled. This time around the walls have all caved in on the sector. Today's third crash during this sell-off in the stock market featured a complete collapse in housing and construction related stocks that signals/confirms an investor scramble to price in the likelihood of a recession and a calamitous slowdown in the housing market.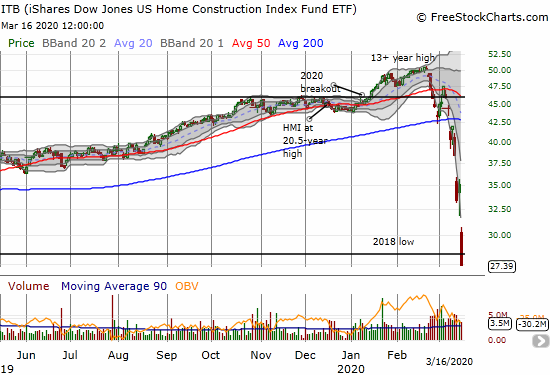 The list of the carnage is absolutely mind-boggling and the swiftness of the collapse is breathtaking. The table below is a large sample from the list of housing-related stocks I follow. I list the name of the stock, today's change (loss), the total change (loss) from the last high, and the relative level (low) of the stock. The stocks are listed in reverse order of their loss today.
COMPANY NAME (STOCK SYMBOL)
TODAY'S
CHANGE
CHANGE
FROM
HIGHS
RELATIVE
LEVEL
Taylor Morrison Home (TMHC)
-35.6%
-66.8%
All-time
Century Communities (CCS)
-33.5%
-58.9%
4-year
KB Home (KBH)
-30.2%
-59.9%
3-year
M/I Homes (MHO)
-29.2%
-64.5%
4-year
LGI Homes (LGIH)
-29.8%
-55.8%
15-month
Toll Brothers (TOL)
-29.3%
-61.4%
8 1/2 – year
M.D.C Holdings (MDC)
-29.1%
-56.4%
4-year
Realogy Holdings (RLGY)
-28.1%
-69.6%
All-time
U.S. Concrete (USCR)
-24.9%
-79.2%
7-year
Tri Pointe Group (TPH)
-24.8%
-51.1%
All-time
Lowe's Companies (LOW)
-24.8%
-42.6%
2 1/2 – year
Meritage Homes (MTH)
-24.5%
-53.7%
15-month
Beazer Homes (BZH)
-24.0%
-65.0%
11-year
Zillow Group (ZG)
-23.1%
-57.4%
15-month
Five Point Holdings (FPH)
-22.0%
-49.3%
All-time
Pulte Homes (PHM)
-21.1%
-48.6%
16-month
D.R. Horton (DHI)
-20.2%
-49.5%
3-year
Redfin Corporation (RDFN)
-19.8%
-57.6%
All-time
Home Depot (HD)
-19.8%
-33.2%
15-month
Lennar (LEN)
-19.6%
-48.4%
5-year and 7-month
Sherwin-Williams Co (SHW)
-18.7%
-31.9%
13-month
Owens Corning (OC)
-18.5%
-50.3%
5-year and 3-month
Acuity Brands (AYI)
-11.9%
-41.1%
7-year
For most stocks, the change from highs measures just 3 to 4 weeks of selling. Along the way, I rebuilt a small portfolio of these stocks as part of the seasonal trade on home builders. The stock market crash completely blew away that strategy for the rest of the season (ending in April/May). Still, the on-going declines have created a swath of what I think are irresistible bargains for more normal times. Home builders are considered priced for an economic calamity when they trade below book value. Home builder stocks like KBH, CCS, TOL, LEN, and TMHC have book values around 0.7, 0.5, 0.5, 0.7, and 0.5 (calculated from Yahoo Finance) respectively. These are rock bottom valuations last seen around the time of the big post-recession trough in housing in 2011/2012.
Speaking of trough, of the stocks that did not hit all-time lows, Toll Brothers (TOL) sticks out as a stock which completely reversed its gains from the big 2012 breakout. The weekly chart below speaks volumes.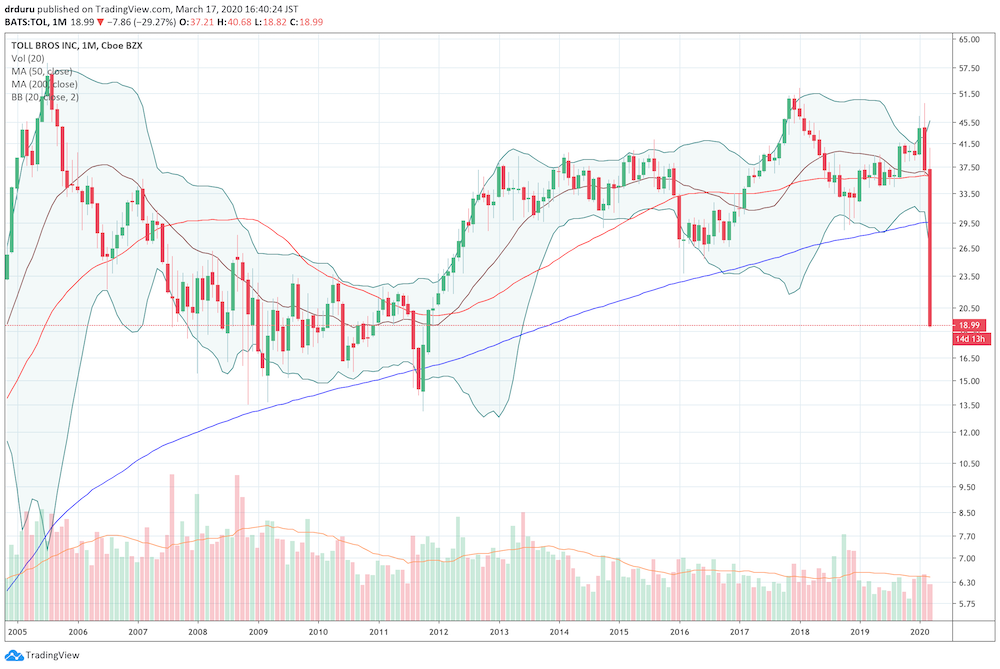 I made the mistake of focusing on accumulating TOL because I read through the transcript of the last earnings report and concluded that investors over-reacted. On that basis, I looked forward to a reversal in sentiment by the next earnings report. The coronavirus-related implosion essentially makes past earnings statements nearly irrelevant. Instead, Toll Brothers now suffers from a highly levered balance sheet with debt/equity at 88. Builders plumbing all-time lows are also getting hit by debt-related penalties, like Taylor Morrison Home (TMHC) which made a major acquisition at exactly the wrong time.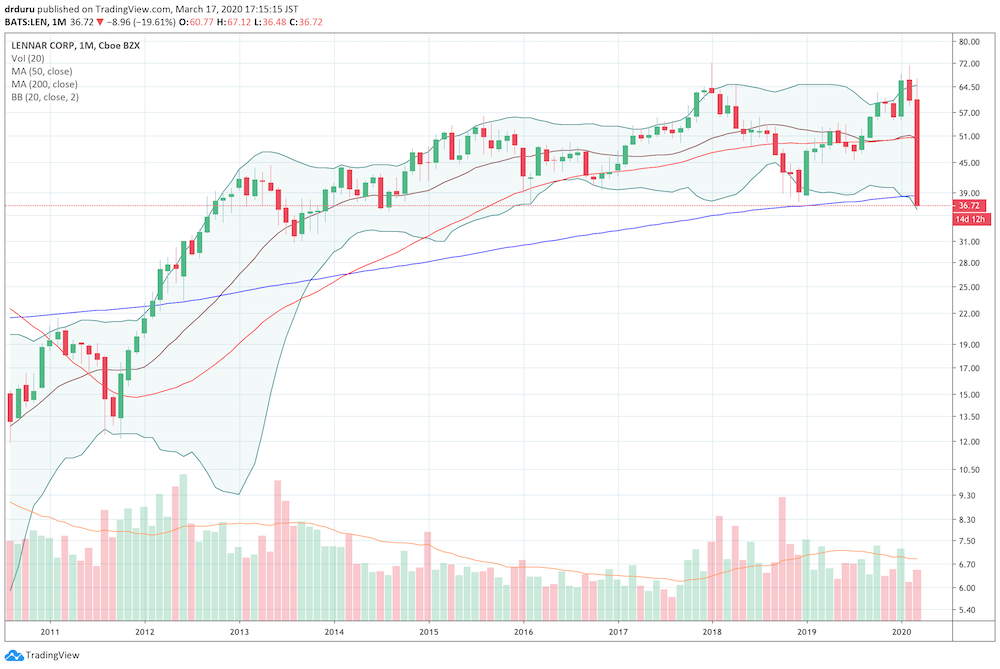 Spec Homes Will Weigh Heavily
The timing of this implosion catches the housing industry at a particularly vulnerable time because it is gearing up for a major Spring selling season. Starting last year, encouraged by declining mortgage rates thanks to Fed rate cuts, buyers rushed back into the market. Buyers have focused on affordable, lower-priced homes (so much so that even Toll Brothers was forced to start pivoting its strategy to lower-priced luxury homes!). To meet the demand builders were significantly ramped up starts. A lot of builders stocked up on "spec homes" which are speculative homes built in advance of anticipated demand. That demand is likely evaporating as I type, and it will leave these builders in tight capital positions. Average selling prices are already suppressed thanks to the pivot to lower-priced homes. Now, builders with spec inventory will be competing with each other to increase incentives and lower price just to liquidate inventories.
I am guessing these builders who spent years very carefully managing their businesses based on the hard lessons of the housing bubble and subsequent crash will emerge from this virus crisis even more reluctant to help increase housing supply (as the National Association of Realtors so eagerly wants them to do). Once buyers finally deplete existing supplies of homes, the industry will likely re-pivot to building to demand.
Nervously Awaiting Earnings Season
So while the U.S. housing market is being sold for a major discount and firesale, I am stepping aside for a moment out of an abundance of caution. I am sitting on what I already own. If the panic keeps intensifying, many home builder stocks could go a lot lower just from a technical standpoint. I am sure there will be large bounces from oversold levels, but those rallies will likely be short-lived. Investors will be on edge awaiting news on the depth of problems in the sector. The first big post-collapse earnings report comes from KB Home on March 26th. I plan to listen to that conference call if possible so I can report on key take-aways as soon as possible.
Be careful out there!
Full disclosure: long ITB shares and call options, short MTH put, long TOL shares and calls, long KBH calls, long LEN calls, long LOW shares and calls, long RDFN, long USCR, long CCS, long FPH