Google trends provides a measure of the popularity of Google search terms. The data can indicate relative popularity and interest in a topic. I use the search on "Bitcoin" as a trade indicator called the Google Trends Momentum Check (GTMC). During my checks on the GTMC, I noticed for quite some time the African nations of Nigeria, South Africa, and Ghana dominated the top 5 countries in worldwide search interest in Bitcoin (BTC/USD). The ranks started to change this year. South Africa was the first to fall from the top 5. Ghana fell next. Implosions of Turkish crypto exchanges helped knock Nigeria from the top ranks. Turkey, Austria, and Singapore rose up to replace this triumvirate of African nations.
Bitcoin Africa 2020
Over the course of 2020, Nigeria was the clear leader in searches on Bitcoin. Nigeria solidly held the maximum index of 100. South Africa was a distant second with an index of 44. These indices mean that South Africa had 44% of the searches on Bitcoin that Nigeria had. The rest of the top 5 were relatively close with Ghana coming in #5.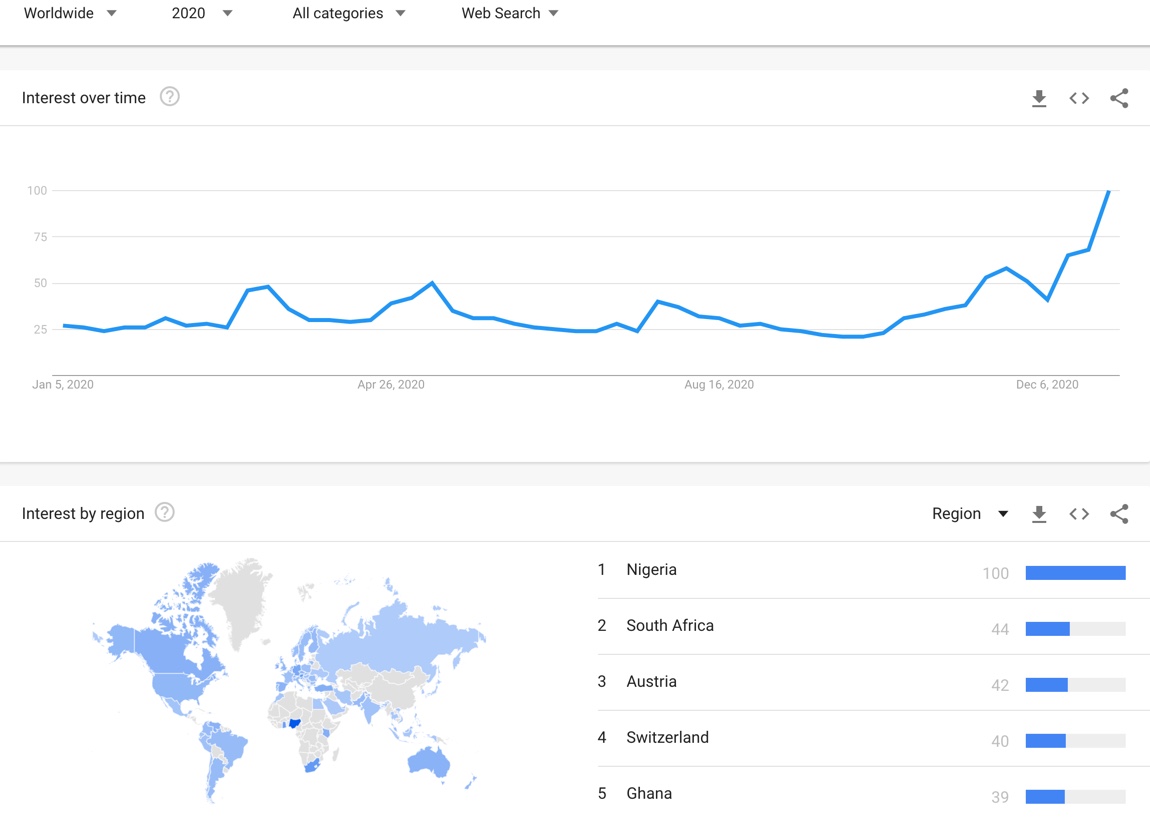 Note that the surge in searches at the end of the year coincided with a continued run-up for Bitcoin (BTC/USD). The cryptocurrency soared 47.2% in December with almost all the gains coming in the final two weeks of the year.
The year 2021 features a different set of top players that pushed all three African nations out of the top 5. Austria and Switzerland held onto positions in the top 5. Turkey, the Netherlands, and Slovenia pushed out Nigeria, South Africa, and Ghana. Nigeria is #6 for 2021. South Africa fell to #15 and Ghana fell all the way down to #27.
The individual country level activity of the African nations shows that interest remains high relative to 2020 levels. Indeed, search interest in some cases intensified in 2021. Citizens in other countries ramped up their search activity even more.
Turkey
As an example of how other countries supplanted the African nations, Turkey skyrocketed to the top of the list first thanks to a Turkish ban on cryptocurrency for payments (April 16). The move was likely part of Turkey's efforts to get tighter control on its spiraling currency. The very next week, two Turkish crypto exchanges imploded. The drama started on April 21st when the Thodex exchange, based in Istanbul, suddenly ceased trading activities. The next day, founder Faruk Fatih Ozer reportedly fled the country with $2B. The resulting surge in searches in April exceeded the jumps in January and February that followed worldwide patterns. Only news of a fresh collapse, this time in the price of Bitcoin and other cryptocurrencies caused Turkish searchers to intensify their searches even more.

Given Turkey's ascendency came from negative structural events that may restrict access and/or reduce trust in crypto, I suspect Turkey will not stay on top of the leaderboard for the rest of 2021.
I now turn to the former African leaders for a review of the changes that helped them lose pace with other countries.
South Africa
South Africa did not drop from the top 5 for lack of trying. Bitcoin searches surged to start the year and at one point doubled at January's peak. Subsequently, search interest dropped to the levels from the 2020 highs until the May calamity that carved out a bottom in price for Bitcoin. In other words, South Africa did not lose position because of waning search interest.
Related topics and queries can provide more insight on the specifics of search interest. In 2020, South African Bitcoin enthusiasts were eyeing Bitcoin Vault (BTVC), Mining City, and trading platforms.
Mining City promised to provide access to crypto mining to the masses. According to Coin Insider, Africa has the most investors in Mining City. Coin Insider describes the connection between Mining City and Bitcoin Vault: "By joining Mining City and choosing one of the plans on offer, the investor rents computing power that empowers them to mine Bitcoin or Bitcoin Vault (BTCV) at a certain rate and speed. That speed is connected to the high-tech mining computers. Apart from Bitcoin mining, Mining City also provides a referral plan that allows subsidizing the income from mining alone." As of the time of writing, I cannot access the Mining City website (from the U.S.). The Bitcoin Vault also made headlines last year as a potential technical solution to reducing the theft of Bitcoins. Bitcoin Vault (BTCV) started trading on crypto exchanges this year.
However, this year, South Africans lost (relative) interest in both Mining City and the Bitcoin Vault. Even the severe plunge in price in May did not generate the same kind of spike in searches as the rest of the world (in aggregate). Recall that this surge in searches helped signal a bottom for Bitcoin (and Ethereum). Even the regional interest shifted in South Africa with the North West completely falling out the top 5 in favor of Western Cape and new entrant Gauteng. This shift in regional interest brought a shift in topic and query interest. Instead of trading platforms or Bitcoin Vault, this year's of South African searchers expressed much more interest in Elon Musk and Dogecoin. The two are of course interlinked given Musk's constant promotion of Dogecoin on platforms like Twitter (TWTR).
Ghana
Like South Africa, Ghana did not drop from the top ranks from lack of interest. Indeed, Ghanaians searched more for Bitcoin through most of 2021. Searches surged to start the year in January and February and doubled at January's peak. Like much of the rest of the world, Ghanians rushed to search for Bitcoin in the midst of the May calamity that carved out a bottom in price. Ghana fell out of the top 5 countries in the world because of an increasing intensity from the countries that jumped into the top 5.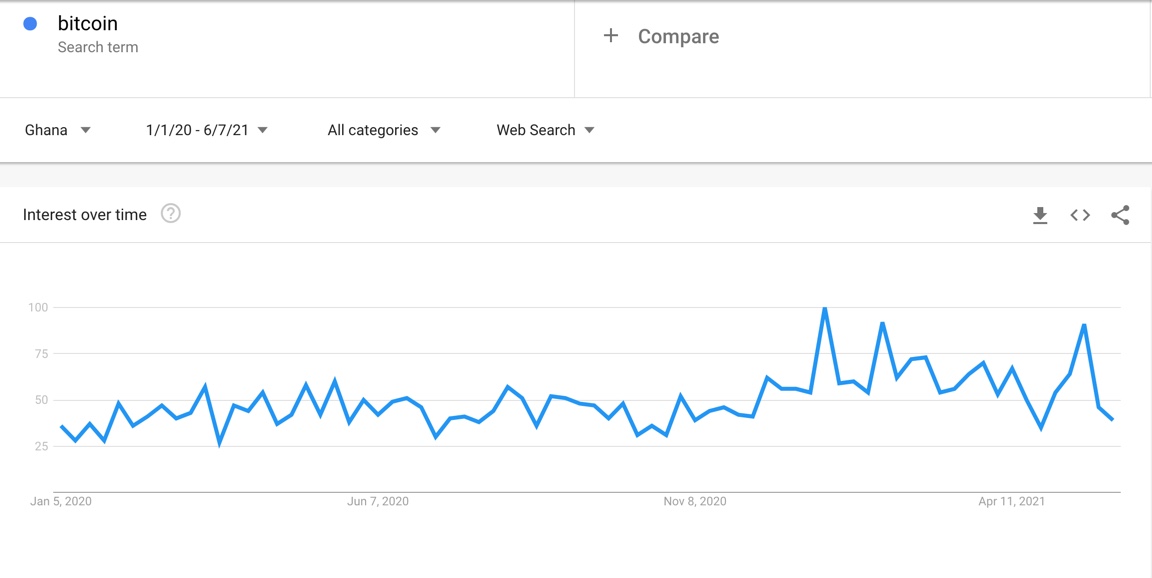 In 2020, Ghanaians had a broad and sophisticated range of interest in Bitcoin from figuring out how to mine it, store it, and trade it. Related topics covered a wide range of fintech and payment solutions.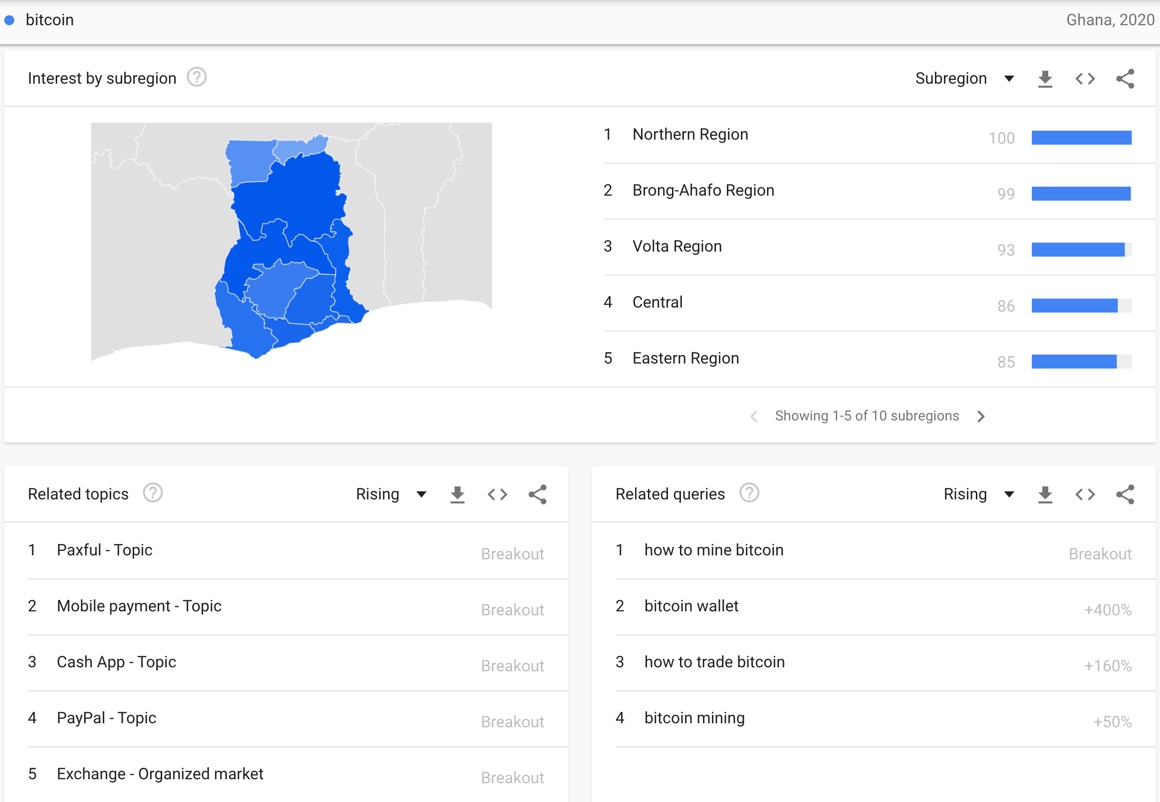 In Ghana, Bitcoin searches changed in 2021 as interest shifted from action to monitoring news and price. Perhaps 2020's activity was all about setting up infrastructure and making investments to watch grow in 2021. The top two Ghanaian regions easily maintained their rank, but the Greater Accra Region jumped to #3 with Central and the Eastern region dropping from the top 5. The related topics also changed from fintech to many of the news items that caught buzz around the world.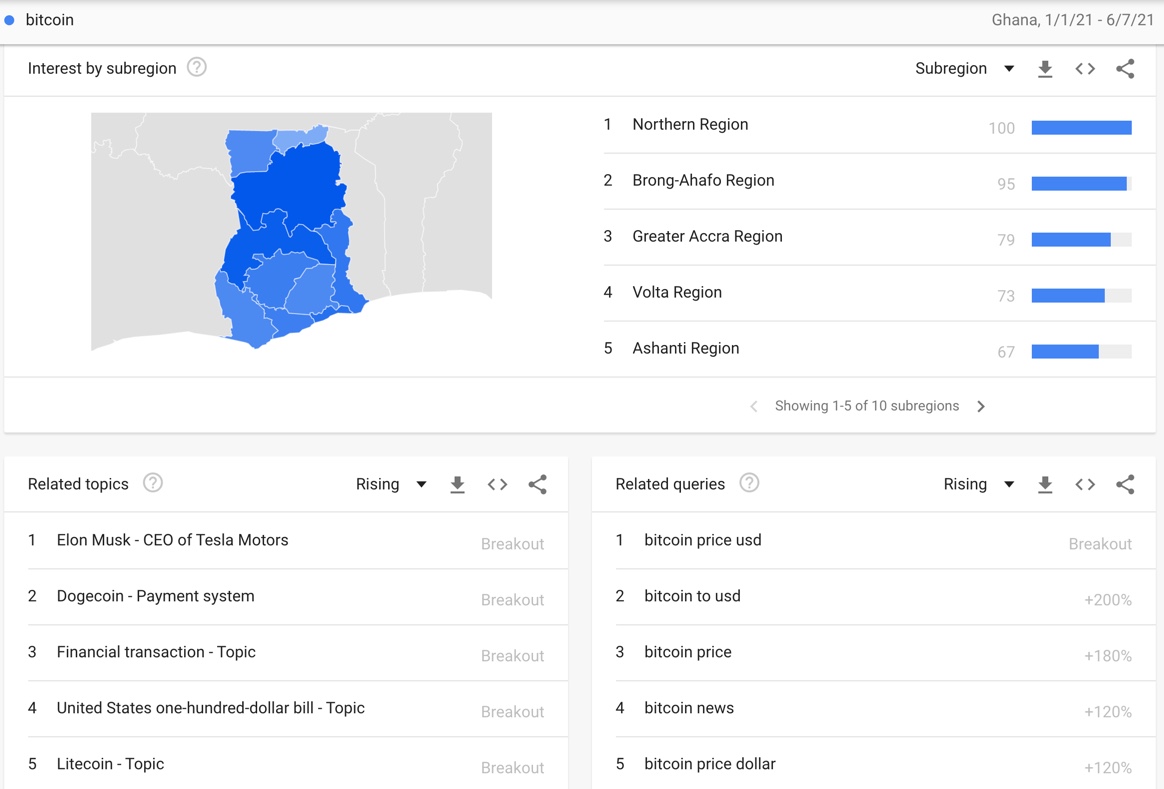 Nigeria (ousted by Elon Musk and Tesla)
Nigeria held the #1 rank in worldwide Bitcoin searches until February 9, 2021. The previous day, Tesla (TSLA) disclosed a $1.5B purchase in Bitcoin and the ability for customers to use Bitcoin to buy Tesla vehicles ("Tesla buys $1.5 billion in bitcoin, plans to accept it as payment"). Accordingly, it appears this event was pivotal for many reasons and helped reshape the entire search landscape for Bitcoin. Musk ignited a worldwide frenzy that broadened and intensified search interest.
As in South Africa and Ghana, Google searches for Bitcoin in Nigeria intensified from 2020 to 2021. However, Nigeria did not participate in the Tesla-driven February spike in searches and that divergence likely helped oust Nigeria from the #1 position. Likely keeping Nigeria lingering just below the top 5 countries is the intensified search activity from the May crypto calamity. Last month, Nigerian searches generated new highs unlike in South Africa and Ghana. However, the Nigerian government recently reiterated its admonishment to its financial institutions against crypto transactions. If the Nigerian government goes the way of Turkey, then I think Nigeria will fall further down the ranks this year.
In 2020, Nigerian Bitcoin searchers were most interested in the big news around the Bitcoin halving. Nigerians also looked for ways to load up on Bitcoin. Gamification helped make Nigeria #1 in Bitcoin searches, and it looks like Bitcoin Black was part of the fun and frenzy. I was surprised that Africa's most populous city Lagos was only #17 in Nigerian Bitcoin searches last year (not shown below).
This year, Nigerians swung their Bitcoin search interest to the buzz around Elon Musk and cryptocurrencies. Ironically, this shift in attention was not enough to hold Nigeria's #1 position or its top 5 rank. Nigerians also looked up news on the Central Bank of Nigeria's (CBN) "crackdown" and bans. They also searched for alternative trading platforms – no doubt looking for pipelines that could avoid government controls.
Can African Nations Lead Again?
Given the news and trading developments so far in 2021, I do not think the African triumvirate of Nigeria, South Africa, and Ghana will return to the top 5 anytime soon. Nigeria still has a chance to pop in and out of the top 5 if the country's currency, the Niara, continues to deteriorate and government regulation proves ineffective in constraining choice for Nigerians. However, it is clear that Elon Musk (and Tesla) was a bigger game changer for Bitcoin interest than I originally imagined. Such milestones can signal a change in the guard. Apparently, such a transition is underway at the national level of search interest ranking.
Other National Ranking Changes
Google trends does not provide a way to compare trends across countries. I pieced together some of the comparative story using different slices of time and individual country search trends. See below for some additional key milestone dates and date ranges.
On March 4, 2021, Switzerland supplanted Ghana for the #5 spot in worldwide Google searches for "Bitcoin" over the previous 5 years. Ghana fell to #6.
By April 10, 2021, the Netherlands jumped to #5 and pushed Slovenia and Ghana down each a notch. Netherlands searches have really intensified recently. Does the country have a significant population of Turks who got hurt in the Turkish crypto exchange scandals?
From February 1st to March 3rd, the top 5 countries in Bitcoin searches completely changed. Nigeria fell to #8 at one point. Turkey and Austria experienced surges on February 23. Switzerland and Singapore experienced February 23rd surges but neither as high as February 9th.
Canada also had spikes on Feb 9 and Feb 23.
Nov 1 – Dec 1; Dec 1 – 31, 2020 Nigeria # 1 and South Africa #3
Oct 1 to 31, 2020, Cuba #2 and the rest of countries were ALL African! Strange that none of the top related topics or related queries involved any of these countries.
Be careful out there!
Full disclosure: long Bitcoin, long TWTR, short USD/TRY, long TSLA put spread