Stock Market Commentary
In my last post, I concluded that the stock market rebound made the market look "stronger than before." Today's big rally went beyond the call of duty. The S&P 500 (SPY) and NASDAQ (COMPQX) showed off their increased strength by closing well above their respective upper Bollinger Bands (BBs). While its gain was smaller, the SPDRs Select Sector Financial ETF (XLF) caught my interest even by confirming a long overdue breakout above resistance at its 200-day moving average (DMA). Bulls added a piece of the puzzle by punching financials into a bullish position.
This index of financial stocks closed above its 200DMA for the first time since the stock market collapse began in late February. Today's 1.1% gain confirmed this bullish breakout even as XLF remains short of the June high. This piece of the puzzle adds to the bullish tenor of the stock market and likely triggers more buying rules with money managers.
The Stock Market Indices
The S&P 500 (SPY) continued a trip through its upper Bollinger Band (BB). A 1.6% gain marked the index's second highest ever close. However, the acceleration to the upside presents a counter challenge. Whenever a stock or ETF stretches well above its upper-BB, it takes on an unsustainable pace. Buyers become exhausted and/or profit-takers step in. Either way, the S&P 500 is at increased risk of at least a "cooling" period before gathering the energy to break out to a new all-time high.
The NASDAQ (COMPQX) is keeping pace with the stock market rebound. The tech-laden index surged 2.6% and accelerated into the gap down from the all-time high. Like the S&P 500, the NASDAQ's stretch well above its upper-BB greatly increases the chances for some cooling before fireworks resume.
Remaining Challenges for the Stock Market's Puzzle
The vote of the currency market looms over the latest piece of the puzzle for a bullish stock market. The Australian dollar versus the Japanese yen (AUD/JPY) stopped going up at the end of last week. This divergence from the stock market typically signals an imminent end to upward momentum in the general stock market. Recall that AUD/JPY is a good proxy for underlying risk attitudes in financial markets.
Notice how AUD/JPY sold off for the month of September in parallel with the sell-off in the S&P 500. AUD/JPY confirmed a potential bottom in the S&P 500 the day the last oversold period ended.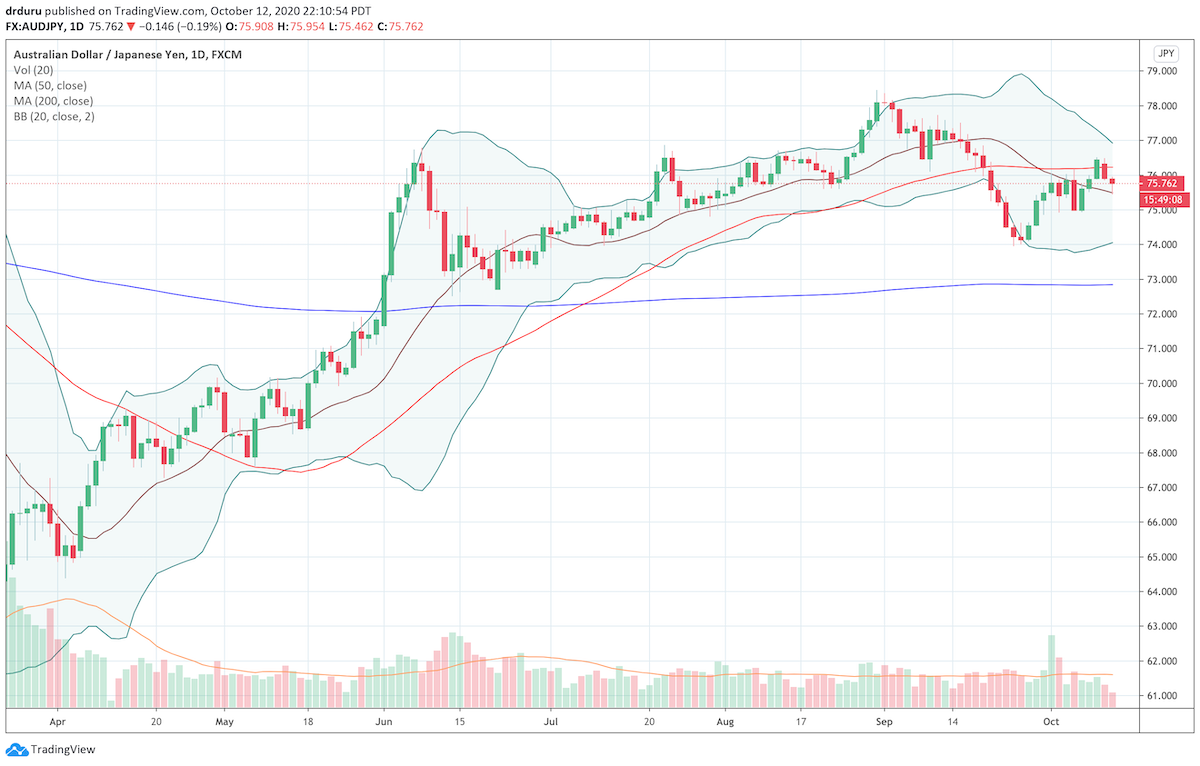 This divergence is important because AT40 (T2108), the percentage of stocks trading above their respective 40DMAs, is creeping ever so closer to the overbought threshold of 70%. I am ready to flip neutral on the stock market if AT40 goes overbought in coming days. I will get even more wary if AT40 gets rejected from the overbought threshold along with fresh selling in AUD/JPY.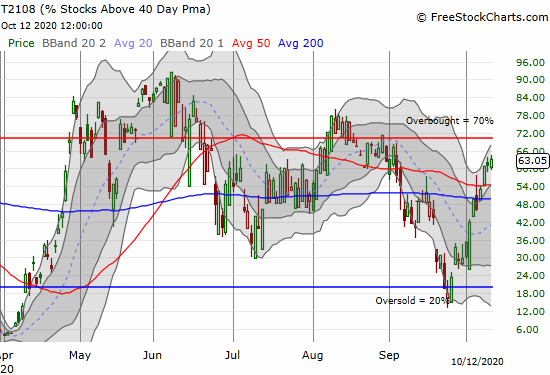 Be careful out there!
Full disclosure: short AUD/JPY