Stock Market Statistics
AT40 = 23.3% of stocks are trading above their respective 40-day moving averages (DMAs) (ended 2-day oversold period)
AT200 = 38.6% of stocks are trading above their respective 200DMAs
VIX = 26.4
Short-term Trading Call: cautiously bullish
Stock Market Commentary
The oversold period lasted just two days, a typical length of time for oversold periods. The oversold stock market conditions end with an immediate challenge. The stock market's next challenge sits just overhead in the form of resistance from 50-day moving averages (DMAs) on the S&P 500 (SPY) and the NASDAQ (COMPX).
The Stock Market Indices
The S&P 500 (SPY) treated the 2019 close as perfect support. The index touched this support four out of the last 5 days. Friday's 1.6% gain took the S&P 500 back to the top of the channel formed by its lower Bollinger Bands (BB).
The NASDAQ (COMPQX) is not constrained by the channel formed by its lower BB. Overhead resistance from the 50DMA sits directly overhead after a 2.3% gain on Friday.
Small caps have a different challenge. The iShares Russell 2000 Index Fund ETF (IWM) is trying its best to avoid a bearish 200DMA breakdown.
Stock Market Volatility
The volatility index (VIX) never got going much last week. Outside of two days, the VIX essentially refused to confirm the selling pressures in September. However, with all the presumed economic, political, and macro risks facing the stock market, I am still treating a languid volatility index as an opportunity to buy backside protection on the cheap.
The Short-Term Trading Call
AT40 (T2108), the percentage of stocks trading above their respective 40DMAs, popped out of a 2-day oversold period and closed at 23.3%. The conservative oversold trade triggers buys after the end of the oversold period. I already made purchases during the oversold period, and I am not interested in adding more until the next confirmation of bullish sentiment. A 50DMA breakout for the S&P 500 will do the trick. At that point, I will switch from cautiously bullish to bullish and assume downside risks are greatly diminished. However, I am looking to go into that next bullish phase with a clean slate after taking profits on the early oversold buys.
As usual, I will take the next steps one day at a time.
Stock Chart Reviews – Below the 50DMA
The Walt Disney Company (DIS)
The Walt Disney Company (DIS) is fighting to hold on to 200DMA support. If the fight fails, DIS is likely headed to a fill of July's post-earnings gap up. Recall that a lot of stocks gave up post-earnings gains in this month's sell-off. I have DIS on my shopping list if/when it closes above its 50DMA.
Boeing (BA)
Boeing (BA) last peaked in June and has not been the same since. Resistance at its 50DMA has held firm for almost two months. If the market turns bearish again, BA goes on my shorting list.
Qualys (QLYS)
Qualys (QLYS) is one of the few stocks I sell call options against. I am putting those sales on hold as the stock attempts to confirm a 200DMA breakout. I will go back to the regularly scheduled programming at 50DMA resistance.
Stock Chart Reviews – Above the 50DMA
Caterpillar (CAT)
With market sentiment turning around, I did something I have not done in a very long time: I went long Caterpillar (CAT). I bought a single October call to speculate on 50DMA support holding and acting like a launching pad.
Lithium Americas Corp (LAC)
An online friend alerted me to Lithium Americas Corp (LAC) on September 16th. Given my bearish market posture at the time I tucked LAC on to the shelf. A 50DMA test later, and I jumped in. Elon Musk's comments about battery shortages for Tesla (TSLA) pushed me to move. The market sold LAC on the news presumably because battery manufacturing constraints could lead to a glut of lithium. Even if a glut unfolds, the situation should be short-term as the industry rushes to increase manufacturing capacity and in turn ramp the demand of lithium right up.
Upwork (UPWK)
Upwork (UPWK) is finally waking up again. I like the way UPWK held 50DMA support after the post-earnings pullback. I looked to sell calls against my position, but the premiums were too low. The options pricing suggests the market expects little near-term upside from here. Still, I am sticking with UPWK (click here to see past analysis on UPWK).
Bullish 200DMA Breakout
Martin Marrietta Materials (MLM)
Now that I am bullish again, I am re-introducing the bullish 200DMA breakout section. Martin Marrietta Materials (MLM) is attractive because it is in the materials space that I prefer for bullish plays going forward. Recall that I was concerned about MLM just a month ago after a 50DMA breakdown. MLM spent a few weeks working through that resistance on the way to the current challenge of 200DMA resistance.
— – —

FOLLOW Dr. Duru's commentary on financial markets via email, StockTwits, Twitter, and even Instagram!
"Above the 40" uses the percentage of stocks trading above their respective 40-day moving averages (DMAs) to assess the technical health of the stock market and to identify extremes in market sentiment that are likely to reverse. Abbreviated as AT40, Above the 40 is an alternative label for "T2108" which was created by Worden. Learn more about T2108 on my T2108 Resource Page. AT200, or T2107, measures the percentage of stocks trading above their respective 200DMAs.
Active AT40 (T2108) periods: Day #1 over 20% (overperiod ended 2 oversold days), Day #3 under 30% (underperiod), Day #5 under 40%, Day #14 under 50%, Day #16 under 60%, Day #19 under 70% (note I failed to update these numbers in the last AT40 post).
Daily AT40 (T2108)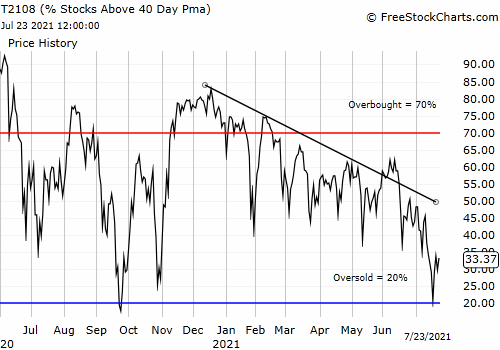 Black line: AT40 (T2108) (% measured on the right)
Red line: Overbought threshold (70%); Blue line: Oversold threshold (20%)

Weekly AT40 (T2108)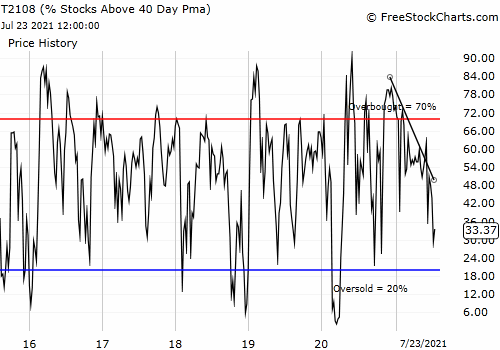 *All charts created using FreeStockCharts unless otherwise stated
The T2108 charts above are my LATEST updates independent of the date of this given AT40 post. For my latest AT40 post click here.
Be careful out there!
Full disclosure: long QQQ put spread, long UVXY, long QLYS, long UPWK, long CAT call, long LAC
*Charting notes: FreeStockCharts stock prices are not adjusted for dividends. TradingView.com charts for currencies use Tokyo time as the start of the forex trading day. FreeStockCharts currency charts are based on Eastern U.S. time to define the trading day.