This is a moment of truth for the stocks of homebuilders.
The iShares Dow Jones Home Construction ETF (ITB) last week hit a 21-month high that exactly coincided with a climactic high in January, 2018. The subsequent selling this week seemed to unfold like clockwork. The selling was particularly notable given the S&P 500 (SPY) clung to its own all-time highs despite a growing bearish divergence in the stock market.
ITB fell as low as $43.69 ahead of the announcement on monetary policy from the Federal Reserve. That drop was a quick 4.1% retreat from the 21-month closing high which also finished a complete reversal of the last breakout. The rebound of the lows created a "hammer" candlestick chart pattern. The bottoming pattern still needs confirmation with follow-on buying.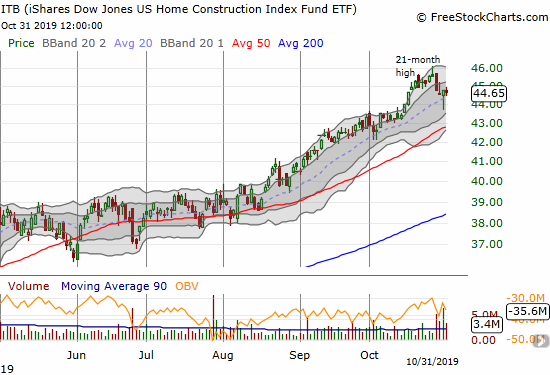 This quick retreat took on even more significance because three home builders reported earnings this week, and all three suffered poor receptions from traders and investors. All of the sudden, the market looks less forgiving toward home builders and sentiment is sending hints of souring. I also duly noted that all three home builders have businesses highly concentrated on lower-priced homes and lower-priced housing markets. Given the surging demand from first-time home buyers this year, the stocks of these builders delivered early breakouts ahead of the seasonally strong period for home builders. Their collective stumbles are important signals.
I plan to review and assess the earnings results, but for now, I am focused on the message in the charts. I suspect sellers are opening up some great buying opportunities; the answers should come from a combination of the fundamentals and the technicals.
Century Communities (CCS)
Century Communities (CCS) actually RAISED guidance for the remainder of 2019, but that good news was not sufficient. The stock market promptly rewarded CCS with a 4.8% loss. Nothing says "sentiment change" louder than a sell-off in the face of higher guidance. CCS not only finished reversing its last breakout, but also the stock landed right on top of support at its 50-day moving average (DMA). CCS is facing its own moment of truth as follow-through selling from here could readily lead to a test of uptrending 200DMA support. I am long-term holder in CCS and plan to hold through the latest churn.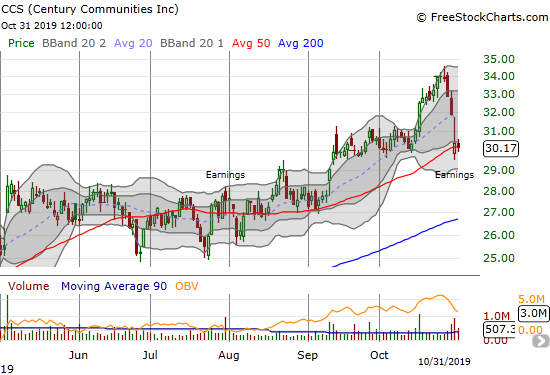 Taylor Morrison Home Corporation (TMHC)
Taylor Morrison Home Corporation (TMHC) is another builder focused on lower-priced homes and lower-priced housing markets. TMHC got hit with a whopping 6.8% loss in response to its earnings report. While TMHC is facing down a moment of truth with a 50DMA breakdown, buyers did step in the next day to take TMHC right back to its 50DMA. I hold TMHC shares and plan to continue to do so unless the post-earnings intraday low gives way. Such a break will signal a high risk of a test of uptrending 200DMA support.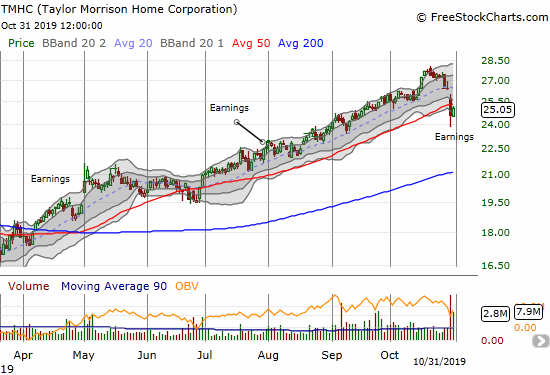 M.D.C Holdings (MDC)
M.D.C Holdings (MDC) is another small to medium-sized home builder with a focus on lower-priced homes and lower-priced housing markets. The massive post-earnings 11.2% loss greatly surprised me. The selling in MDC got so bad that at one point the stock was down 17.9% and close to a challenge of its 200DMA support.
MDC was the virtual catalyst of the soaring momentum in home builders when its orders guidance in July sent the stock soaring to new heights for the year. At the time, I expressed reservations without seeing a full earnings report. The stock market barely cared about the subsequent earnings report, but the stock rallied into the next order update. Now I am eager to review MDC's latest earnings report as the news was bad enough to send the stock right back to the top of July's big breakout.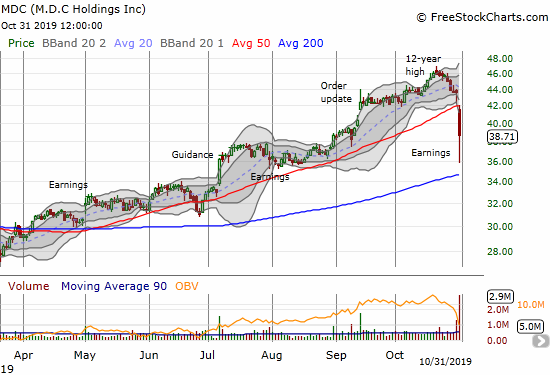 Moment of Truth
M.D.C Holdings symbolizes the moment of truth for home builders given it led the fresh excitement over sales of lower-priced homes. Follow-on selling will bode poorly for prospects across the field of home builder stocks. A return of buyers which reverses the post-earnings breakout will bode very well. Either way, I have a bias to buy into the sell-off (pending my review of earnings) given the seasonally strong period for home builder stocks has officially begun.
Be careful out there!
Full disclosure: long CCS, long TMHC