I have written plenty this year about the seasonal top in home builders. I even drew up a game plan to trade this pattern in a way to pay for the bullish trade that opens up during the period of seasonal strength. That seasonal top took its first good hit with a positive pre-earnings announcement from M.D.C. Holdings (MDC). The stock soared 9.7% to a 6-year high on the guidance news.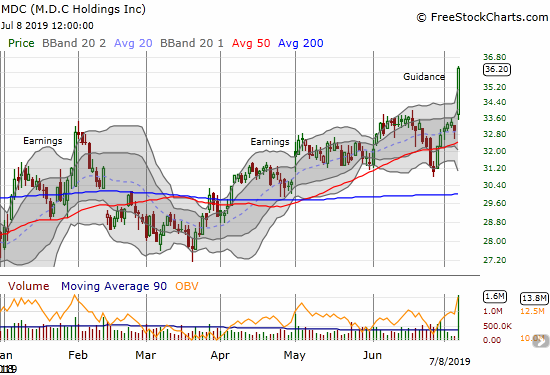 M.D.C. Holdings is a medium-sized home builder with operations heavily weighted in the West. According to its 2018 Annual Report, 30% of home deliveries went to Colorado, 15% to Arizona, 16% to California, 16% to Nevada, 5% to Washington, 4% to Utah, and 13% to the "East" consisting of Maryland 2%, Virginia 3%, and Florida 8%. The company did not specify which regions drove its pre-earnings guidance.
The company provided guidance for its upcoming 2019 Q2 earnings report, but it was notably selective in its comparisons to prior performance. I looked up the 2018 second quarter earnings report to fill in the gaps. Here are the top highlights:
Net new home orders +32%
Monthly sales absorption pace: +12%
New home deliveries: flat
Backlog conversion of 43% (compared to the expected range of 41-43%)
Average sales price: -2.4%
Homes in backlog: +7% (largest absolute number since 2006)
Gross margins, excluding impairments, above 19%: roughly flat
MDC's absorption pace was its highest since 2005. I can only assume that the comparisons to the peak of the last housing bubble caught the market's attention and generated the bulk of the excitement. With gross margins flat with a year ago and average selling price down, I strongly suspect that MDC pushed volume by some combination of incentives, softer pricing, and/or stringent cost controls. The company may have also targeted a mix of lower-priced homes given entry-level, first-time home buyers have been the most active participants in the current housing market. This is a mix strategy followed by Lennar (LEN) for example. Ironically, LEN sold off sharply upon news of lower average selling prices.
The market barely extrapolate MDC's results to the broader home builder sector. ITB only gained 0.3% on the day and remains well within the confines of its seasonal top.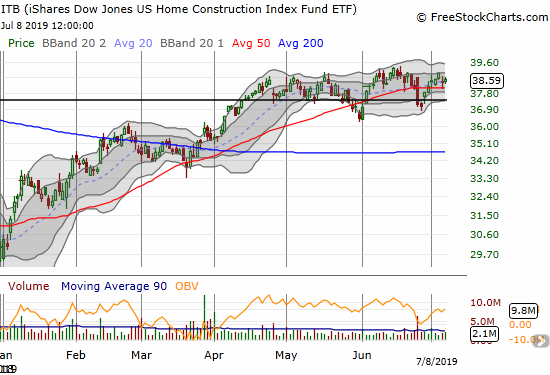 Meritage Homes (MTH), one of my favorite builders, was the biggest beneficiary of MDC's news both on a percentage gain basis at 2.2% and the relative basis of closing at a 1 1/2 year high. MTH joined MDC in reversing the big pullback of 2018 which left behind post-recession highs.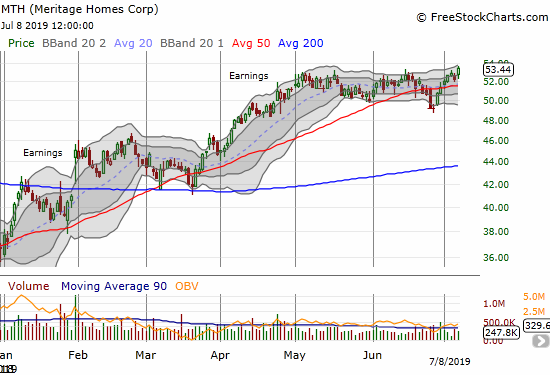 While the startling performance in MDC's stock has me itching to get an early start on the seasonal trade in homebuilders, I am continuing to stay my hand. I am wary about the sustainability of the excitement, and I remain deferential to the historical topping pattern in the sector. Moreover, I am already sitting on two early trades: one speculative in KB Homes (KBH) and another in ITB that I hope extends into the launch of the seasonally strong period.
Regardless, I am watching the home builder sector even more closely than usual. I am particularly intrigued about the divergent reactions from investors in the results of builders. JP Morgan (JPM) wasted no time in leaping out of the bearish camp on MDC with an upgrade from underweight to neutral. According to Yahoo Finance not a single analyst has a buy rating on MDC as of July, 2019 – there are 8 holds and 4 sells. Apparently, the market has a LOT of bearishness to unwind!
Be careful out there!
Full disclosure: long ITB calendar call spread, long KBH calendar call spread and long puts