M.D.C. Holdings (MDC) delivered another bullish report on its order flow. After the market closed on September 12th, M.D.C. Holdings announced…
For the first two months of the 2019 third quarter, net new home orders increased 63% year-over-year to 1,418…The increase was driven by a 40% improvement in the monthly sales absorption rate to 3.75 and a 17% increase in the average number of active subdivisions to 189.
The stock was already rallying into this news and still managed to gap up and close with a 5.2% gain after the news. MDC now trades at an 11-year high.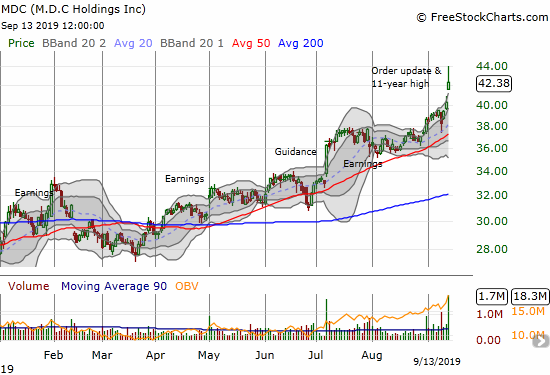 MDC's results were consistent with this year's popular theme around lower priced homes. The company attributed its on-going success to its "… more affordable product lines and distinct build-to-order model." M.D.C. Holdings did not provide forward-looking guidance in its second quarter earnings report, but snippets from the Seeking Alpha transcript of the conference call contain plenty of hints of the strength to come. In particular:
"The order strength we experienced in the quarter was due in large part to our move down in price point where demand continues to outpace supply. This is a trend we expect to continue given the lower level of new home construction activity in this market segment and the increase in home prices we have seen for more traditional products."
The company also announced a fresh ramp in land acquisition efforts given the strong demand for lower-priced homes.
I wish I had taken the hints and bought into the MDC story. Instead, I expressed some hesitation when MDC originally led home builders with its July breakout. MDC's earnings results proved out some of my concerns given the lower pre-tax and net earnings and lower revenue on a flat year-over-year close rate on homes. Such news would typically send the shares of home builders hurtling downward, but the market is clearly quite comfortable with the increased mix of lower-priced homes. MDC managed to squeeze its gross margin rate higher from 19.1% a year ago to 19.5%. During the Q2 conference call, and analyst sought confirmation on expectations for lower ASPs (average selling prices):
And the ASP you said you expect to be down 5% to 10% from 2Q '19 is that right? And then rebound to a degree in 4Q?
Management confirmed these expectations and also noted that the pick-up would not bring ASPs back to the prior $480K level. With such a price sensitive market, I am on alert to see how buyers respond when mortgage rates inevitably increase again given the demand for loans. In fact, this past week saw the biggest jump in mortgage rates in three years. From Mortgage News Daily on September 13th (emphasis mine):
"Mortgage rates were already having their worst week since 2016 as of yesterday afternoon.  Rather than help to heal some of the damage, today's bond market momentum only made things worse.  Whether we're looking at 10yr Treasury yields a broad indicator of longer-term rates or average mortgage lender offerings, this week now ranks among the top 3 in the past decade in terms of the overall move higher.  At this point, we'd have to go back to the trauma of 2013's 'taper tantrum' to see anything bigger."
Be careful out there!
Full disclosure: no positions