The change was swift and dramatic.
In mid-February, Redfin (RDFN) delivered a very bullish earnings report proclaiming it's on "like Donkey Kong." In the face of nascent concerns about the coronavirus (covid-19) threat, on March 11th Redfin (RDFN) delivered a semi-reassuring press release titled "Housing Demand Holding Up Surprisingly Well, For Now." Two weeks and three SEC filings later Bob Mylod, Redfin Chairman, wrote a letter to shareholders announcing corporate actions necessary to preserve the company's operations and financial health. Redfin placed these notices in SEC filings instead of press releases on their website, so I almost missed them. Redfin provides reliable, timely, and accurate views of the housing market, so I pay close attention to the company's assessments. The news in these filings provide important guide posts about what is likely to come for this year's downturn in housing.
Coronavirus fears were spreading from Seattle to other parts of the U.S. but not enough to suppress housing activity. Redfin confusingly reported both "moderating" home buying demand and a meaningful weakening in nationwide demand growth. The hopeful bottom-line seemed to be "demand is still growing at surprisingly healthy levels." However, sellers were getting more active in a sign of a change in market balance. For only the second week all year, listing activations were up year-over-year.
The following quote proved timely coming on the immediate heels of the first of several market crashes:
"Since housing is a fundamental human need, and the housing market itself is fundamentally strong because of low inventory and low rates, we're less worried that people will stop buying houses for very long because of the coronavirus. Rather, we're more worried about the stock market, as we believe homebuyers have increasingly been selling their stock to help finance home purchases, especially in expensive coastal cities."
Coronavirus fears were in full throttle with demand for homes plunging from "thirty to zero" in 2 weeks. With local governments warning residents to stay home, home tours fell steeply. Yet, even more worrisome and telling was a drop in the growth of web traffic: "Traffic growth to Redfin's website has also slowed from around 20% through the first two months of 2020 to high single digits over the past week."
Sellers rushed to the exits with highly impacted areas Seattle and the San Francisco Bay Area increasing active listings 9% and 6% year-over-year in the prior week. Most telling was the cessation of marketing activities. Redfin ended mass-media advertising and soon after stopped digital advertising campaigns.
Redfin also provided this warning for the future. Current efforts to save the economy could ironically further exacerbate wealth inequalities:
"Low mortgage rates are probably doing more for people who already own houses than people who want to buy them. This is my main frustration with monetary policy's impact on housing: for years, it has mostly benefited the existing owner class, rather than expanding that class."
Housing price growth outpacing income growth is a primary driver of this disparity. The current economic downturn will further delay home purchases for many more households.
The last update from Redfin management was full of anecdotes but a few hard numbers revealed the severity of the expanding housing downturn. Redfin's home buying demand dropped 27% year-over-year. Redfin scrambled to broaden the availability of its on-line video tours such that by March 23rd, one-third of home showing requests were for remote showings.
This key quote describes the essence of a housing market screeching to a halt:
"It's not just buyers who are pulling back from the market. Homeowners who can wait to sell are putting their plans on hold, too. Last week, we reported that nationwide listing activations were up just a tick over the prior year. Now, in the last seven days, they are down 12% compared to the same time last year. What's more, sellers with homes on the market are pulling them off at more than twice the rate that we saw last year. Nearly 4% of homes were pulled off the market in the last seven days when the normal rate is about 2%."
The regularly scheduled updates were interrupted by the chairman himself. For context, the chairman did not even speak or appear during the last earnings conference call. With rapidly deteriorating economic conditions motivating action, the board held an unscheduled meeting with management to assess the seriousness of the situation. Their decisions were swift and sharp as lingering hopes transitioned into an imperative for defensive actions.
Redfin made the bitterwseet decision to increase the base pay of agents to make up some of the anticipated loss of income from a decline in transaction activity. At the same time, Redfin warned that a prolonged contraction would force furloughs and layoffs across the company. Cash bonuses were eliminated for management and remaining employees will lose their cash bonuses for the first half of the year. The CEO relinquished his salary and the Board gave up its fees. These moves clearly signaled the depths of the problem: Redfin is scrambling to preserve cash while doing the best it can to hold on to its valuable employees.
The most vulnerable part of Redfin's business model is its home buying program that helps provide liquidity to the market. In a housing downturn, such activity puts buyers at great risk and financial peril. Accordingly, Redfin is rushing to sell the homes in its current inventory. The company suspended further home purchases.
Like the last housing downturn, this one will force the industry to adjust and transform. In a sign of the future: "…this pandemic seems likely to change everything about real estate in favor of a technology-driven brokerage like Redfin. Rest assured that Glenn and the entire Redfin team are working at an accelerated pace to develop the tools that will further transform the way in which homes are bought and sold." The home-buying experience will not be the same.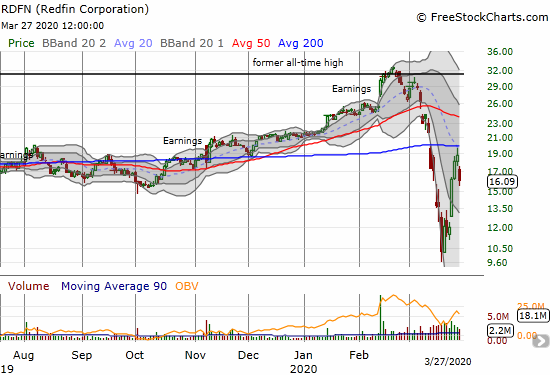 Be careful out there!
Full disclosure: long RDFN