"RedfinNow is buying homes aggressively. Our sellers' agents are pushing hard to get more money for listing customers. And our buyers' agents are making offers left and right, but still feel wary about how many will actually stick. It's going to be a wild ride… RedfinNow is really scrambling to buy as many homes as we can, because we know it's on like Donkey Kong."

Redfin Corp (RDFN) CEO Glenn Kelman on Q4 2019 Results – Earnings Call Transcript from Seeking Alpha, February 12, 2019
This quote made the animal spirits in the U.S. housing market even more tangible. I have appreciated Redfin (RDFN) for the company's timely and accurate commentary on the housing market, but I have been somewhat skeptical of the business model. I particularly worried about the RedfinNow business. The company's Q4 2019 earnings report delivered a moment skeptics like me must take note.
RedfinNow
RedfinNow is Redfin's service that buys and sells homes to facilitate transactions in the market by offering immediate and low-priced liquidity. RedfinNow launched in Las Vegas in Q4 and is now available in 13 markets; Redfin has no further expansion planned any earlier than the second half of the year. I think of this business as carrying huge financial risks: Redfin risks taking on housing inventory that takes longer to turn over than expected. Worse, Redfin could get forced to take a loss by lowering price and/or investing in asset improvements in order to move hard-to-sell inventory. The Q4 results alleviated most of my concerns.
In the fourth quarter, RedfinNow grew revenues by over 4x from $22M to $99M, 42% of revenue. In Q3 2019 RedfinNow grew year-over-year from $11M to $80M, 33.5% of revenue. With RedfinNow growing in share of revenue, the company's focus on margins will be very important in coming quarters. Management acknowledged that its "…competitors began what could be a destructive price war." Redfin improved margins from Q3 of -4.3% to -1.3% in Q4. Redfin is even using machine learning algorithms to refine its ability to price properties properly for buying and for selling.
The following commentary describes well the revenue challenge and risks of the RedfinNow business model:
"You make money on almost every property you buy, but when you miss, it really costs you. So the misses just have to get fewer and farther between.

I think there's also just some question of how we can get our renovation costs down so that we can renovate the home more quickly and more cheaply. "
Fortunately, Redfin appears to be well-prepared for the challenges. The company also seems ready to flex its business model to suit economic realities. For example, the company will not continue to take inventory risk when the housing market slows down (emphasis mine):
"I think the properties business is an artifact of a very low rate environment.

And while that environment is likely to continue for some time, we know that the cycle will turn both on interest rates and generally the seller's market. And then I'd rather have a brokerage business that's less capital intensive, less rate sensitive.

…we want to be picky about which properties RedfinNow buys."
Business Momentum
The Q4 2019 earnings report featured several other milestones of interest to me (quotes from the earnings report):
Continued expansion of services: brokerage services now in 94 markets in the U.S. and Canada; 3 new states for Redfin mortgage; the launch of Redfin Direct.
Price rationalization: "…a new listing fee to unify our pricing nationwide and reward our most loyal customers with the greatest savings. The brokerage previously charged either a 1% or 1.5% fee based on the market. Redfin now charges a 1% listing fee to sellers who also buy their next home with Redfin within 12 months and a 1.5% listing fee to sellers who just sell their home with Redfin." (Redfin kept listing fees at 1% in major markets).
Continued revenue and margin growth: " …the fourth quarter in a row that our real estate services revenue growth accelerated, and the second quarter in a row that gross margins improved in every segment of our business."
Redfin has clear business momentum even as many of the comparables are easy given the slowdown in housing in the second half of 2018. I will be keenly interested to see whether Redfin can manage to keep up this blistering year-over-year pace:
Revenue growth: Q4 = 88%, full year = 60%; guidance for Q1 2020 revenue growth = 63 to 71%.
Gross profit: Q4 = 51%, full year = 21%.
While Redfin improved its net loss in Q4 at $0.08/share, basic and diluted, versus $0.14 a year ago (better than the company's prior guidance), the company still lost $0.88 for the full year versus $0.49 in 2018. Redfin is ramping down sales and marketing expenses but increasing spending on technology initiatives and upgrades. According to Redfin the net loss will slightly worsen from Q1 2019 of $67M to $72M – $68M. Redfin did not indicate when it expects to flip net profit positive, but it expects to improve gross margins through the year from higher efficiencies. (Redfin describes itself as a low single-digit gross margin business).
Housing Market Dynamics
Finally, here are some key points from Redfin that characterize the dynamics of the current housing market:
"…it has gotten harder for many Americans support to afford a home… Price pressure that used to be limited to a few cities like San Francisco or Portland is now widespread, leading Americans in search of affordability with fewer places to go than earlier in the housing recovery."
"The number of homes for sale at the end of 2019 in the US was the lowest in at least two decades 9% below January 2018 levels."
"…braced for the most intense season of bidding wars since at least the first half of 2018. Across the industry homebuyer demand is very strong so the limit on sales growth will be inventory."
"The restrictions we put on consumer credit after 2008 are now, 12 years later, limiting housing liquidity. For all these reasons we think that the seller's market will last at least through the first half of 2020."
Business should be brisk for RedfinNow and the rest of the company! On like Donkey Kong indeed.
The Trade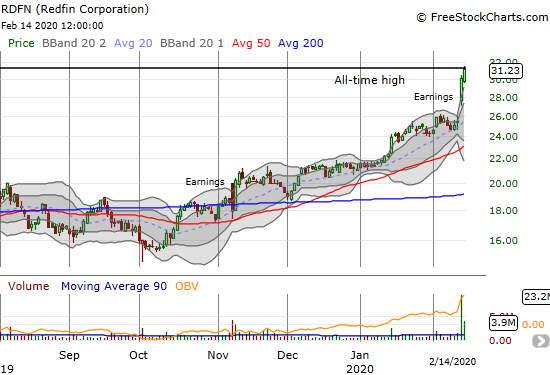 There were several moments since the November earnings call where I should have just bought the stock: 1) the rebound the next day, 2) after the successful test of nearly converged support at the 50 and 200-day moving averages (DMAs) in early December, and 3) after the mid-January breakout. Now, I can only hope for a buyable dip ahead of the next earnings report. RDFN is flirting with its all-time high, a very bullish milestone and an indicator of higher prices over the coming weeks and more. (Given I am currently bearish on the stock market, I am not yet in a rush to chase RDFN higher).
Be careful out there!
Full disclosure: no positions