The Stock
I have not reviewed my list of consumer discretionary and retail stocks in a very long time. The recent and current carnage confirmed for me that a large swath of these stocks hit major lows on March 18th ahead of the general stock market low on March 23th. Some of these stocks have doubled and more off of those lows. One stock that caught my eye in particular was Nordstrom (JWN) because, unlike so many other retail stocks on my list, JWN almost retested its 11-year low from March 23rd. In other words, JWN has not been this low since the depths of the financial crisis.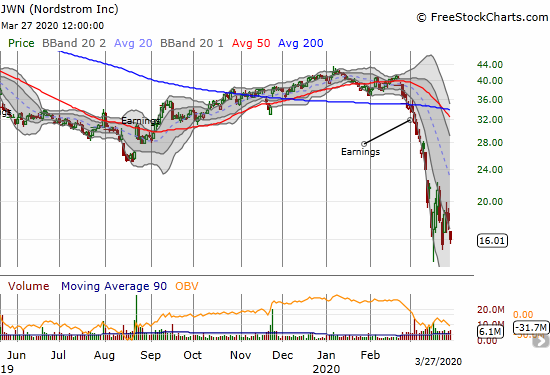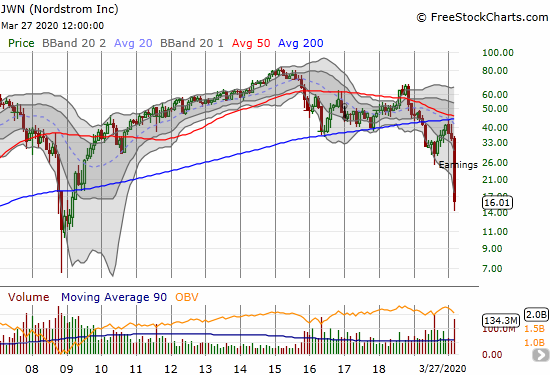 I got particularly interested in Nordstrom in 2017 when rumors swirled that the company might go private. That rumor/news went back and forth before it finally gave way to lower and lower prices for the stock. If insiders still have any wealth intact, they could certainly buy their company for a song now! Nordstrom now trades at rock bottom valuations. According to Yahoo Finance Nordstrom sports a 5.6 trailing P/E, a 5.5 forward P/E, 0.2 price/sales, and 2.9 price/book (compare to 7.3 almost a year ago). The company has a decent stack of cash of $853M versus $4.79B in debt. Operating cash flow is $1.24B. Still, the coronavirus pandemic and related crisis puts many "non-essential" retailers in peril, and Nordstrom's luxury goods certainly qualify. The bears are licking their chops over JWN with 33.2% of the float sold short.
Emergency Plans
On March 25th, Nordstrom announced an update to comprehensive plans in response to to the covid-19 crisis, its third in 9 calendar days. The plans strike me as well-balanced and employee-friendly considering the challenging circumstances. Here is a summary of the update:
Extended store closure through April 5
Pay for store employees to extend through the store closure, benefits through the end of April
Furloughed corporate employees starting April 5th with a continuation of benefits
Reductions in salary for the Nordstrom Executive Leadership Group
No salary for Pete and Erik Nordstrom from April through September
No cash compensation for the Company's Board of Directors for 6 months
The Trade
I do not think JWN is a buy here. The stock did not form a convincing bottoming pattern. The daily chart tells me the stock is due for another visit to the bottom of its lower-Bollinger Band (BB) channel after repeated failures at the top of the channel. The monthly chart reminds me that the stock is in a kind of secular (on-going) decline that necessarily caps the investment horizon. As such, I will not be surprised to see JWN retest its financial crisis lows before this pain is over. I will revisit a potential buy after the next wave of selling in the stock.
Be careful out there!
Full disclosure: no position