My last pairs trade going long Redfin (RDFN) calls versus long Zillow Group (Z) (ZG) put options did not work out as I over-extended my stay on RDFN. A fresh opportunity for a pairs trade has arrived with RDFN neatly testing key support after reversing most of its post-earnings gains and with Zillow Group in a near post-earnings freefall.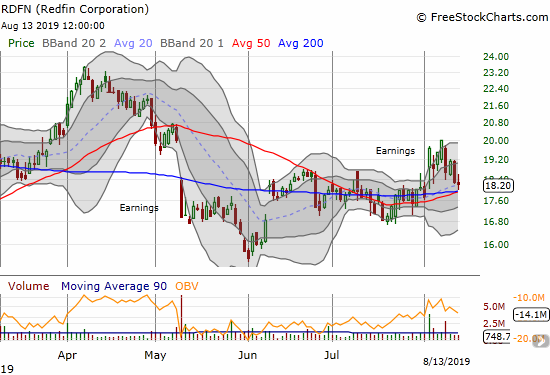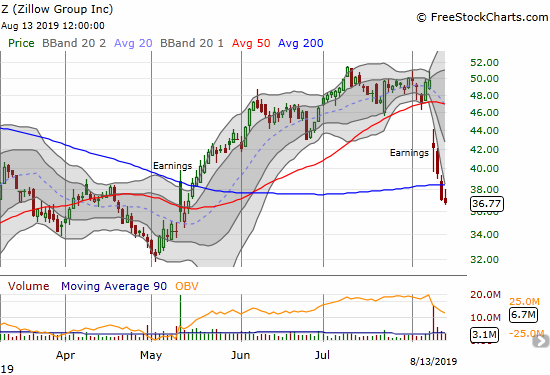 A pairs trade features bets on two stocks that have a high chance of trading in a consistent relationship. At the end of a well-defined period of time, the profits in one position must far surpass the losses in the other position. The trade focuses on the most likely scenario. In the case of RDFN, I am expecting support to hold and post-earnings upward momentum to resume. Zillow Group is likely over-extended to the downside, but a relief rally will likely stall at or around resistance at the 200-day moving average (DMA). Going short Zillow serves as a kind of hedge against going long Redfin. If Zillow manages a more robust post-earnings recovery, I am expecting Redfin rally in sympathy.
The Setup
I am a bit late to this pairs trade. The ratio of RDFN vs Z dropped to its historic low last week. That move presented a good risk/reward entry point. Plenty of upside potential remains, but I now have to prepare to accumulate my position if the ratio pulls back toward support again.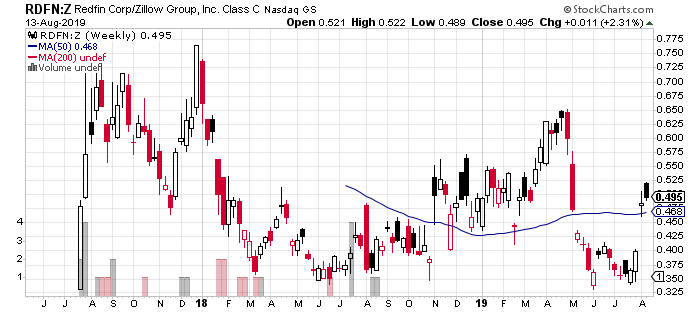 I am giving this trade plenty of runway, so I am targeting the RDFN November $19 calls which last closed at $1.65/$1.50. I think these calls give good leverage for a good price especially in a stock market that is gyrating a lot. Zillow is tougher because the November expiration occurs right after the company's earnings report. The November $35 puts have a high premium closing at $3.20/$3.00, so I will start a little lighter on the puts than normal. I will start with a ratio of 3 RDFN calls to every Z put. I am targeting at least a double for the RDFN calls.
Sidenote: Realogy Holdings
Zillow Group and Redfin are hoping to one day put the likes of Realogy Holdings (RLGY) out of business. Last month I panned Realogy's partnership with Amazon.com (AMZN). Sure enough, the market quickly faded RLGY to new all-time lows after the initial upside surprise reaction. Now the stock is back to those price levels thanks to a positive post-earnings response. I am watching closely to see whether RLGY can finally turn the corner with a 50DMA breakout.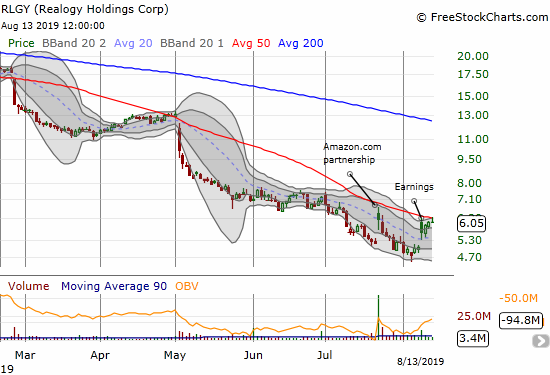 Be careful out there!
Full disclosure: no positions