Two weeks ago I threw up a chart of Realogy (RLGY) just to have something bearish to show among a group of bullish charts. I wondered why this company of real estate agents and brokers was in a persistent decline while housing-related stocks were generally holding up well.
On July 23, Realogy rolled out what looks like a desperate attempt to maintain its relevancy in a rapidly changing real estate market. Realogy announced a partnership with Amazon.com (AMZN) to combine the search for a real estate agent with a bundle of discounts and services from Amazon Home, Amazon Smart Home, and Amazon Move. They call it "TurnKey."
In its press release, Realogy celebrated TurnKey as "an easier and more rewarding homebuying experience, designed to simplify what can be a stressful and time-consuming event." TurnKey is "…truly a beginning-to-end homebuying program that seeks to raise consumers' expectations of what it means to buy a house and make it a home." Buyers use TurnKey to find an agent that closely matches their profile and then access discounts, products and services designed to facilitate the moving process. The main incentive buyers have for using this service is access to a variety of discounts – based on the price of the purchased home – on Amazon Home and Amazon Smart Home products.
$150-399K: $450 in Amazon Home credits and 3 Amazon Smart Home product bundles for a total package value of $1000.
$400-699K: $1000 in Amazon Home credits and 5 Amazon Smart Home product bundles for a total package value of $2500.
$700K+: $2500 in Amazon Home credits and 9 Amazon Smart Home product bundles for a total package value of $5000.
TurnKey also touts a 10% off coupon for up to $200 in purchases from Amazon Move, but this coupon is available to all Amazon Move customers.
Overall, the incentive looks small for most home buyers. A buyer must already want to tether their home to Amazon for this incentive to work. Moreover, a buyer must be convinced that Realogy truly has the best option of agents – something the company is clearly struggling to do at this point. The TurnKey process does little to convince buyers not already interested in this kind of deal to sign up. All of Amazon's products and services are available a la carte and separate from the TurnKey program.
Based on the link in the Realogy press release, the process starts at the Amazon launch page. The buyer is promised a "hand-picked" and "local" agent. Several "Get Started" buttons next take the buyer to Realogy's TurnKey sign-up page. TurnKey requires the buyer's name, email, and phone number which will be used to send marketing messages from a variety of sources. This promised barrage of messaging looks like a potential barrier and will ween out the curious, like me.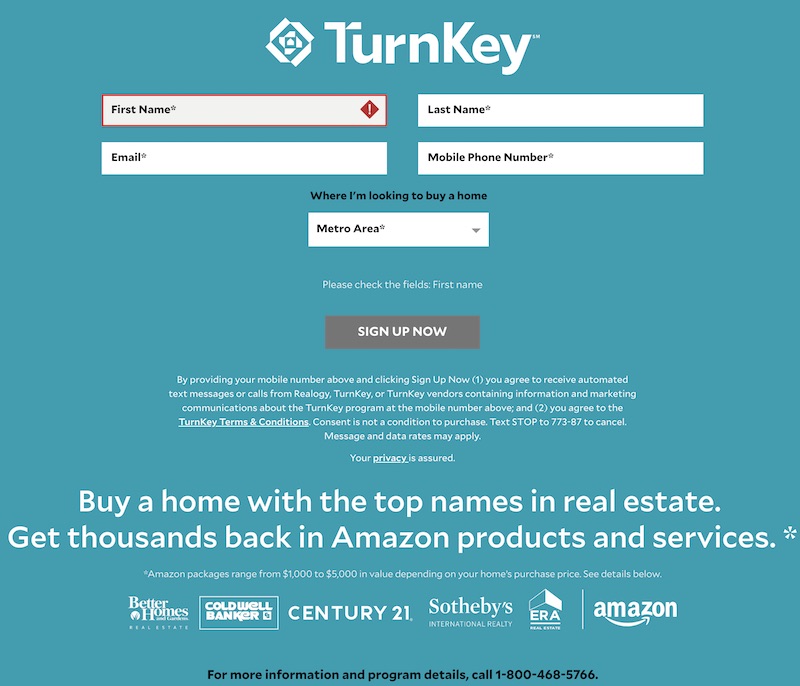 From here, I took a look at the Amazon Move page (which requires an Amazon account). Here is a list of the large collection of home-related products:
Packing products
Professional services to help with the packing and unpacking
Storage solutions
Move-in/out cleaning service ($10 off)
Cleaning supplies
Home security and networking (Smart Home)
Furnishings
"Brand spotlights" sprinkled across the page as advertising
Home entertainment
Professional services for household projects
Garage door openers
Products for home improvement projects
Household appliances
Hosting products
Decor
Smart home
Plants.
Lawn service
Outdoor products
Household "essentials" like laundry
After reviewing this impressive list, I daresay Amazon.com will benefit more than Realogy. Amazon.com will get the potential for repeat visits and purchases where Realogy gets a one-shot opportunity to market its services to a home buyer. Realogy did not announce the financial terms of this deal, so if RLGY is footing a lot of the cost of the benefits, then I would be even less interested in trying to invest in RLGY because of TurnKey.
The stock market also looks skeptical. RLGY initially soared on the news but faded sharply from its intraday high of a 30.1% gain to close with a 19.3% gain. The next day the stock lost 9.4% and almost looks ready to finish closing the gap.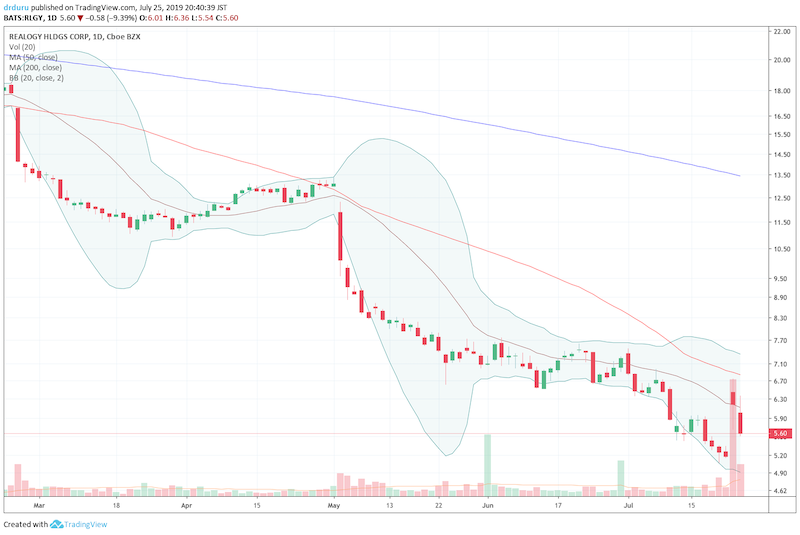 This blast higher and sharp reversal has all the look of a short squeeze. RLGY is loaded with bears with a whopping 40.0% of its float sold short. I am guessing a large number of them decided the news on TurnKey and Amazon.com's involvement was good enough to trigger a profit-taking moment. For example, this partnership could be the beginning of an evaluation by Amazon.com to buy Realogy outright.
While Amazon.com will likely get the lion share of the benefit, the relative impact is likely to be small. Accordingly, AMZN barely budged 0.5% on the news and was even trading negatively at one point. Note that AMZN reports earnings today (July 25) after the bell.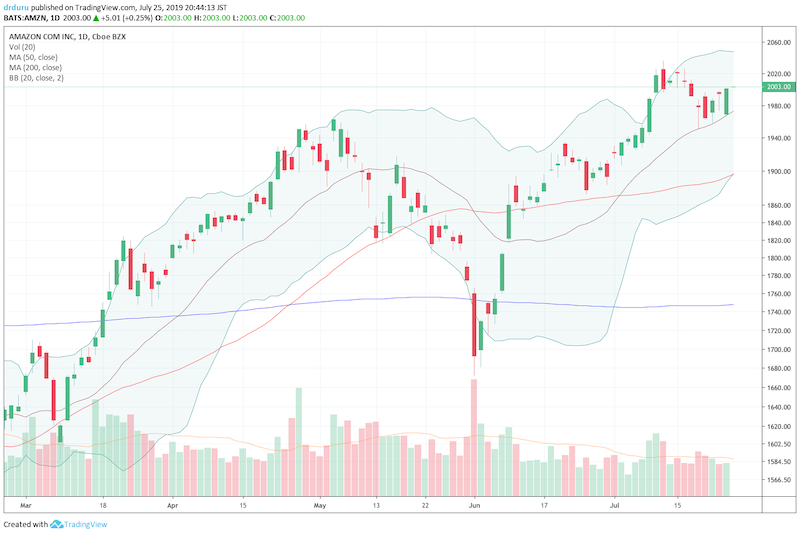 Perhaps more telling were the responses in competitors like Redfin (RDFN) and Zillow Group (Z) who have recently moved to get into the (semi-automated) real estate agent business. Both stocks initially pulled back slightly only to register gains on the day. The next day both stocks gained again. Note that my pairs trade on these stocks ended in failure; this latest volatility makes me interested in trying again.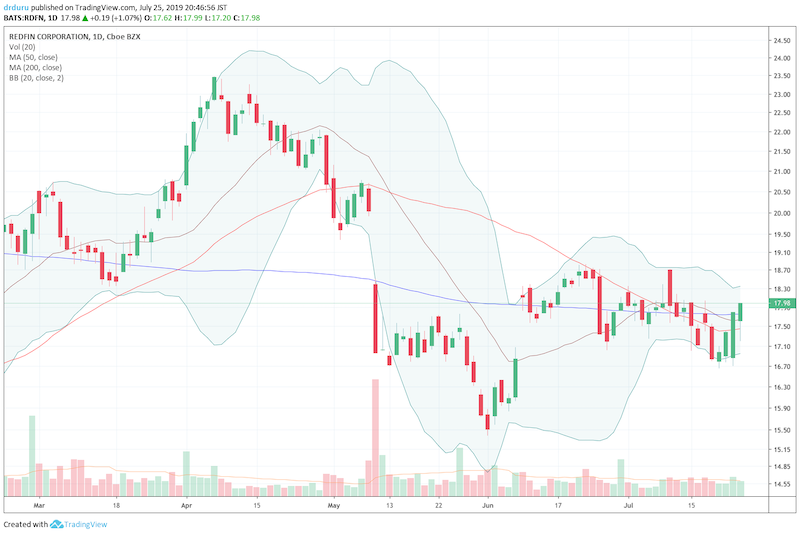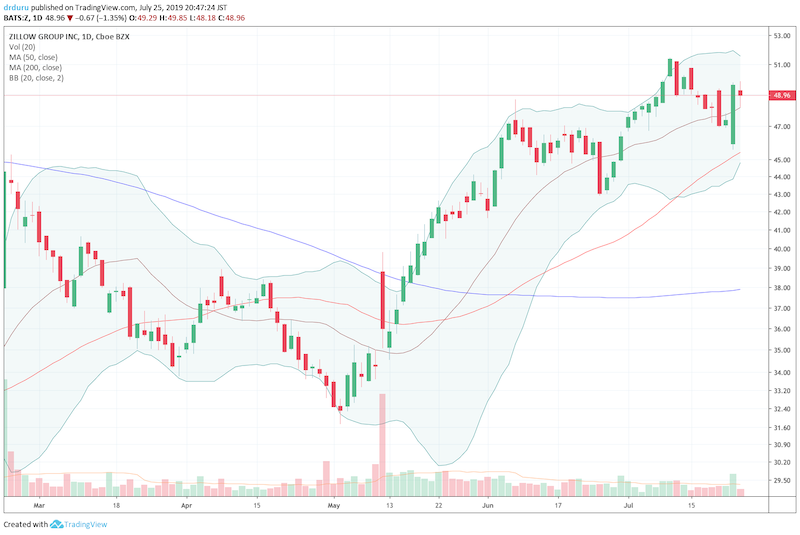 I took a look at Keller Williams to see whether this company had any offerings similar or competitive with Realogy. The closest thing I could find is Keller Williams Cloud which is an interesting technology platform for innovators to integrate their products and services with Keller Williams real estate services. Other than that, KW's agent search is the standard application form requesting a referral.
Compass is perhaps the biggest competitive threat. Compass is using technology to completely reinvent the industry. The company is leaning heavily on high tech to revolutionize the real estate business. Compass is even building very slick, high-tech digital real estate signs (note there is a waitlist!).
Overall, I think Realogy's partnership with Amazon.com matters little and will not impact the longer-term trajectory Realogy unless this move is a prelude to an Amazon.com acquisition. If Amazon.com turns around and offers similar packages to other real estate companies, then even the potential acquisition upside evaporates…not to mention greatly diminishes the benefit for TurnKey
Be careful out there!
Full disclosure: no positions