LGI Homes (LGIH) released a strong sales report that granted investors in home builders a much needed sigh of relief. On January 7, 2019 (mislabeled as the 4th in the press release), LGIH announced:
…an all-time record for home closings during a single month with 884 homes closed in December 2018, representing year-over-year growth of 14.8%. In addition, the Company announced record-breaking quarterly home closings of 1,852 during the fourth quarter of 2018 compared to 1,844 home closings in the fourth quarter of 2017. The Company had 6,512 home closings in 2018 surpassing its previous annual record of 5,845 home closings in 2017 by 11.4%.
While the year-over-year fourth quarter gain in home closings was just 8 homes, it WAS a gain. Clearly there was a big rush to close home sales in December. These results were quite an accomplishment given the declining housing market data, and the records were impressive for the month of December. The market responded by sending LGIH higher by 14.4%. The buying was strong enough to send the stock to a 4-month high and a bullish breakout above resistance at the 200-day moving average (DMA). Buyers tried to extended the momentum today but failed to prevent a fade to a flat close.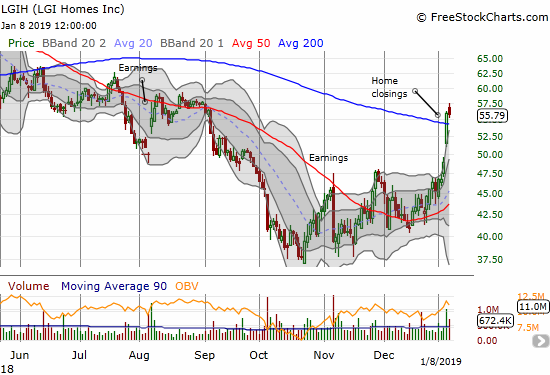 In early December, I added shares in LGIH to my seasonal trade in home builders based on what I described as an apparent stabilization in several housing-related stocks. LGIH was testing 50DMA support at the time, and my observations turned into a timely trade. In late December, I pointed out the resiliency in LGIH during a time when the rest of the stock market was suffering from the pressures of record December selling.
While I will continue to hold all my positions, I am warily watching for signs of renewed selling pressure in the sector (who knows what kind of housing data will be available this month given the grinding government shutdown). For example, according to CNBC's Fast Money, options players apparently rushed to bet against the upcoming earnings for home builders Lennar (LEN) and KB Home (KBH). LEN experienced 4x its average put volume and KBH experienced double. KBH was outright put buying whereas LEN was more of a hedged bet (perhaps a trader who has been following the recurring advice on this show to bottom-fish in LEN since last Spring!).
LEN reports earnings the morning of January 9th and is the first big earnings test for home builders in 2019. KBH follows LEN into the breach with an after hours earnings report. If the news is positive for LEN and/or the reaction to LEN's report is positive, I will likely speculate on a positive post-earnings response for KBH. KBH has bullish technicals with the recent 50DMA breakout and a quick test of the 50DMa as support. This action makes for the explosive post-earnings potential of a breakout above resistance from recent highs.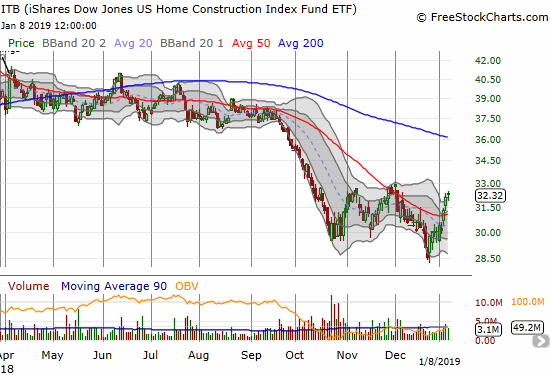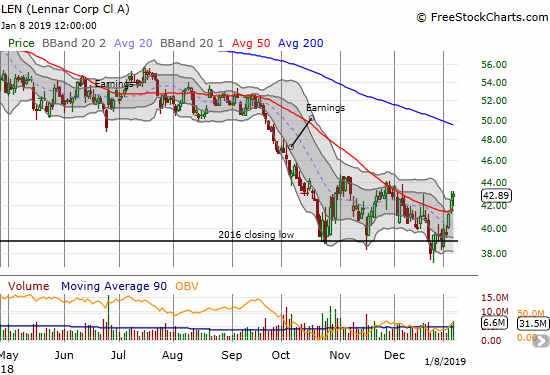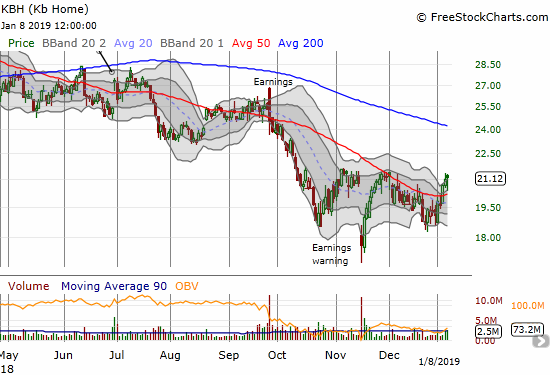 Be careful out there!
Full disclosure: long LGIH, long ITB call options