My first warning on Bitcoin (BTCUSD) came when Bitcoin failed to push through overhead resistance from October's brief and failed run-up (see the horizontal line above) despite the bullish case being made at the time about the breakout. The most convincing warning came when the cryptocurrency sold off with the stock market in late February. That behavior immediately put Bitcoin in the basket of assets being liquidated by investors and traders scrambling to get into cash.
At the time of the above tweet, I was in the middle of using the sell-off to rebuild a position in Bitcoin. I bought another tranche when Bitcoin briefly broke through the bottom of the downtrend channel (drawn from the intraday lows and highs in the downtrend since the June, 2019 high to highlight January's breakout and March's breakdown). I am saving one last tranche in case Bitcoin retests last year's low…which I now consider a smaller possibility than a week and a half ago.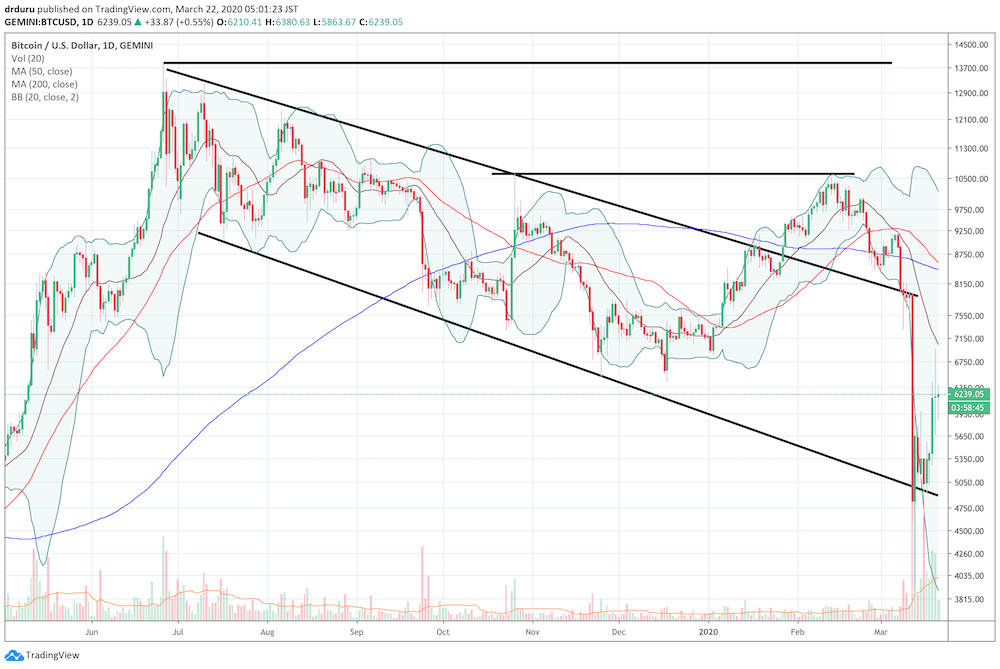 A hopeful case for a sustainable bottom in Bitcoin is last week's rally in the face of continued liquidation in financial markets. At the time of writing , the bullish divergence for Bitcoin features BTC/USD up about 16% for the week while the S&P 500 (SPY) suffered a punishing 15.0% loss and 3-year low for the week.
Per my trading methods, the more solid case for a bottom in Bitcoin is the sudden burst of life in the Google Trends Momentum Check (GTMC). The GTMC continues to serve as a tradeable guide to interpreting extreme ups and downs of Bitcoin (BTC/USD) (for an intro see "How to Use the Google Trend Momentum Check (GTMC) With Bitcoin Prices". On March 13th, in the immediate wake of Bitcoin's massive 39.1% drawdown, searches for Bitcoin spiked higher. Per the GTMC, a significant increase in the Google Search index in combination with an extreme move in the underlying target marks an imminent end to the extreme move.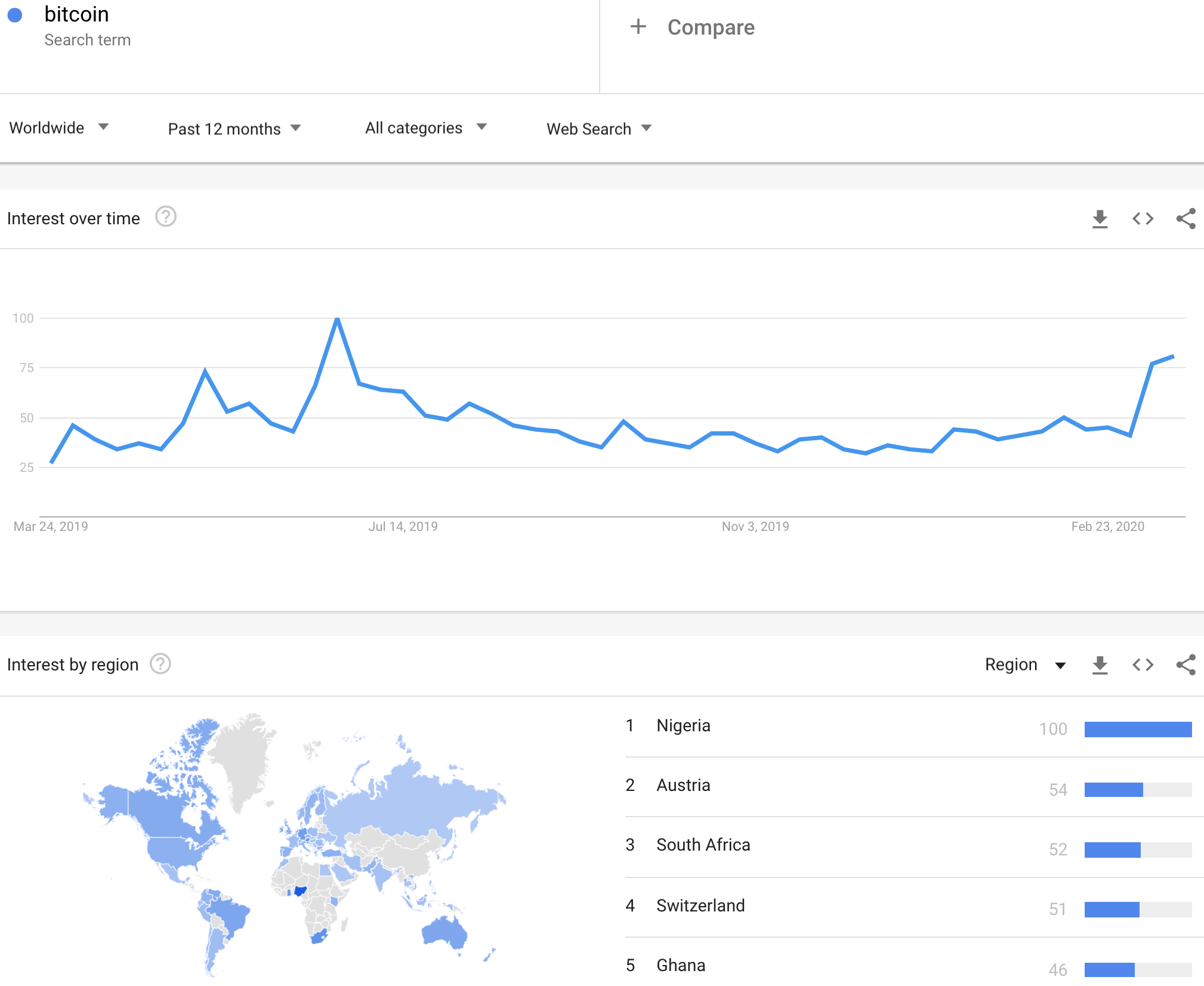 An added twist to the recent surge in interest is the change in the mix of countries in the top 5. This change presumably represents some broadening of the base of Bitcoin's biggest sources of support. Over the last 12 months, the top 5 countries in Bitcoin searches were Nigeria, Austria, South Africa, Switzerland, and Ghana (see the above graphic). In the past 30 days, that mix shifted. While Nigeria and Austria still lead, Switzerland moved into the #3 position and new contenders Slovenia and Germany popped into the top 5.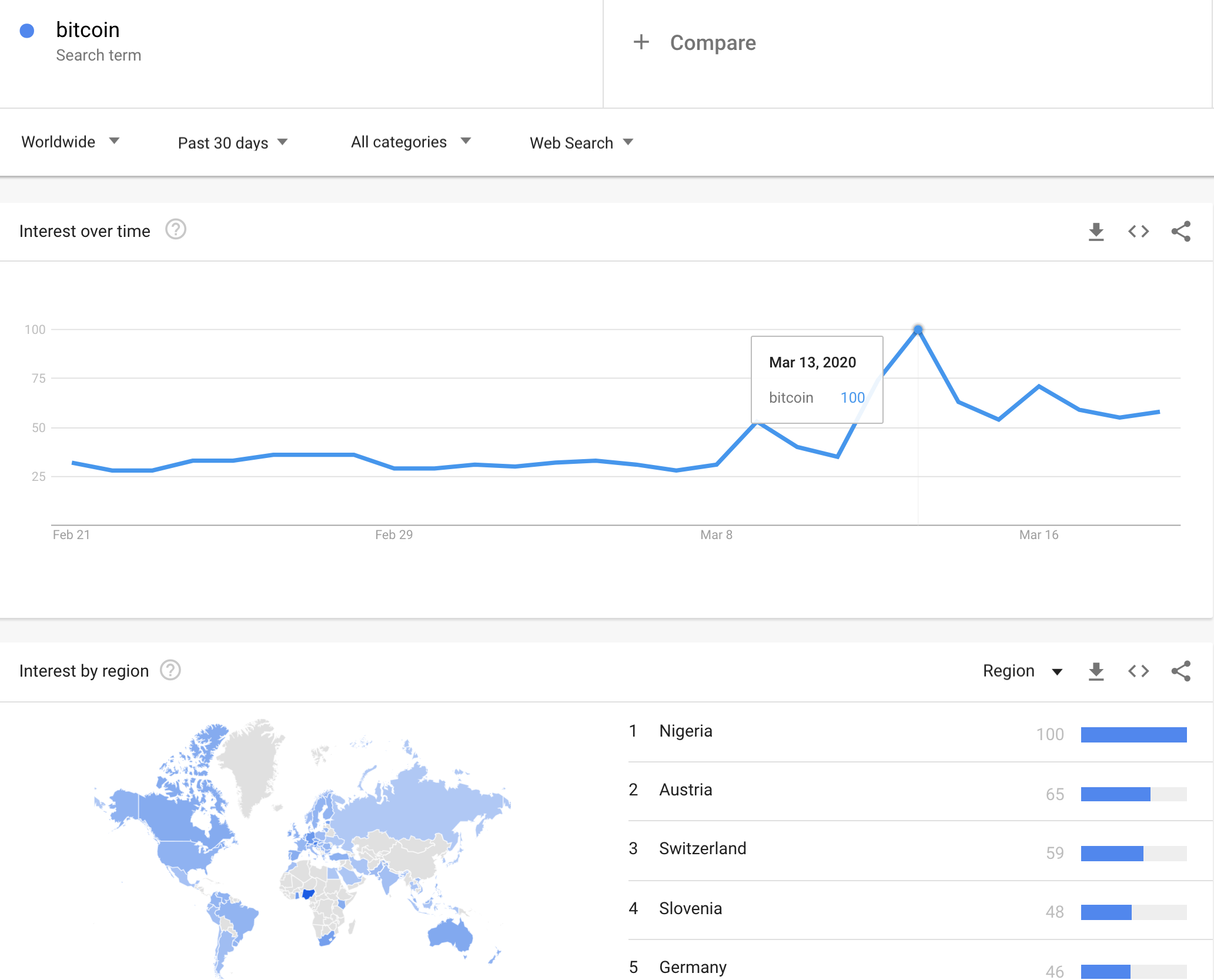 I have not yet studied the inferred impact of changing country mixes in the GTMC, but the latest developments provide a potential starting point for study. In the meantime, I am looking for the GTMC to at least stay around current levels. If the GTMC fades too soon, I expect Bitcoin to fade with it.
Be careful out there!
Full disclosure: long BTC/USD