I have been waiting since September, 2018 for the next opportunity to buy back into Nigeria through the Global X Nigeria Index ETF (NGE). The moment for me to buy is finally here.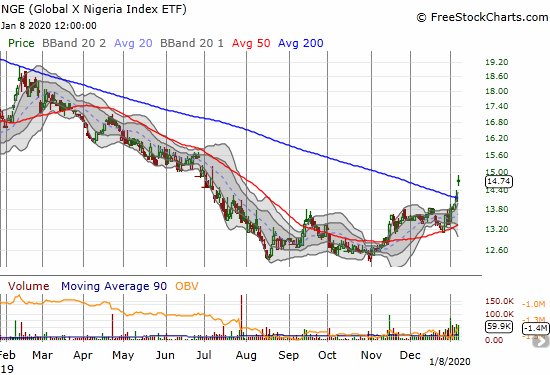 NGE has printed all the encouraging signs of a tradeable bottom:
A double bottom: August to October, 2019 at the all-time lows.
A breakout above the 50-day moving average (DMA) in November confirmed by a successful test of 50DMA support in December.
A 50DMA turning upward after a long downtrend.
A breakout above the 200DMA confirmed by a gap up on high trading volume.
High trading volume on up days
The Global X Nigeria Index ETF (NGE) is a highly concentrated bet on Nigeria. The ETF's top 10 holdings constitute 71.4% of assets. Seven of those 10 holdings are banks. The other three are Nestle Nigeria PLC (12.3%), Dangote Cement (11.1%), and Nigerian Breweries (5.4%). Financials, construction, and consumer goods are major players in the economy beyond oil companies, so I interpret the developing turn-around in NGE as a vote of confidence in broader economic health.
At a time when major indices like the S&P 500 (SPY) are making all-time highs, bargain shoppers are pacing up and down the aisles for discounts. Nigeria represents a major bargain: all the political and economic trials on the surface make Nigeria look unattractive. However, as Africa's most populous country, opportunity abounds. With a stabilizing currency, the niara, the opportunity looks as good as ever in NGE even with a world awash in so much oil that the commodity cannot hold a rally on bad geo-political news.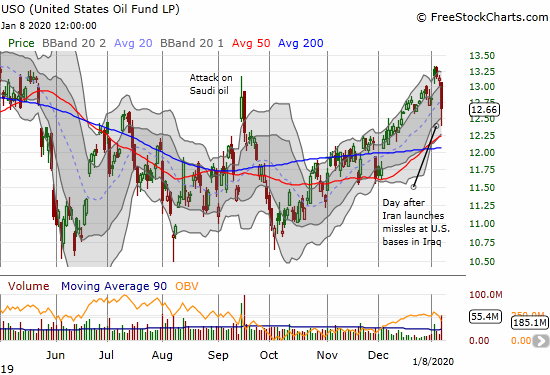 The Trade
I think NGE could easily get away from me here, so I will immediately buy a "no regret" position where I buy a small amount of shares to make sure I can participate in a runaway rally. If NGE pulls back, I will load up to a full position. My preferred entry point is on a retest of 200DMA support.
With NGE on the rebound, I am also incrementally more confident in doubling down on Jumia (JMIA) with its own breakout from all-time lows.
Be careful out there!
Full disclosure: long JMIA