A turn-around in a beaten down stock needs to start somewhere.
In mid-September, I painfully put Jumia (JMIA) in the bearish column. The stock lost another 52% in just two months before finally bottoming. JMIA ended 2019 with a higher low and a higher high as part of a confirmed breakout above resistance at its 50-day moving average (DMA). I now feel more comfortable restarting my plan to accumulate the stock of this e-commerce play for Africa.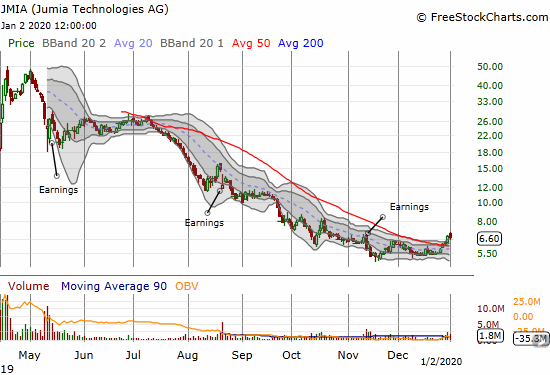 JMIA's current move is also notable because the stock finally finished a reversal of losses from its November earnings report. Next upside resistance sits at $8.00.
Given the long trail of tears down to single digits, I plan to buy JMIA in two tranches. One tranche will be a short-term position for flipping into rallies and/or tests of key resistance. A typical stop-loss for such a speculative position is a close below 50DMA (now) support. However, given the high volume buying that accompanied the rally from the December consolidation and the 50DMA breakout, I will hold out my stop-loss until the all-time low. Also note that the "January effect" could be kind to JMIA. The January effect is a stock market phenomenon where stocks that were sold for tax loss reasons in the final months of the year, rally in the first few weeks of the next year. Presumably, all the motivated sellers get out of the way before year-end, leaving relieved buyers and holders to proceed into the next year.
A second tranche of buys will be for holding for the long-term. Call it my bias for having experience using Jumia's services, but I think of the company as a main way to play the steady rise of e-commerce in Africa. This investment is definitely risky. Jumia missed revenue expectations in its last two earnings report. Jumia had to leave the Cameroon market in mid-November likely because of political and ethnic strife in the country. The World Bank slightly trimmed its 2019 to 2021 forecast for economic growth in Sub-Saharan Africa. Still, the longer-term horizon for Africa looks good, and I expect Jumia to be a key player in that economic dynamism.
Be careful out there!
Full disclosure: long JMIA