Suddenly, the persistent selling in Autozone (AZO) despite the stock market's rally makes sense.
I just finished marveling at the way sellers took over in AZO after the stock experienced an impressive 6.9% post-earnings gain to a fresh all-time high. A downgrade from Wedbush suddenly put the selling in perspective.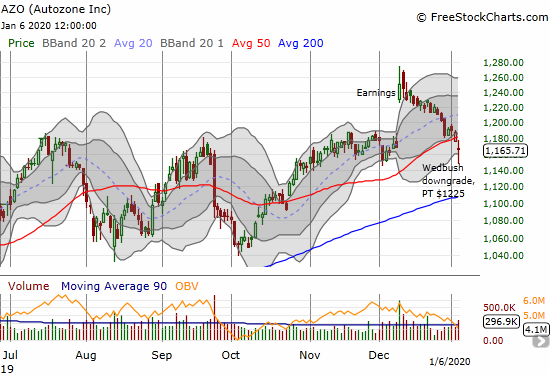 Now the chart looks like a case where investors and traders rushed to lock in profits from high prices ahead of analyst downgrades. Perhaps an "insightful" trader or two even got the drop on the coming announcement. Regardless, the news of the Wedbush downgrade could generate a "buy the news" event absent additional analyst downgrades. The first potential appears in the ability of the stock to bounce notably off its intraday lows. It is possible the news washed out most of the remaining motivated sellers (who until the downgrade were trying to get out in smaller dribs and drabs), leaving behind holders and interested buyers.
The Wedbush downgrade itself was not even disastrous. Wedbush convicted AZO of achieving near peak valuations. The firm took down its price target from $1375 to $1225 (-%10.9%), yet that $1225 is still 5.1% above Monday's closing price. With a stop-loss below the intraday low, a trader can achieve a respectable 3.2 reward/risk ratio (AZO traded as low as $1147.14).
The Trade
Given AZO broke below its 50-day moving average (DMA), I am comfortable waiting out the coming churn despite the existing, sufficient reward/risk ratio. For example, if AZO continues selling off, a buy at 200DMA support becomes extremely attractive. A confirmed 50DMA breakout is another good buying point. Even though such a move gives up almost 20 points of upside, it also tightens the stop-loss.
I prefer to use call options on this trade in order to provide an automatic cap on my potential loss. Targeting the upside at $1225 and wanting to get this trade done ahead of the next earnings announcement (likely three months after the last), I like a March $1200/$1220 call spread selling for about $700. At that price, I could even consider waiting out a breach of the stop-loss point and ADD to the position on a 200DMA breakdown – I strongly suspect a return to upward momentum will take AZO right past the $1225 mark in short order.
Be careful out there!
Full disclosure: no positions