The stock market has floated higher on the good tidings of easy monetary policies around the globe. The Federal Reserve recently suggested that it will be on hold for the foreseeable future. These accommodative conditions are positive for precious metals, but both gold and silver topped out in early September. In hindsight, the run-up into that top likely priced in a lot of the sentiment about easy money central banking.
For the summer, from the end of May to the September top, SPDR Gold Trust (GLD) soared 18.9%. The iShares Silver Trust ETF (SLV) went parabolic before topping out with a 34.4% 3-month gain. For comparison, the S&P 500 (SPY) gained 6.7% over that time; even the current breakout to the current all-time high represents a 17.1% gain from the end of May. The subsequent three months of drift for GLD and SLV make a lot of sense for consolidating gains and creating a launchpad for the next rally.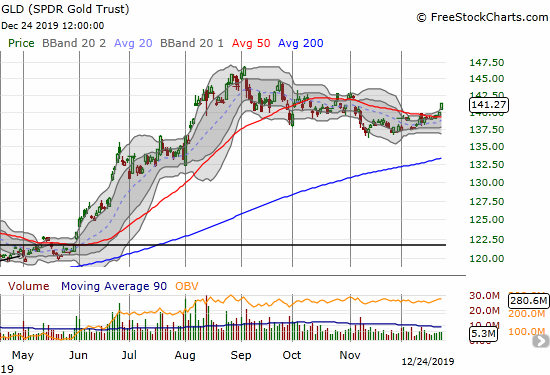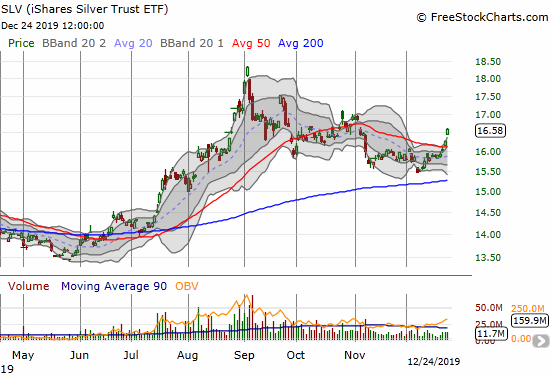 The resting period may finally be coming to an end. The above charts show a synchronized breakout for GLD and SLV above their respective 50-day moving averages (DMAs). Gains on Christmas Eve confirmed the breakouts with follow-up (holiday shortened) buying. This kind of confirmation did not accompany the October 50DMA breakouts, so I am expecting THIS breakout to last.
For short-term traders, GLD and SLV are buys with stop-losses below the respective 50DMAs. GLD and SLV are now stretched well above the upper Bollinger Bands (BBs), so a buyable dip could easily come in the next few days. Even with the prospect of a pullback, I did not sell the SLV call options I bought in anticipation of a sustained rally. I will add GLD call options on pullbacks. As usual, I am holding long-term core positions in the shares of GLD and SLV.
Ironically, I got into the Christmas spirit with gold and silver thanks to a resurgent Pan-American Silver Corp (PAAS), a mining stock I long ago abandoned. The previous week I got price alerts from Yahoo Finance about 52-week highs in PAAS. A fresh alert and breakout on Monday finally pushed me to check out the charts. SLV's 50DMA breakout made me jump instantly. Now I am looking for a dip to get back into PAAS.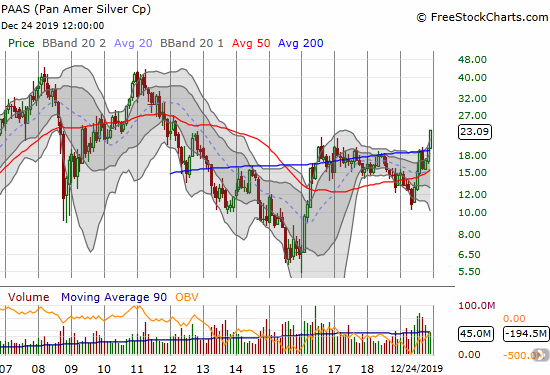 The price action alone is convincing. I want (more) gold and silver for Christmas!
Be careful out there!
Full disclosure: long GLD, long SLV shares and calls