The Breakdown
Big events can create distinct trading goalposts. Elon Musk's big reveal for the Cybertruck created the next big goalpost for Tesla (TSLA). The event delivered a bonus with the amount of derision and scorn heaped upon the stark and sharp ugliness of the truck and the big double fail on the test of the "unbreakable" windows. With headlines full of negative sentiment, traders and investors sold TSLA on Friday for a 6.1% loss.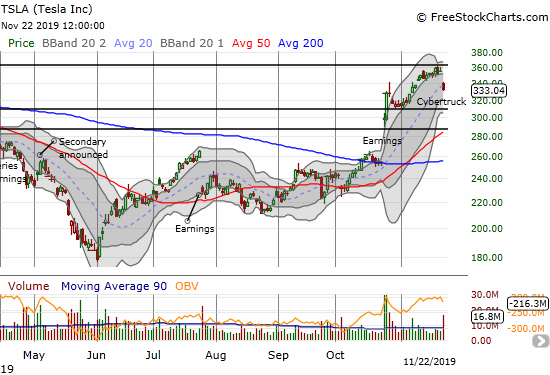 Counterbalancing Sentiment
Strong sentiment makes for greater trading potential. Extremes in sentiment set up contrary scenarios. I am inclined to lean against Friday's selling because of the perceived extreme in negative sentiment. However, the rush of positive sentiment going into the Cybetruck reveal acts as a counterbalance. Only the high selling volume on Friday suggests that negativity could be set up for a washout. For comparison, see in the chart above the high selling volume that occurred during TSLA's first post-earnings pullback.
The Trade Reset: Multiple Layers of Support
The Cybertruck reveal creates the opportunity to think through the TSLA trade reset I discussed last month.
TSLA remains 10% above its first post-earnings close. As shown by the middle horizontal black line in the above chart, TSLA is still above presumed support from the first (mild) post-earnings pullback. Even if TSLA breaks that support line, TSLA can lean on even firmer support from the post-earnings intraday low which now coincides with an uptrending 50-day moving average (DMA). At each of these points of support, I am looking to go long with fresh call options, vertical and/or calendar spreads. TSLA is in an uptrend until proven otherwise.
I can understand chasing the TSLA bearish case here. Buyers have a lot to prove to recover from Friday's gap down. TSLA offers 7.3% of downside potential to the first line of support. The best bearish case for TSLA comes after a 50DMA breakdown. Still, 200DMA support awaits from there, coinciding with a complete reversal of TSLA's post-earnings gain. If THAT support fails to hold then TSLA drops back into the range of my previous TSLA trading strategy.
In other words, with multiple layers of support below, I prefer to continue looking for bullish entry points. Needless to say, if TSLA closes above Friday's intraday high, and especially on a fresh breakout above the top horizontal line, TSLA returns to aggressively bullish territory.
I am currently neutrally positioned thanks to the weekly Nov/Dec $370 calendar call spread and the December $380/400 call spread I added to my earlier positioning of a $335/345 call spread and short a small number of shares. My own positioning means I am content to sit and wait out TSLA to trigger one of the scenarios described above. I continue to like holding some shares short as a backstop for sudden pullbacks like Friday's.
Be careful out there!
Full disclosure: long TSLA call spread and calendar spreads, short TSLA shares