The Price Action
The excitement did not last.
On October 25th and 26th, Bitcoin (BTC/USD) soared out of nowhere, and it interrupted my expectation for an imminent opportunity to accumulate for Bitcoin in the $6500-7000 range. That opportunity is finally here as a month-long slide accelerates.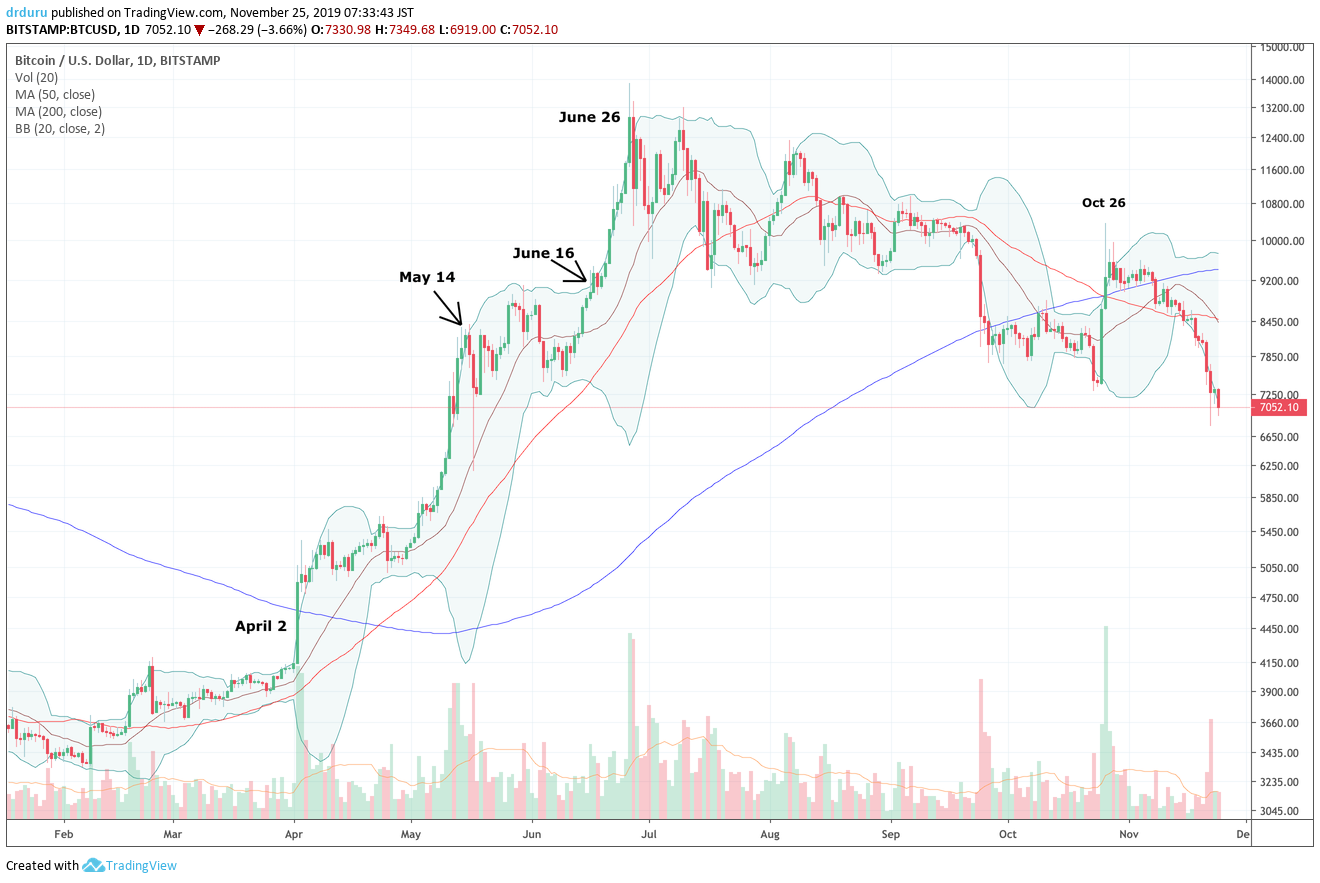 Wavering Signals from The Google Trends Momentum Check
The spike in late October looked like it could mark a bottom for Bitcoin. Google Trends for "Bitcoin" soared along with the price. The parallel surge in search interest suggested that the buying interest would be sustained. Unfortunately, that interest shut down as quickly as it turned on. The subsequent and extended decline quickly invalidated the bottoming signal.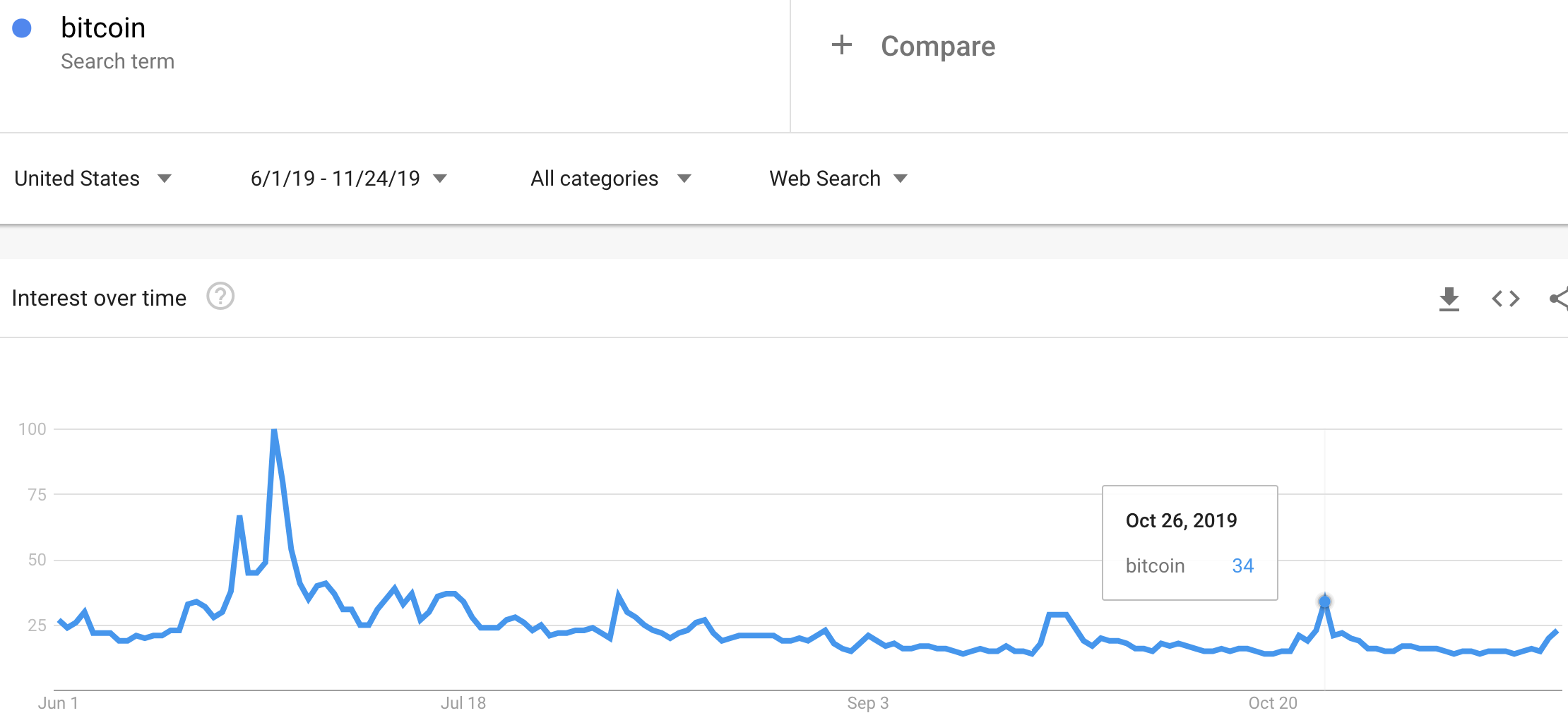 The Google Trends Momentum Check (GTMC) was important in identifying the standing top in Bitcoin back in June. The subsequent spikes in interest have paled in comparison and remind me that relative comparisons are important for interpreting the implications for Bitcoin prices from Google Trends. In other words, the October surge in price could not last with search interest capping out at such a low relative level. Relatedly, the current increase in search interest is nowhere (yet?) close to signaling a bottom for Bitcoin. (Recall that Google Trends is sufficient for interpreting Bitcoin price trends, but it is not necessary).
This 12-month view shows even more clearly the climactic nature of the June surge.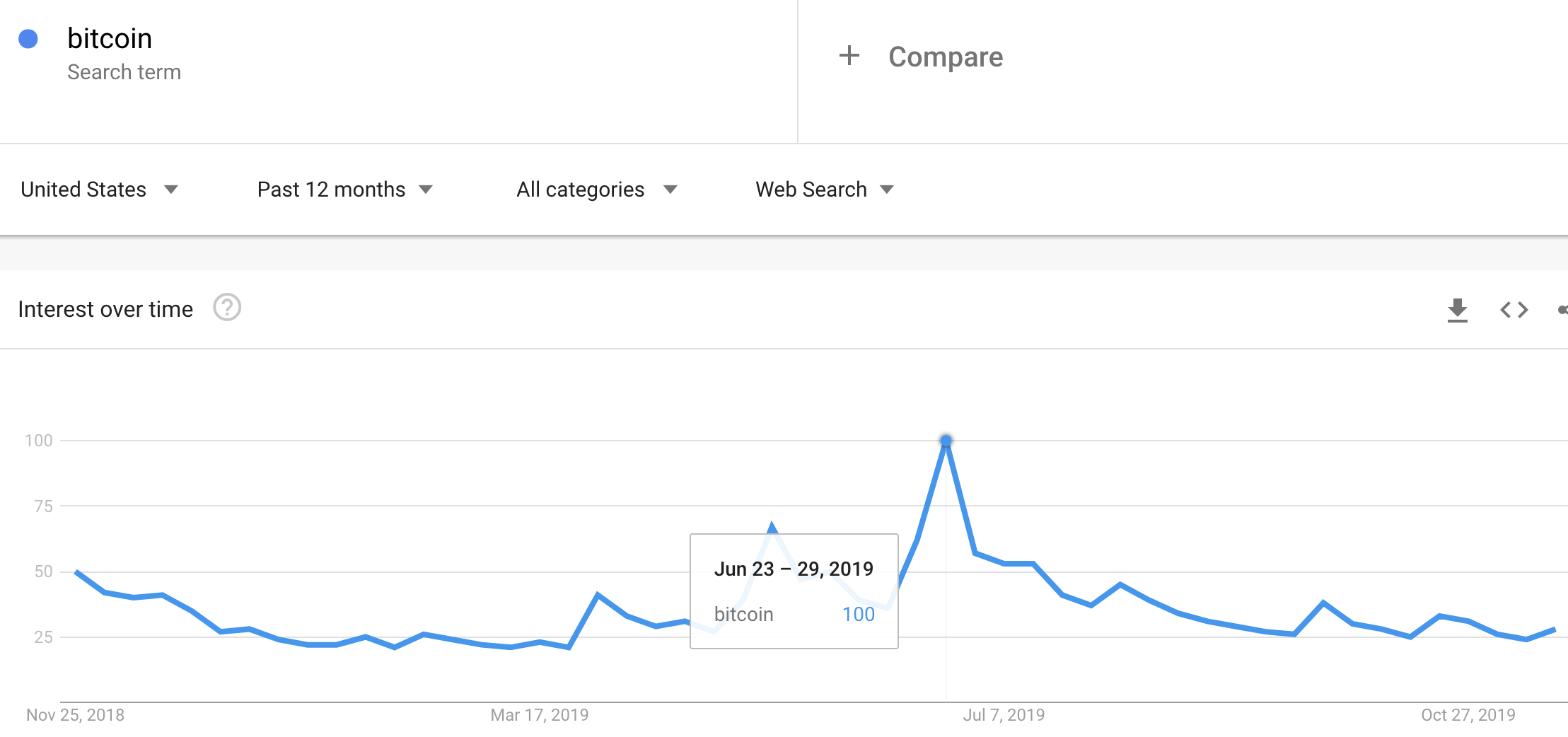 Bitcoin Worldwide
The worldwide view of Google Trends for Bitcoin is typically consistent with the U.S. trend. This consistency helps me focus on a smaller set of signals. Interestingly, African nations are now dominating (English) search interest in Bitcoin. Over the last 12 months, and since June, the top 5 nations consist of Nigeria, South Africa, Austria, Switzerland, and Ghana in descending order of search interest.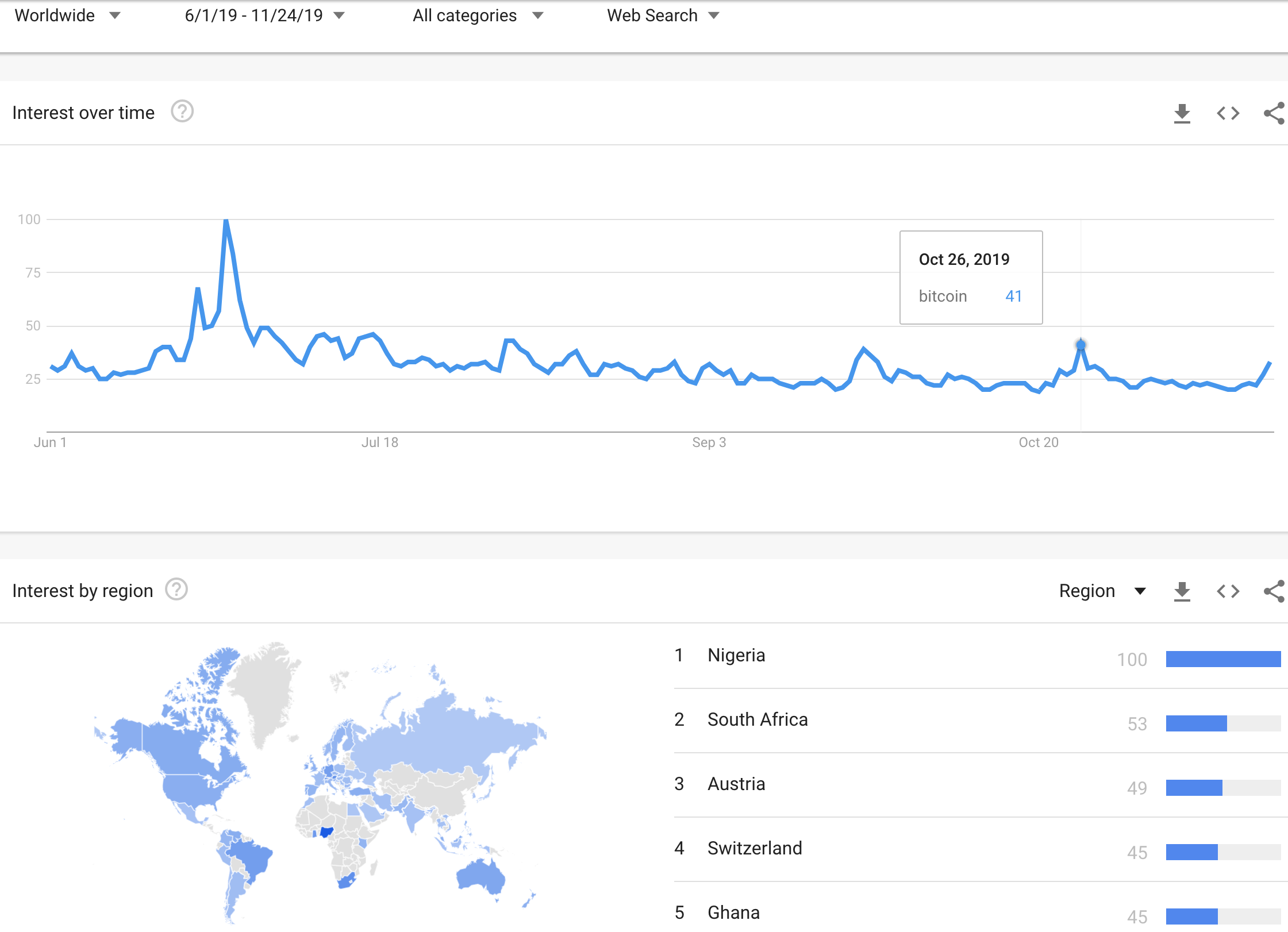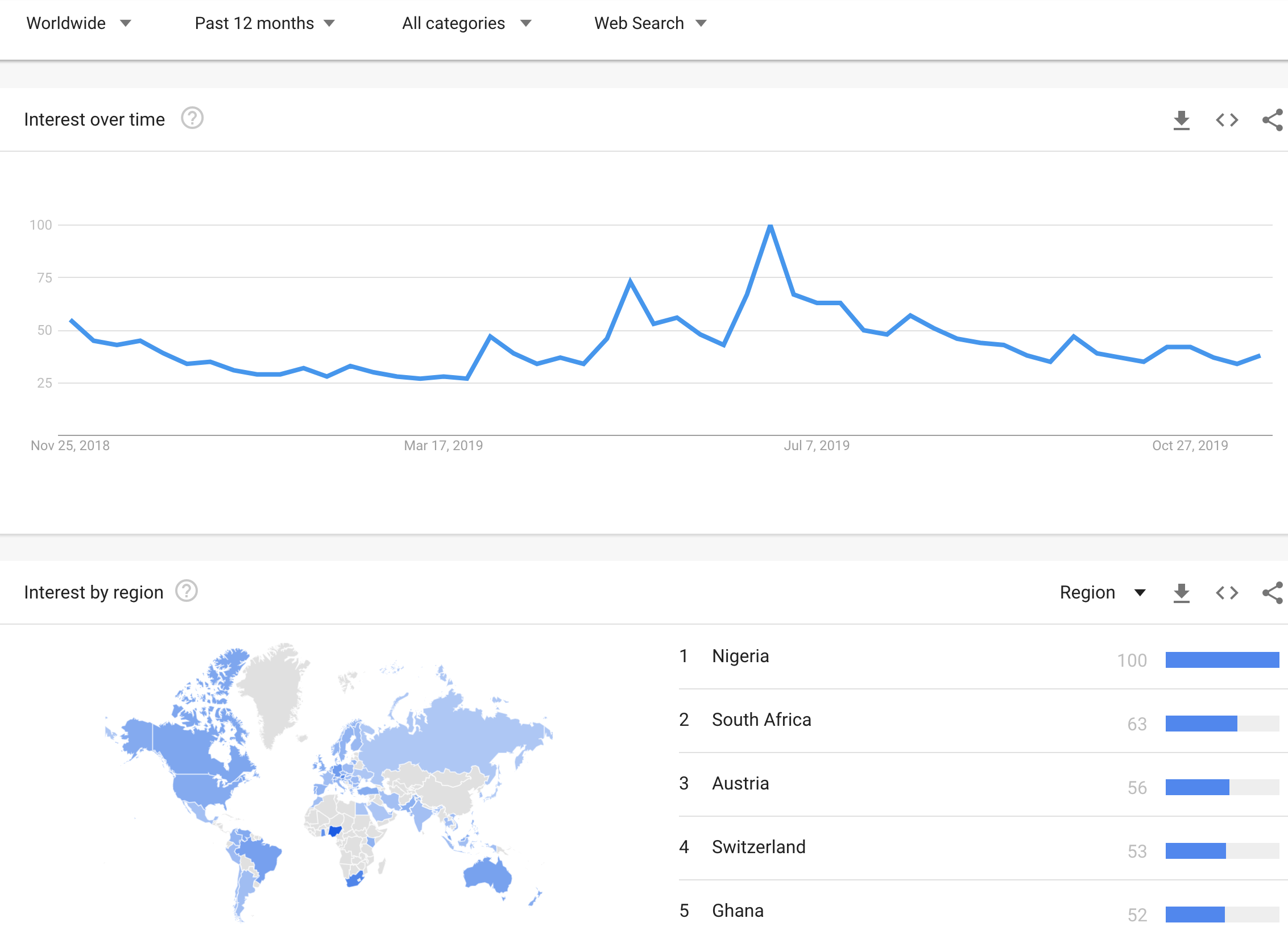 The United States is only ranked #17 over the last 12 months. So while the U.S. view has proven sufficient for analysis, I clearly need to keep an eye on worldwide trends going forward!
Positive "Fundamentals"?
Brian Kelly thinks Bitcoin is making an "important low." On CNBC's Fast Money he explained how growth in "addresses" is a sign of strong fundamentals and a Bitcoin mispricing. He likened this metric to daily active users (DAUs) and monthly active users (MAUs) on internet platforms. The explanation sounded quite strained like so many others before. I am sticking to price action and the GTMC…
Be careful out there!
Full disclosure: long BTC/USD