Overall Assessment
I want to be bullish on Century Communities (CCS). Century Communities sports a recession-level valuation and a strong top-line growth profile. The company's business model is solidly planted in the entry-level and lower-priced homes that are prime drivers of the current housing market. However, a negative cash balance, negative earnings growth (over the last 9 months), and small margin pressures weigh the stock down with notable question marks. The on-going post-earnings selling pressure in the stock confirm these question marks. Investors may also wonder how much room exists for further improvement with Texas performing at such an incredibly high level.
I am also cautious on the share count for Century Communities. While other major home builders have stock buybacks going (D.R. Horton (DHI) and Pulte Group (PHM), for example), Century Communities issued more shares. In the third quarter, CCS issued 897,000 shares for $27M.
The company's Q3 2019 earnings report celebrated record Q3 contracts and analysts were generally supportive. Hopefully that positivity kicks in soon as the stock tests important support at the 200-day moving average (DMA) trend line.
Stock Performance
CCS experienced a breakout and small run-up as earnings approached. The topping action in the iShares Dow Jones Home Construction ETF (ITB) as the index tested and failed at its January, 2018 high brought the pre-earnings rally in CCS to an abrupt halt. That sentiment shift undoubtedly colored the interpretation of the earnings from CCS and added yet more weight.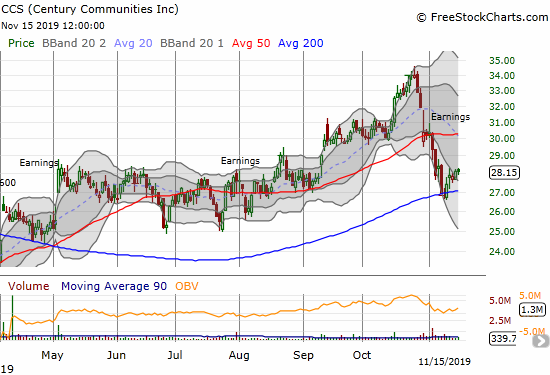 Post-earnings selling has been rare this year for home builders, so the weakness in CCS looks particularly serious. While CCS has a tantalizingly low valuation and this dip is occurring during the seasonally strong period for home builders, I am going to stay patient and wait out the trading action around the 200DMA. Below $25, CCS becomes too cheap to pass up. Above $30, a fresh 50DMA breakout, I will assume sentiment has shifted to the upside.
Note well that so far in 2019, CCS has still greatly out-performed ITB.
One day after reporting Q3 2019 earnings: -4.8%
Since the close after Q3 2018 earnings: +27.1%
Since the close after Q3 2019 earnings: -7.3%
For the year until the close before earnings: +76.0%; compare to +49.1% for the iShares Dow Jones US Home Construction ETF (ITB)
12-month trailing P/E: 10.1
12-month forward P/E: 6.5
Price/book: 0.9
Price/sales: 0.4
Short % of float: 14.4%
Year-Over-Year Performance (3 months ended September 30, 2019 and quarter-ending values)
Home sales revenue: +3.8%
Home closings (contracts): +35.0% (Q3 record 2,046 homes)
Average selling price: -4.2%
Net income: +59.0% (Q3 record $27.0M)
Gross profit margin: from 16.8% to 18.1%
Adjusted gross profit margin: from 21.2% to 20.6%
Earnings per diluted share: +55.4%
Ending backlog value: -8.2% (number of homes -8.1%)
Cash and cash equivalents: -$38,508 (current)
Ratio of net debt to capital: from 53.7% to 55.3%
Year-Over-Year Performance (9 months ended September 30, 2019)
Home sales revenue: +16.1%
Home deliveries (units): +35.6%
Average selling price: -14.4%
Net income: -15.1%
Earnings per diluted share: -16.3%
Year-Over-Year Guidance and targets for 4th quarter
Century Communities increased its guidance.
Deliveries: 7,700 to 8,100 (full year); +8.6% to +14.2%
Sales revenue: $2.4 to $2.5B (full year); 4.3% to 8.7%
Highlights from the Earnings Call
Market Conditions and Characteristics of Demand
"…favorable dynamics have reinforced our view that the overall homebuilding environment remains positive and poised for continued growth into 2020 and beyond."
"The improved home-building landscape across our markets has continued into October."
"we are seeing a lot of move down buyers as well…it's probably pretty much in every one of the markets right now."
Regional housing markets
The Texas region – Austin, San Antonio, and Houston – is soaring and a key driver for Century Communities: "…109% increase in absorption, a 73% improvement in net new contracts…, a 40% increase in deliveries, and a 23% increase in home sales revenues…" These markets are all strong at the entry-level. Century Communities doubled its absorptions.
Described the West as experiencing "…stabilizing market conditions."
"The West was the one area where we did see a slight decline in absorption. Even though our sales were still up 10%, because we had additional communities…It's the highest price that we have in our portfolio and it has been a little slow…" California is the largest part of Century's Western region, so I am not surprised by this report.
Margins and Costs
Year-over-year adjusted gross margin declined, but management made sure to note the sequential improvement from 2Q's 20.5% due to reduced incentives.
"We remain committed to reducing our leverage ratio below 50%. However, due to some attractive land investments we expect to make in the fourth quarter, the achievement of this goal may be delayed into the New Year." I am guessing that investors want to see more evidence that these land investments are worth the extension in leverage at this late point in the housing cycle.
Earnings sources
Be careful out there!
Full disclosure: long ITB calendar call spread