A Failed Pilot
"…with a direct partnership, Nike will be able to 'elevate the way the brand is presented' by gaining more control over how its products are marketed on the site…"

Former Nike CEO Mark Parker quoted in CNN Business (June 29, 2017)
In 2017, the Nike (NKE) pilot with Amazon.com (AMZN) held a lot of promise to boost both retailers. How times can change in a little over two years. The deal between Nike and Amazon.com fell apart almost two and a half years later:
"'As part of Nike's focus on elevating consumer experiences through more direct, personal relationships, we have made the decision to complete our current pilot with Amazon Retail…We will continue to invest in strong, distinctive partnerships for Nike with other retailers and platforms to seamlessly serve our consumers globally.'"

Nike company statement quoted in Bloomberg (November 13, 2019)
Nike's decision could have far-reaching significance. The end of the pilot could close the door on Amazon.com getting similar retail deals. Moreover, Nike's move could even accelerate the efforts of retailers to sell direct to their customers.
Amazon.com (AMZN)
Amazon.com (AMZN) fell 1.4% in the wake of the news. This move puts AMZN back into bearish territory. Not only did the stock close below its 50-day moving average (DMA), but also the stock printed a post-earnings closing low. A test of the post-earnings intraday low is now in play. A close below that level would signal the beginning of a sustained decline for AMZN.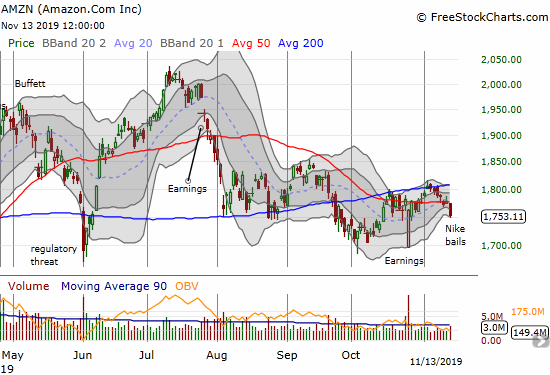 Nike (NKE)
Nike (NKE) benefited from the announcement to the tune of a 2.0% gain. NKE has spent over two weeks pivoting around its 50DMA after news of a CEO took the stock off its all-time highs. The stock looks like it is stabilizing.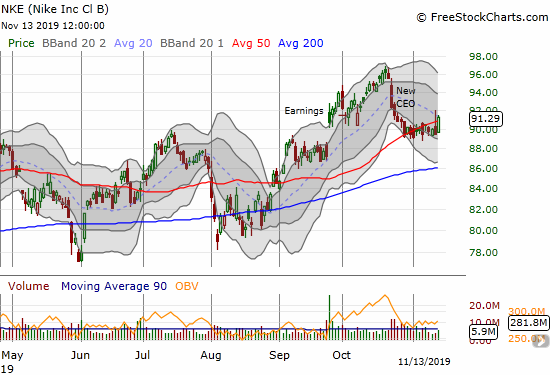 Foot Locker (FL)
Surprisingly, Foot Locker (FL) barely responded to the news. Presumably, Nike's move to sell direct to consumers will impact the business of retailers like Foot Locker. FL did not respond to the pilot news in 2017 either. FL closed at $48.70 at that time. Perhaps the stock's 6.0% loss since then is telling enough. Foot Locker next reports earnings November 22 before the market opens. With a 9.6% short interest, I suspect the stock will drift higher into that event and perhaps even print a minor 200DMA breakout along the way.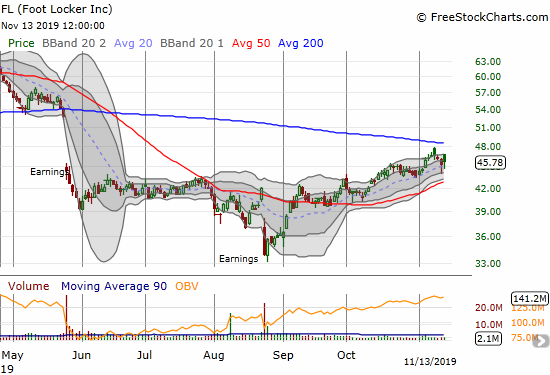 The Trades
The technicals on AMZN and NKE create well-defined trading opportunities.
AMZN is a short with a stop above its 50DMA. I prefer shorting shares and/or buying a near-dated put calendar ($1700 strike) or a vertical ($1700/$1650) spread.
NKE is a buy with a tight stop below $88.75, the bottom of the recent consolidation period. I like shares and/or a call spread ($92.50/$97.50).
FL is a wildcard. Without earnings, I would look to short the stock with a tight stop above 200DMA resistance. Without looming overhead 200DMA resistance, I would buy the stock assuming upward momentum would continue into the earnings date. So, I will just stand on the sidelines and try to trade in the direction of the post-earnings move.
Be careful out there!
Full disclosure: no positions