Overall Assessment
I am bullish on Meritage Homes (MTH). Both the fundamentals and the technicals on the company and stock look good even following the strong performance this year and following the last earnings report. I am very late on digging into Meritage's latest story despite pointing out the stock's strength several times over the past 6 months or so.
The Meritage story is all about increasing demand for entry-level homes and the higher margins the company gets from these homes given its spec inventory business model. I am just as wary about this model as I am for M/I Homes. I am also a little wary about the projected minimal annual revenue growth that could even end up negative. I am assuming the startling post-earnings run-up and excitement is focused on the pacing of sales and the hope for more upside surprises ahead. Price/book is a bit ahead of other homebuilders, so I am conservatively targeting another 7% upside from current levels ahead of fresh catalysts. I am waiting for MTH to make a fresh breakout to confirm the latest upward momentum.
Stock Performance
One day after reporting 2Q earnings: +18.2%
Since the close after Q2 2018 earnings: +49.5%
Since the close after Q2 2019 earnings: -0.5%
For the year until the close before 2Q 2019 earnings: +48.1%; compare to +27.9% for the iShares Dow Jones US Home Construction ETF (ITB)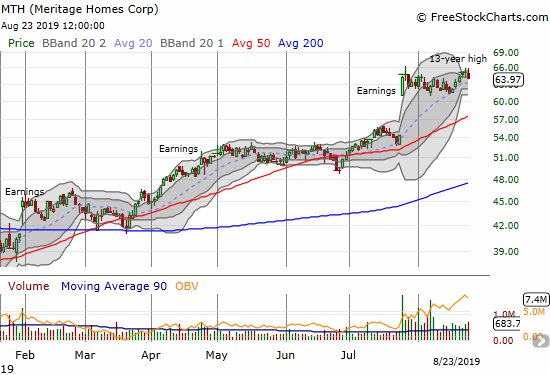 12-month trailing P/E: 12.3
12-month forward P/E: 10.5
Price/book: 1.4
Price/sales: 0.7
Short % of float: 3.3%
Year-Over-Year Performance (3 months ended June 30, 2019 and quarter-ending values)
Home closing revenue: +5%
Home orders (units): +22%
Average selling price: -6%
Housing gross profit margin: from 18.3% to 18.4%
Net income per diluted share: 0%
Cash and cash equivalents: +140.5%
Ratio of net debt to capital: from 40.4% to 33.4%
Year-Over-Year Performance (6 months ended June 30, 2019)
Home closing revenue: +4%
Home orders (units): +14%
Average selling price: -6%
Ending backlog value: -3%
Net income per diluted share: -17%
Year-Over-Year Guidance and targets
Closings, 3Q: +1.8% to +11.0%
Closings for the year: +2.0% to +6.7%
Housing revenues, 3Q: -2.0% to +6.5%
Housing revenues, full year: -2.2% to +3.6%
Housing gross profit margin, full year: from 18.2% to mid-18%
Net income per diluted share, 3Q: +5.3% to +12.8%
Highlights from the Earnings Call
General Guidance
Hike in margin guidance from increasing share of entry-level homes. These homes are higher margin. Also getting more leverage from fixed overhead in the wake of selling and closing more homes than expected.
Targeting 60% share of communities at entry level, up from 41% at the end of last year's Q2 (52% of orders were entry level).
Market Conditions and Characteristics of Demand
Entry-level orders up 42% year-over-year.
Entry-level orders at a 52% share in Q2 up from 44% in Q2 2018.
Highest quarterly absorption rate in 13 years.
Investors just 5% of the business (management did not specify revenue or units).
Demand is stronger for entry-level than move-up homes.
Cycle times are down due to spec inventory and Meritage will be building more spec homes.

"We ended the second quarter of 2019 with about 2400 spec homes or an average of 9.5 specs per community compared to an average of 9.2 per community a year ago. Approximately 23% of total specs were completed as of June 30, 2019 compared to 31% in 2018."
Regional highlights
Arizona was Meritage's strongest market given its progress in shifting to entry-level and first move-up buyers; Austin and San Antonio absorptions beat out Dallas and Houston for the same reason.
The West was the strong region even with decline in California demand.
Margins and Costs
Specializing in delivering homes faster at lower cost.
Entry-level homes deliver higher average margins than move-up homes. 
100% spec for entry-level homes creates a better cost base.
Eastern region is problematic on margins.
Pricing Power
6% drop in ASP a result of increasing mix of entry level homes
Earnings sources
Be careful out there!
Full disclosure: long ITB calendar call spread