Before the sell-off from Trump Turmoil, there was the sell-off ahead of the Easter weekend that looked weighty enough to deliver an extended breakdown below the 50-day moving average (DMA) for the S&P 500 (SPY). Buyers came storming back after that weekend. Out of curiosity, I used SwingTradeBot.com to identify the strongest stocks of the period as defined by stocks which hit new 52-week highs both the previous time the S&P 500 (SPY) hit an all-time high and the day after that April breakdown. I was quite surprised to find the list dominated by utilities, REITs, and homebuilders. I narrowed that list down to four stocks that looked most attractive as a buy on the next market sell-off: in order of descending interest: IHS Markit Ltd (INFO), Interxion Holding N.V. (INXN), ILG, Inc (ILG), and Energizer Holdings, Inc. (ENR).
My surprise increased in the aftermath of last week's sell-off. ENR was the ONLY stock of these four to dip during that sell-off, and ENR was already in the middle of an earnings related pullback. INFO dipped slightly and then ended the week at ANOTHER 52-week high. INXN traded UP during Wednesday's sell-off and finished the week at a new (marginal) 52-week high. ILG also ended the week at a new 52-week high with a Wednesday pullback that is barely perceptible in the middle of a strong and persistent uptrend. Here are the stock charts…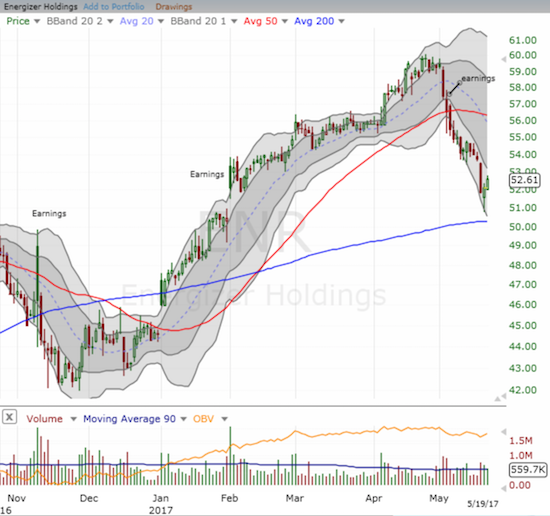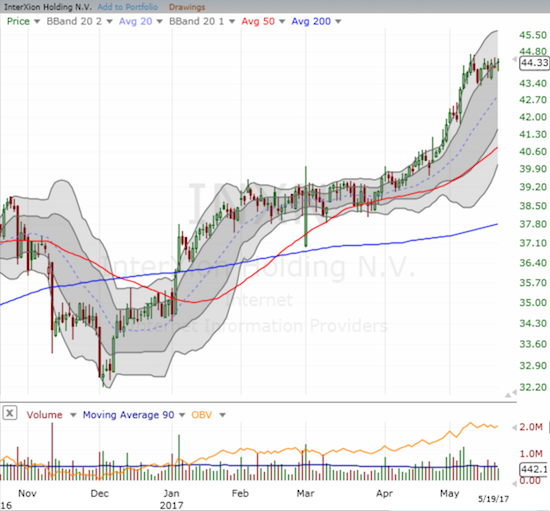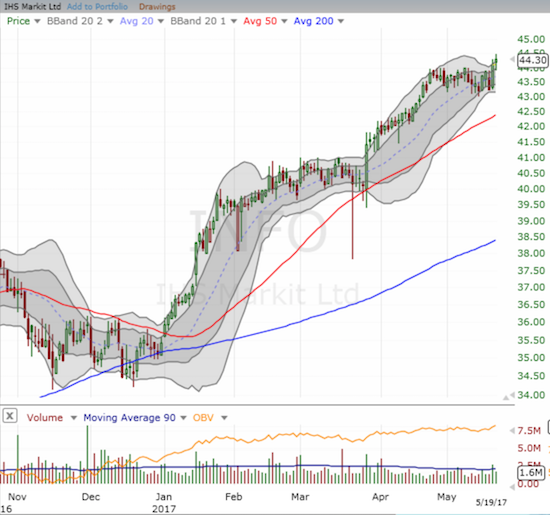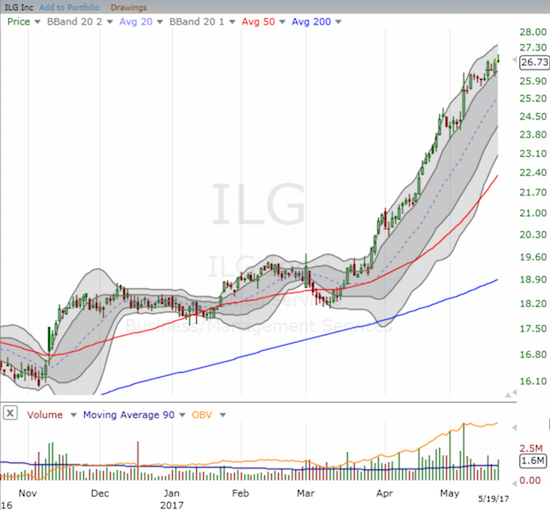 Source: FreeStockCharts.com

So while I did not buy any of these stocks during last week's sudden one-day dip, I am VERY encouraged to see some confirmation of the effectiveness of SwingTradeBot scans. Using SwingTradeBot I quickly and easily identified candidate stocks based on custom conditions, and these stocks collectively have so far exhibited enduring characteristics.
Going forward my plan for these stocks is as follows:
ENR: No rush at this point. Willing to wait for a close above its 50DMA.
INFO: Will buy the fresh breakout with a small (1/3) position as a long-term position.
INXN: Will "stop into" a fresh breakout with a small position. Otherwise, I will continue waiting for a dip. (Last earnings report was on May 3).
ILG: This looks like a momentum stock that I simply missed. I will keep waiting for a dip. (Last earnings report was on May 4).
So what about stocks that displayed strength in the face of last Wednesday's sell-off? SwingTradeBot generates 32 A-rated stocks which hit all-time highs that day. At the top of this list is Red Robin Gourmet Burgers (RRGB). I have been spying RRGB for a while, but I was taken completely aback by Wednesday's huge post-earnings gap up. I made a play on the first dip of the move and felt fortunate take a few points of profit later in the day. I wish I held onto it. I think this move is exaggerated by the large short interest: a whopping 24.7% of the float.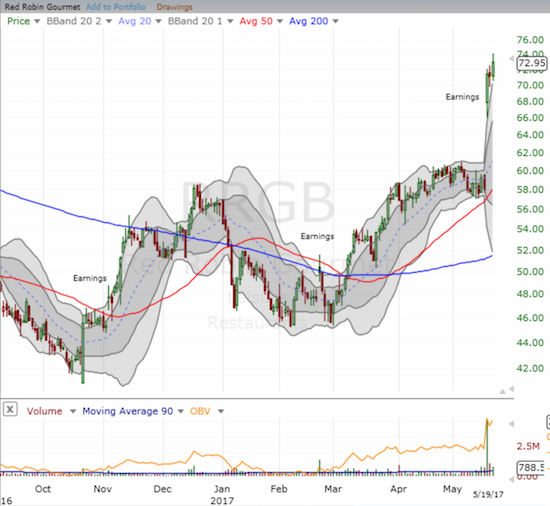 Source: FreeStockCharts.com

Be careful out there!
Full disclosure: no positions, I have a friendship with the owner of SwingTradeBot