(T2108 measures the percentage of stocks trading above their respective 40-day moving averages [DMAs]. It helps to identify extremes in market sentiment that are likely to reverse. To learn more about it, see my T2108 Resource Page. You can follow real-time T2108 commentary on twitter using the #T2108 hashtag. T2108-related trades and other trades are occasionally posted on twitter using the #120trade hashtag. T2107 measures the percentage of stocks trading above their respective 200DMAs)
T2108 Status: 60.2%
T2107 Status: 61.6%
VIX Status: 13.4
General (Short-term) Trading Call: cautiously bullish
Active T2108 periods: Day #73 over 20%, Day #72 over 30%, Day #69 over 40%, Day #3 over 50%, Day #2 over 60% (ending 9 days under 60%)(overperiod), Day #18 under 70% (underperiod)
Commentary
The market wasted no time in forcing my triggers to flip to a bullish short-term trading bias. The breakouts from Tuesday, May 24th were quickly followed by more buying. The follow-through confirms that buyers have pushed sellers aside and are now potentially positioning for a fresh extended run.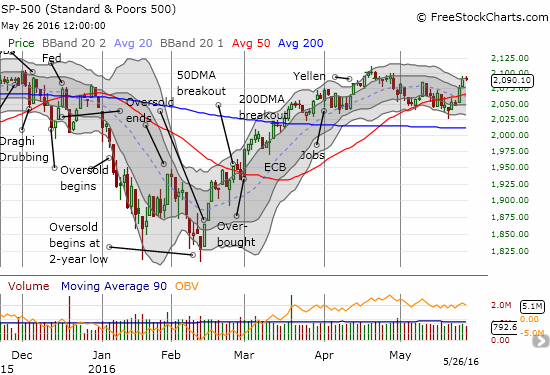 My trading call is cautiously bullish since the S&P 500 (SPY) has not yet broken through presumed resistance from 2016's high and then the all-time high set a year ago. The bullish conversion will be complete if (once?) T2108 flips back to overbought territory. I will consider the bearish case if T2108 fails at or near the boundary of overbought conditions (70%). A close below the 50DMA is also bearish. In other words the risk of whiplash is very real and on-going. The index is working inside tight spaces.
T2108 confirmed the follow-through on the S&P 500. On Wednesday, May 25th it closed at 60.5%. Today it closed a hair off at 60.2%. T2107, the percentage of stocks trading above their 200DMAs, is even MORE bullish. T2107 closed at 61.6%, just a hair away from a new 20-month high.
With all this bullishness, it goes without saying that the volatility index, the VIX, is back to the bottom of its recent range. I also have to make my standard observation that the VIX has historically bounced from these levels (low volatility begets high volatility and vice versa).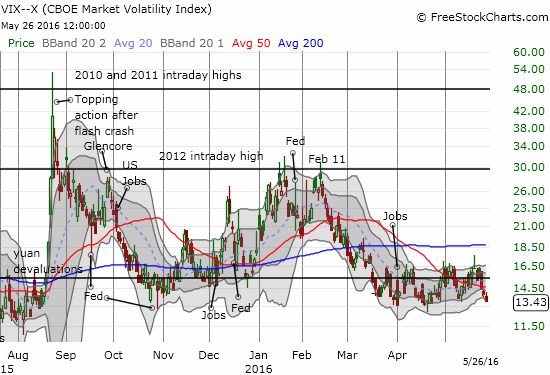 While the two bearish trades I made last week are essentially dead in the water, I was able to lock in profits on a standing bullish play I mentioned earlier on JP Morgan Chase (JPM). I took profits on Wednesday because JPM perfectly filled the gap down that began 2016. If this turns out to be the end of the current bullish run, it would be a fitting end. Regardless, I will continue buying long-term call options on dips in JPM at "natural" support levels.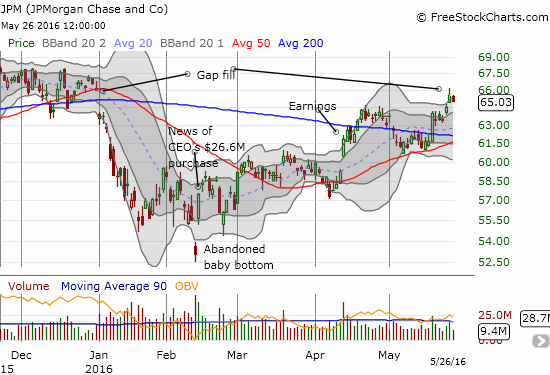 Retail stocks have really captured my interest in the past week or more. As the bulls have re-established dominance in the market, I have noticed a LOT of gap buying on retail stocks that initially get clobbered. Sometimes the buying is quite dramatic. Sometimes gaps get filled on the same day. Sometimes the momentum continues past the first day – Advanced Auto Parts (AAP) is a particularly emphatic example. I will let the charts speak for themselves! Buyers are definitely active in the aisle of May…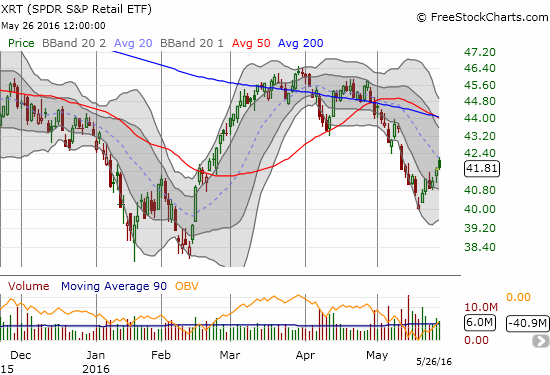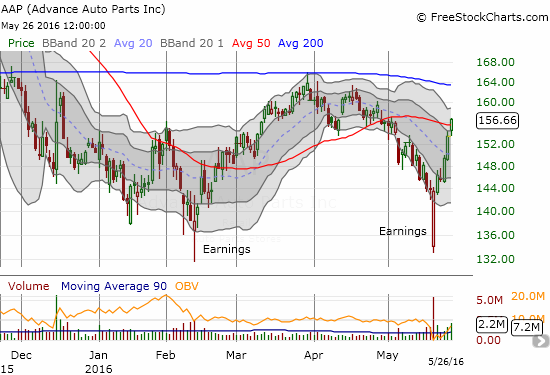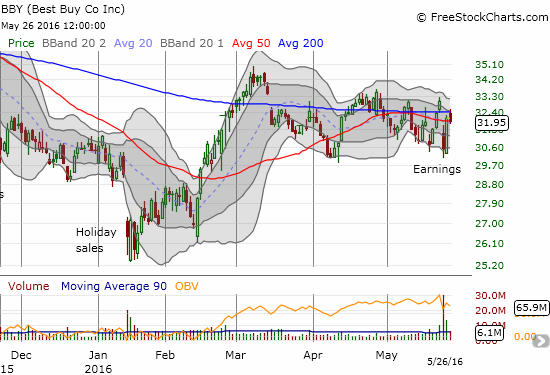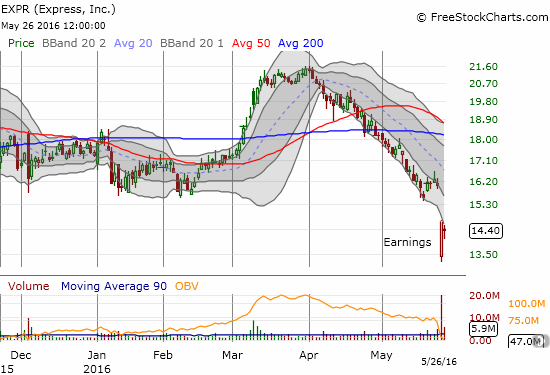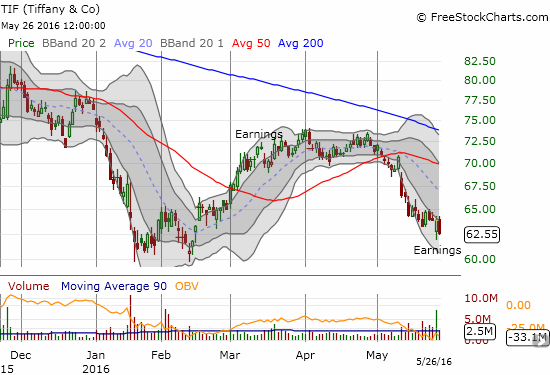 Just so you do not get the impression that buyers are scrambling to scoop up bargains in EVERY retailer reporting disappointing results, here is Abercrombie & Fitch (ANF).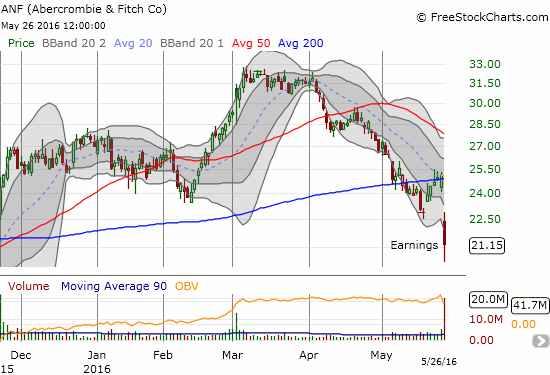 Finally, speaking of bargain hunting, even a stock like Netflix (NFLX) looks cheap when sentiment turns bullish. The stock was languishing in a post-earnings funk below its 50DMA until last week. NFLX is up over 15% since last week's closing lows.
On Thursday, we FINALLY got a whiff of what could be the fundamental driver of NFLX's run-up: a rumor about Apple's interest in buying NFLX. Typically, the release of news marks the end of a rally as everyone who got the drop (or followed the traders in the know) are already positioned and ow ready to profit from their "insight." However, this case is really buying on the rumor of a rumor. There is no real news yet. Regardless, NFLX is incredibly stretched now. The stock faded off its highs right below 200DMA resistance. It has managed to close above its upper-Bollinger Band (BB) for just about four trading days straight. These conditions got me curious about the stochastics – something I have not checked in a very long time. Sure enough, even the stochastics are yelling "SELL!". I could not resist buying put options here. If buyers readily overcome all these negative technicals, then I will KNOW the bulls and buyers are back to stay for a good long while.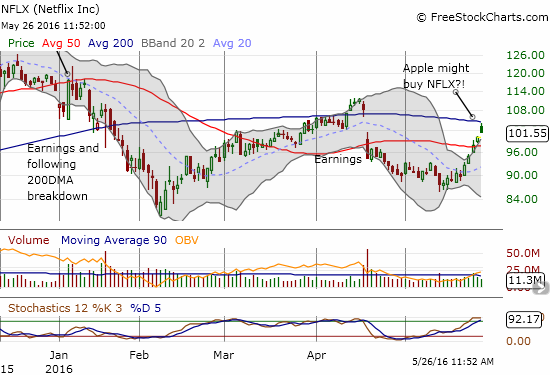 — – —
Reference Charts (click for view of last 6 months from Stockcharts.com):
S&P 500 or SPY
U.S. Dollar Index (U.S. dollar)
EEM (iShares MSCI Emerging Markets)
VIX (volatility index)
VXX (iPath S&P 500 VIX Short-Term Futures ETN)
EWG (iShares MSCI Germany Index Fund)
CAT (Caterpillar).
IBB (iShares Nasdaq Biotechnology).
Daily T2108 vs the S&P 500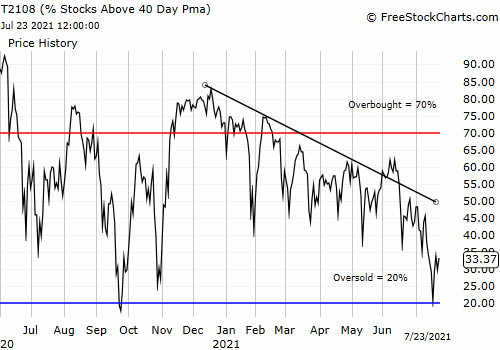 Black line: T2108 (measured on the right); Green line: S&P 500 (for comparative purposes)
Red line: T2108 Overbought (70%); Blue line: T2108 Oversold (20%)

Weekly T2108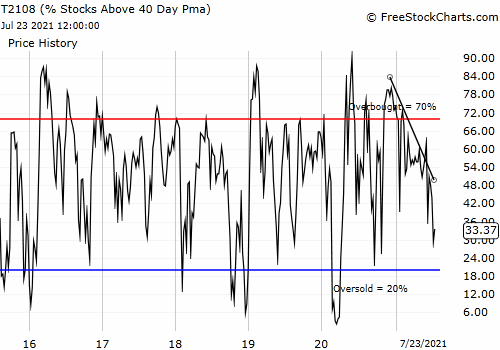 *All charts created using freestockcharts.com unless otherwise stated
The charts above are the my LATEST updates independent of the date of this given T2108 post. For my latest T2108 post click here.
Related links:
The T2108 Resource Page
Expanded daily chart of T2108 versus the S&P 500
Expanded weekly chart of T2108
Be careful out there!
Full disclosure: long NFLX put options, short BBY