There is nothing like a quick reversal of what is supposed to be good economic news to confirm a bearish bias.
On May 31st (U.S. time), the Australia Bureau of Statistics (ABS) released its report on GDP for the March, 2016 quarter. GDP came in at a very strong 3.1% annualized rate thanks to another strong performance from mining output and financial and insurance services growth.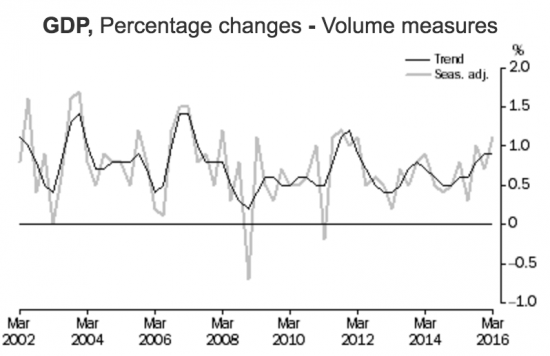 Source: The Australia Bureau of Statistics
The report was so encouraging, one Australian economist quickly went back to musings over imminent rate hikes.
A super duper GDP result. RBA to hike?

— Stephen Koukoulas (@TheKouk) June 1, 2016
Recall that the Reserve Bank of Australia (RBA) just cut rates a month ago due to very low inflation. Indeed, low inflation was evident in the GDP report – Australia's volume of output seems to be in a race with declining prices for that output.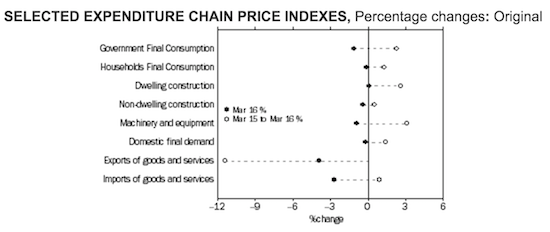 Source: The Australia Bureau of Statistics
The poor performance of export prices contributed mightily to another drop in Australia's terms of trade. Sure Australia continues to pump out exports like iron ore in massive quantities, but its realized price on that output is poor…
"The Terms of trade decreased 1.9% in seasonally adjusted terms in the March quarter following a decrease of 3.3% in the December quarter. From the March quarter 2015 to the March quarter 2016 the Terms of trade has fallen 11.5%."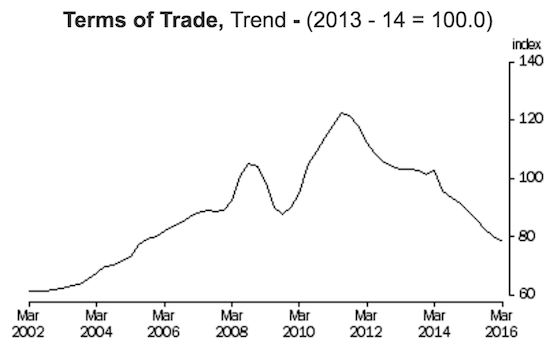 Source: The Australia Bureau of Statistics
Seeing this chart for Australia's terms of trade, I marvel at the resilience of the Australian dollar. If not for the relatively high interest rate, compared to other major economies, surely the Australian dollar would be a LOT lower right now.
So, I saw sufficient reason to view the strong GDP report as a blip: sequential gains are near what seems a (short-term) cyclical peak, poor terms of trade, and an economy whose growth is still too heavily dependent on the export of mining products. Yet, there was hope that the headline number was strong enough to carry the Australian dollar to a repeat performance from the previous quarter's report.
Previous GDP report was the spark for AUD/USD rally from 0.7170 to eventual 0.78+ highs before Q1 CPI started the reversal

— Sean Callow (@seandcallow) June 1, 2016
Instead, the Australian dollar reversed its 15-minute gain by the end of the trading day in the U.S.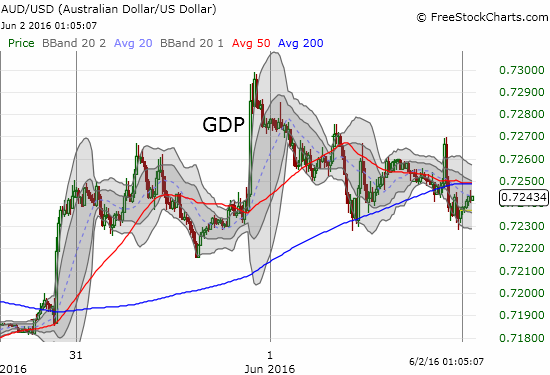 Source: FreeStockCharts.com
The parallels to the last GDP report are close in terms of the level of AUD/USD. The looming overhead resistance from the 200-day moving average (DMA) is also similar. This time, the 200DMA provided a tight cap. Even if this resistance eventually gives way, I expect the looming resistance from the 50DMA to hold firmly.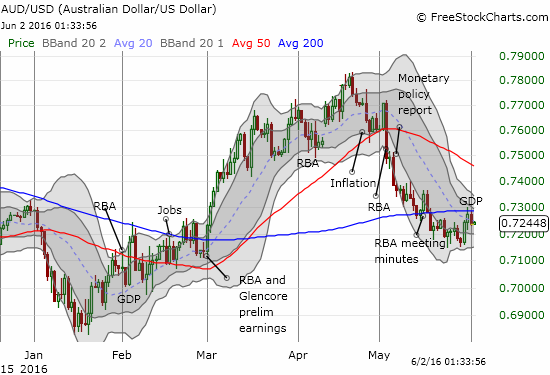 Source: FreeStockCharts.com
Be careful out there!
Full disclosure: net short the Australian dollar