The Bank of Canada (BoC) released its latest Monetary Policy Report on July 15, 2020. Neither the report nor the press conference contained any surprises. The BoC did not change interest rates, kept the crank turning on its Quantitative Easing (QE) program, and promised to "hold the policy interest rate at the effective lower bound until economic slack is absorbed so that the 2 percent inflation target is sustainably achieved."
Pandemic-Driven GDP Differentials
However, the Bank of Canada's estimates on GDP growth caught my attention and got me thinking bullish on the Canadian dollar (FXC). The BoC estimates a stronger growth profile for the Canadian economy through 2022.
The Bank of Canada estimated the following year-over-year changes for Canada's GDP:
2019: +1.7%
2020: -7.8%
2021: +5.1%
2022: +3.7%
The BoC estimates the following lower year-over-year changes for GDP in the U.S. after 2019:
2019: +2.3%
2020: -8.1%
2021: +3.4%
2022: +4.3%
The COVID-19 pandemic features prominently in the BoC's central economic scenarios. The potential for a "second wave" of the virus mean risks to the economic forecasts are tilted to the downside. The following chart of daily new cases per million people provides a stark and sufficient explanation for the slower growth estimate for the U.S.. The U.S. sticks out as the only "advanced" economy that failed to get its new coronavirus cases under control after shelter-in-place orders began lifting. Indeed, U.S. cases are out of control while those in Canada, the Euro area, Japan, and even the United Kingdom are back to manageable levels. As of July 10th, only Mexico and Brazil had higher case rates of major "emerging-market" economies.
Currency Moves
USD/CAD fell 0.8% in the wake of the monetary policy report. The currency pair closed right on top of support at its 200-day moving average (DMA). USD/CAD finally broke through the 200DMA on Monday and validated with technicals the bullish case for the Canadian dollar (against the U.S. dollar).
USD/CAD looks poised to resume the pullback from the March highs. Downside momentum will also come from a generally weakening U.S. dollar index (DXY). For the first time in two years, the U.S. dollar index failed to rebound back to or through its 200DMA soon after a 200DMA breakdown. DXY's 50DMA is now in a definitive downtrend. DXY is nearing a 2-year low. These signs are all bearish for the U.S. dollar index.
I am making the transition in my trades and my thinking to a bearish dollar world. Several U.S. dollar currency pairs are stretched, so I am looking for pullbacks to buy.
Commodities are benefiting from weakness in the U.S. dollar index. The strength in commodities will further bolster the prospects for the Canadian dollar given the commodity-heavy Canadian economy. The soaring prices in gold and silver say it all.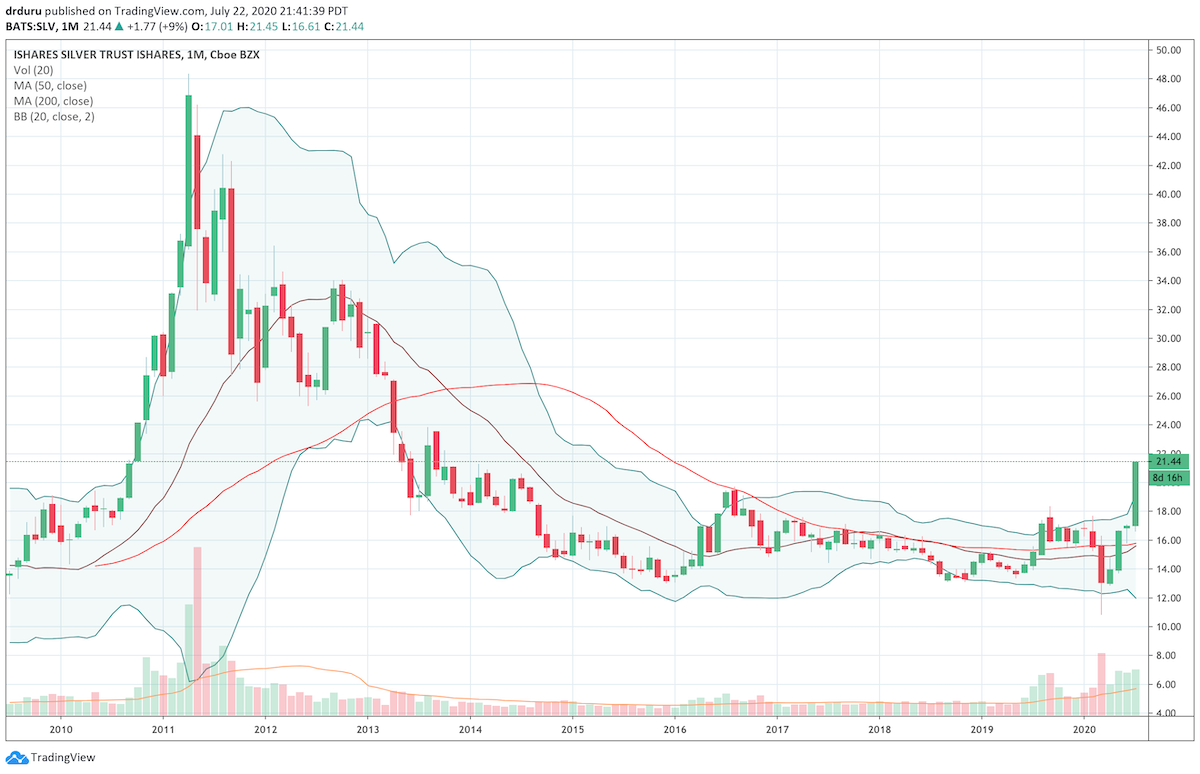 Be careful out there!
Full disclosure: long GLD shares and call options, long SLV