Some sporting goods retailers have to survive the coronavirus pandemic. Hibbett Sports (HIBB) looks like one of them.
Soaring Sales Results
Hibbett Sports provided early sales guidance for its fiscal second quarter that delivered surprisingly strong results (all comparables are year-over-year unless otherwise stated):
Total store sales for the quarter: over +70%; for the first half of the year: +20%
Physical store sales for the quarter: +60%; for the first half of the year: +7%
Digital store sales for the quarter: +200%; for the first half of the year: +140%
New customers: 25% of physical store sales and 40% of digital store sales
Inventory levels greatly reduced (the company is now "chasing inventory")
Repaid $50M borrowed against credit facilities in March, 2020. Hibbett Sports made a point to declare the company never even used the funds.
Hibbett Sports did not provide guidance for the year or report on trends within the quarter.
Hibbett Sports called out the following drivers of these amazing results:
Pent-up demand (now likely complete)
Stimulus payments from the government
Competitors' temporary closures of competitors (mostly coming to an end now)
Competitors' permanent closures (liquidation sales are now coming to an end)
"Accelerating consumer adoption of e-commerce" (a permanent shift for the omni-channel business)
The stock responded with a gap up and a gain as much as 26.2%. Profit-takers stepped in at that point and took HIBB down to a 12.9% gain for the day.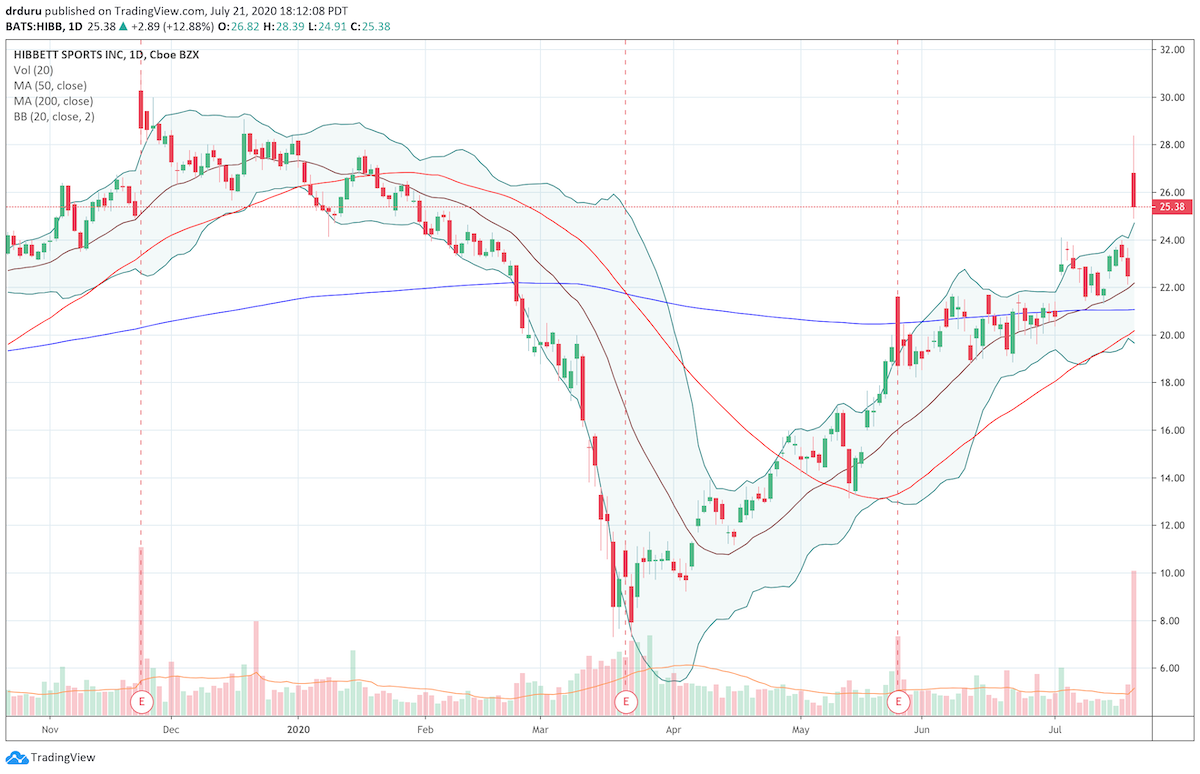 The Follow-Through
Given the strong sales results, I was surprised HIBB faded so sharply. The stock has an extremely large short interest at 48% of float, so perhaps the large initial move was more about swift short-covering.
Regardless, the trading action was validating follow-through to the bullish case I made for HIBB earlier this month. At that time I pointed to strong call option volume as part of the "anatomy" of a bullish breakout. The open interest in the October $22.50 call options that attracted attention increased in size from 0 to now 3,089. Notably, only 17 of these options traded in the wake of the early sales guidance, so I am assuming there is more upside ahead. The highest volume in any option was the August $30 call at 597 versus 228 open interest.
The Analysts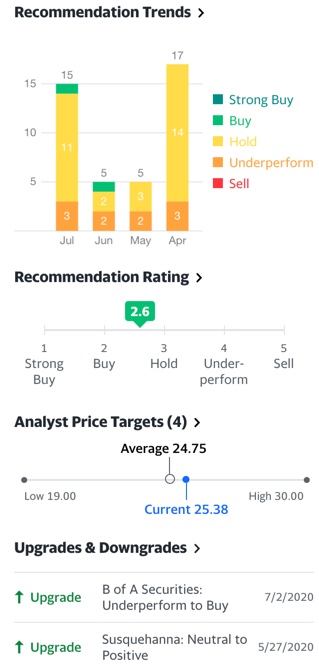 Relatively dour analyst ratings also suggest more upside is likely ahead, especially going into earnings. Analysts collectively rate Hibbett Sports close to a neutral. Hold ratings are the vast majority of the ratings. Ahead of earnings, several of these analysts will need to follow the lead of B of A Securities and Susquehana to upgrade to something above a hold. (Recall that the B of A upgrade was a part of my earlier bullish case for Hibbett Sports).
Because of the strength of the early sales guidance, Hibbett Sports added a conference call in the morning to help analysts understand the results. Management explained that they decided to announce early because they felt like sitting on such strong results for 5 weeks would violate fair disclosure. Even with back-to-school shopping just getting started amid a lot of uncertainty over school openings, management decided to pre-announce.
Analysts were very interested in understanding the cost side of the pre-announcement. Hibbett Sports explained that "additional expenses are being incurred to provide team members and customers with a safe environment to work and shop." Also, compensation and annual incentive programs will increase thanks to strong sales. Management did not provide a specific percentage increase in SG&A (sales, general, and administrative), but they reassured analysts that both merchandise and overall gross margins would be "favorable."
Analysts also wanted more clarity on the profiles of the new customers. Hibbett Sports continued to market through the pandemic as only 20% of its stores were trapped in malls shut down by the early response to the pandemic. The company used its web site and app to build email lists for marketing efforts. New customers reported three main reasons for shopping at Hibbett Sports in the following order of importance: 1) location, 2) product availability (especially footwear), and 3) the loyalty program.
Interestingly, management explained that it sees no discernible patterns in areas where COVID-19 cases have spiked higher: store traffic did not suffer and digital sales did not drop in re-opened areas. Pick-up and curbside sales doubled year-over-year (presumably off a low base). Adding to the picture of sales strength is an increase in visits per customer, AND the average ticket size is up.
The Trade
Plain and simple, I plan to add shares to my holdings this week. I am anticipating higher share prices going into the August earnings report (August 28th)..
Be careful out there!
Full disclosure: long HIBB