It was just over two weeks ago when I said these now fateful words:
"Technically, BA is not interesting until it breaks out above its last peak of $180. Of course by then the stock will likely look "expensive" and look like a high-risk trade. It will be easier to buy BA on the next dip to support like the previous April to May downtrend."
Boeing (BA) took flight last week as part of a market-wide rush for catch-up trades. The move was so swift I did not even have time to think about the implications of the stock breaking out above the critical $180 level on Thursday – much less even notice the move. For the week, Boeing's stock gained 40.9%. Friday's 11.5% gain was the third straight close above the upper Bollinger Band (BB). The buying was powerful enough to bend the upper-BB into a parabolic curve.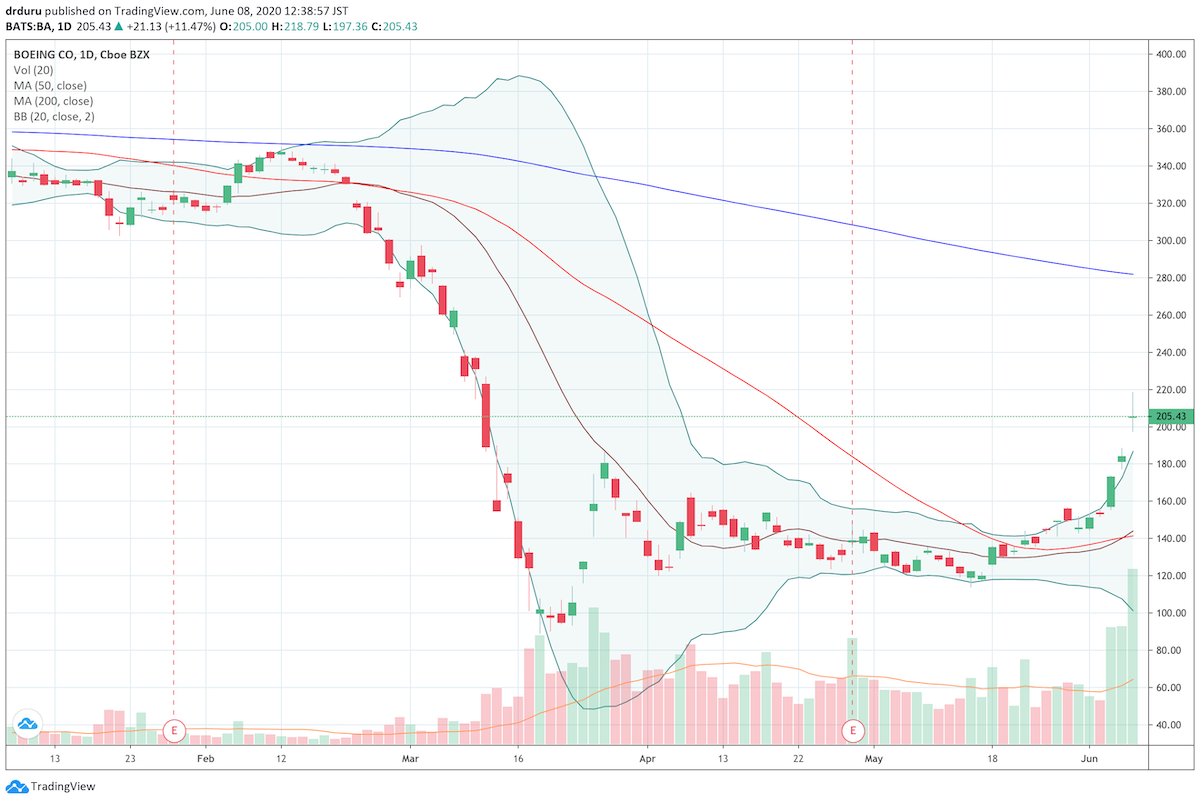 Now that the stock for Boeing has gone parabolic, can it still fly? I am skeptical because Friday's trade created a classic "evening star" type pattern that marks tops. Evening stars mark a point of likely buyer exhaustion at the end of a strong rally. In this case, the stock closed where it opened despite trading much higher – the first sign of potential exhaustion. The trading volume on Friday of 99.8M shares set a new daily record and surpassed the volume surges of the previous two trading days. Such buying is not sustainable during a parabolic move. There is only so much money willing to continue chasing a stock to ever higher levels in a very short span of time.
The evening star pattern provides a key test for the stock. If sellers close the stock below Friday's intraday low ($197.36), they punch a confirmation of the topping pattern. The topping pattern is even more convincing if the stock gaps down on the next trading day. If buyers instead close the stock out at a higher close, then the bullish momentum remains intact (amazingly enough). Limbo lies between these two conditions. If Boeing's stock takes a rest in limbo, it can provide the constructive consolidation (aka rest period) that can provide firm support for the next level higher.
I am not interested in trading Boeing either way at the moment, but I think of the stock as a key tell for the catch-up trades taking flight in the stock market right now. Over a longer horizon, I like the potential for a firm base forming above the now uptrending 50DMA. I am a definitive buyer on a successful test of that support.
For more details on the dangers of parabolic moves in asset prices see, for example, "Hard Lessons Of Parabolic Price Action: When Bonds Became Unsafe or review my "parabolic" tag.
Be careful out there!
Full disclosure: no positions