The Bitcoin Price Breakout
Bitcoin (BTC/USD) wiped away my wariness about the price action with one clean breakout that finished a reversal of March's steep losses.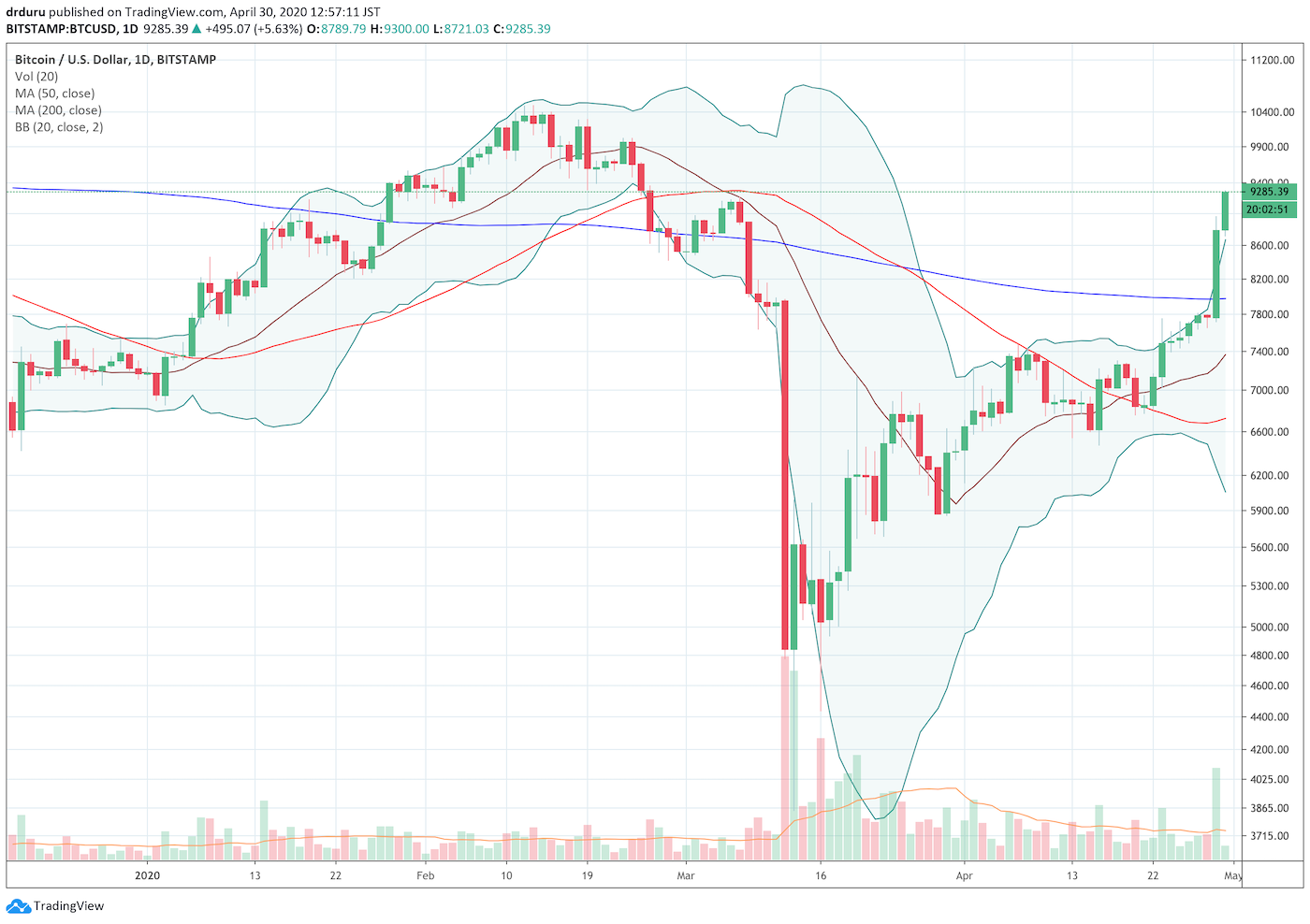 For about five days, Bitcoin was teasing its way toward a challenge of overhead resistance at its downtrending 200-day moving average (DMA). During the previous day, Bitcoin gained about 13% and sliced right through the resistance. I am now holding on to my position to see how far this new momentum can take prices. The psychologically important $10,000 price level is now directly ahead.
The Google Trends Momentum Check (GTMC) for Bitcoin
Typically I wait a few days to check in on the Google Trends data for further trading clues, but I could not wait this time. The Google Trends Momentum Check (GTMC) has been my best tool yet in assessing extreme moves in Bitcoin. The most striking development so far is the distinct difference between U.S. and worldwide searches on "Bitcoin." All views are 7-day views to allow a granular, hourly assessment.
The United States only ranks 24th in its relative search interest. In a pattern that has persisted in recent weeks and months, the top five countries in search interest for "Bitcoin" are Nigeria, South Africa, Switzerland, Austria, and Ghana. These countries helped lead a surge in hourly searches at 10AM (Pacific time). This surge quickly peaked and looks like it is already normalizing. Rapid normalization would be a negative, so I want to see the surge pick up again and exceed prior levels as a support for a narrative of fresh upward price momentum.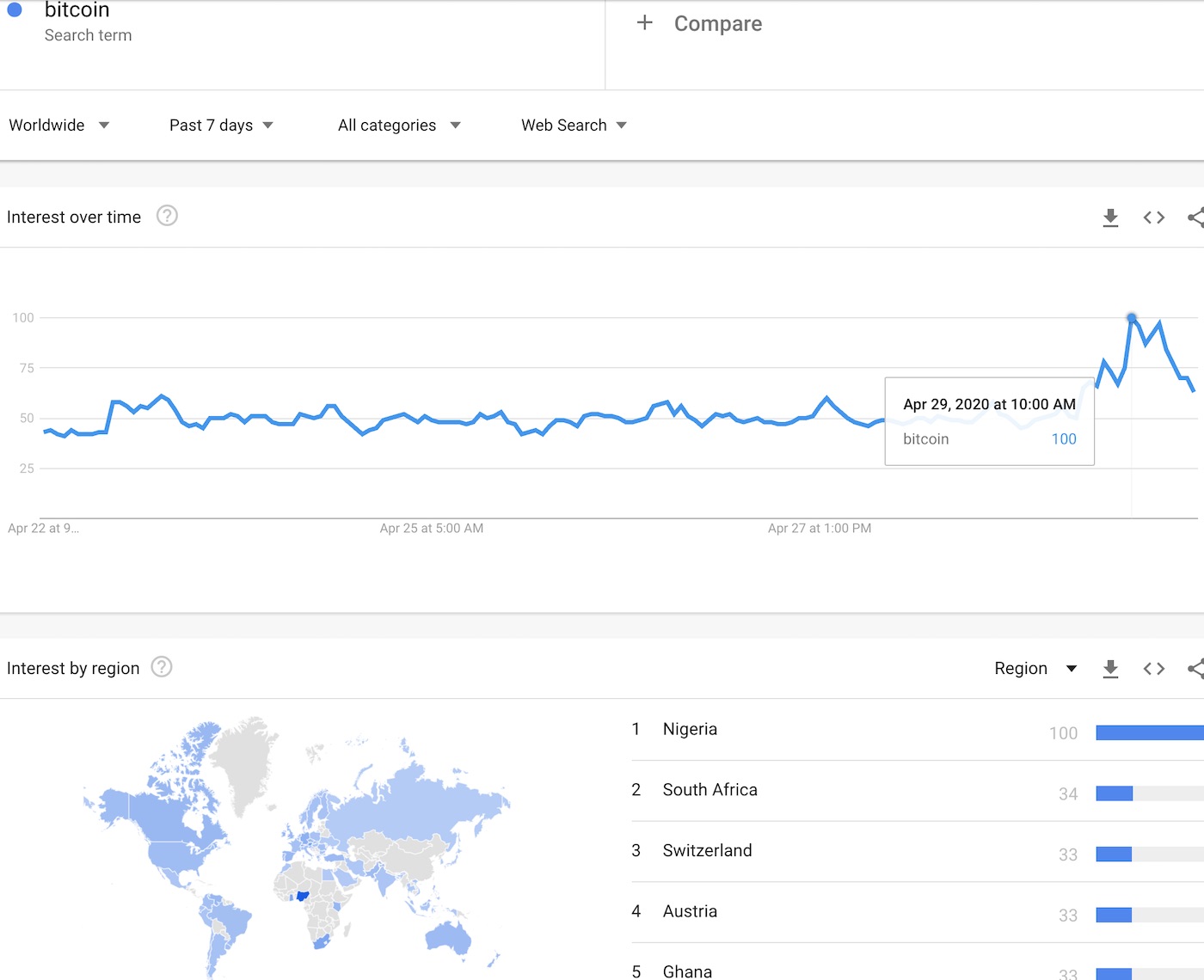 The United States is showing more sustained search interest. The peak in searches happened in the wee hours of the morning, 7 hours ahead of the worldwide peak. The search surge is also a bit more sustained. I am surprised that the hourly search index barely exceeded a peak from a week ago. This search behavior suggests to me that room still exists for interested buyers to search for information which in turn can convert to fresh buying activity. Fresh buying activity is always required to sustain extremes in price momentum.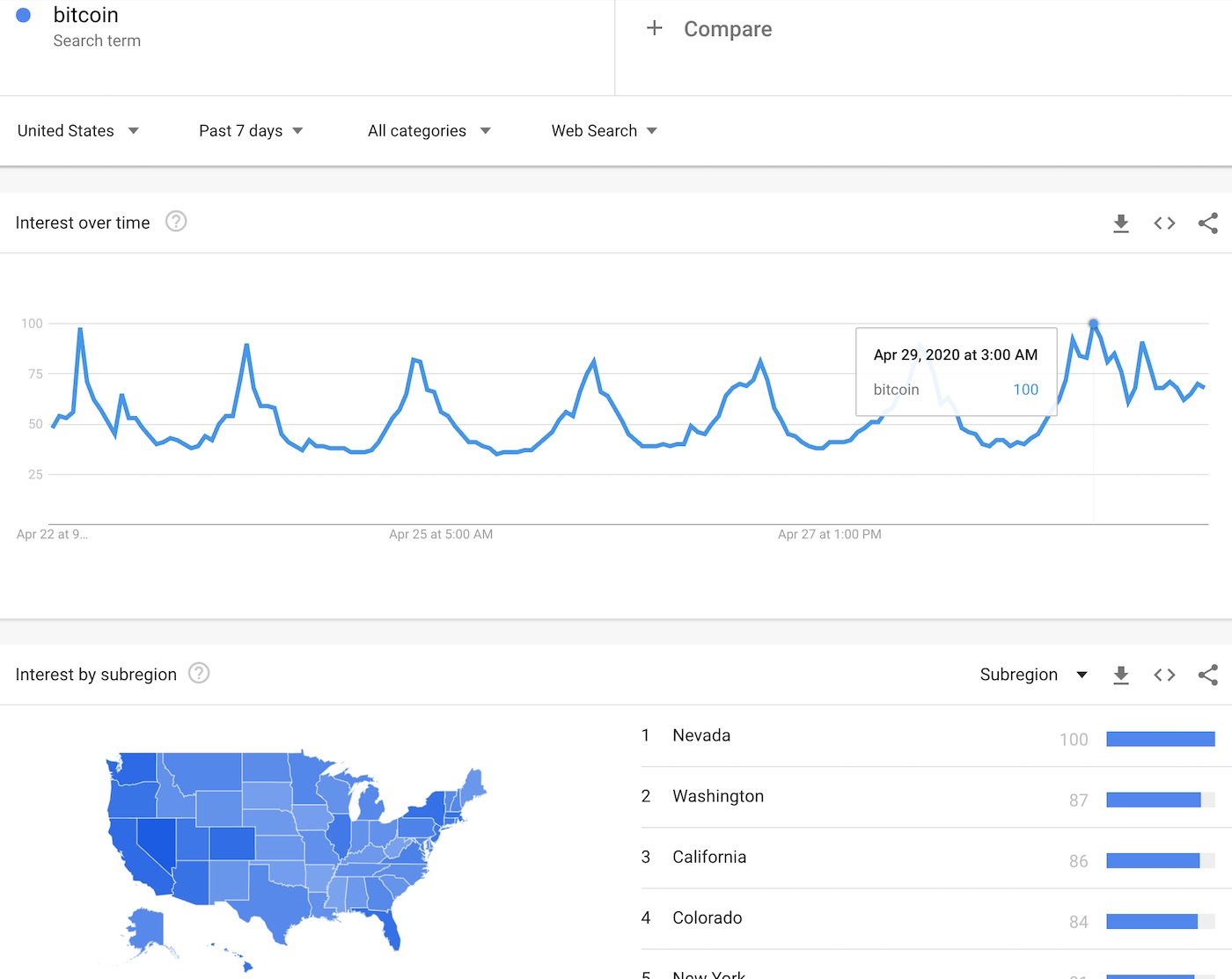 The Trade
I am going out on a limb analyzing hourly data since to-date I have only used daily data for the Google Trends Momentum Check. However, this early hourly look gives me some reassurance that I can afford to wait until daily data unfold to better inform me on the changing market dynamics.
In the meantime, I will check on prices more frequently than usual. I will likely take profits if Bitcoin approaches $10,000 while still surging well above its upper Bollinger Band. From a technical perspective, Bitcoin would become extremely extended (and overbought) at that point. I will stop out and take profits if Bitcoin drops below the current intraday low around $8700.
Be careful out there!
Full disclosure: long Bitcoin