Bitcoin (BTC/USD) has had an interesting – and surprising – relationship with the recent crash in financial markets. Bitcoin fell 39.1% on March 12th just as the crash was accelerating. The S&P 500 (SPY) continued to sell off for another week and a half after Bitcoin crashed. By the time the S&P 500 bottomed Bitcoin had rebounded by 38.6% and effectively confirmed the Bitcoin bottom I identified with the help of Google Trends. Bitcoin is now on the edge of finishing a reversal of its massive loss from March 12th. At the same time, the S&P 500 has also recovered its losses since March 12th. The rough correlation over time is surprising given the presumed role of Bitcoin as a currency of refuge from the fragility of conventional financial markets.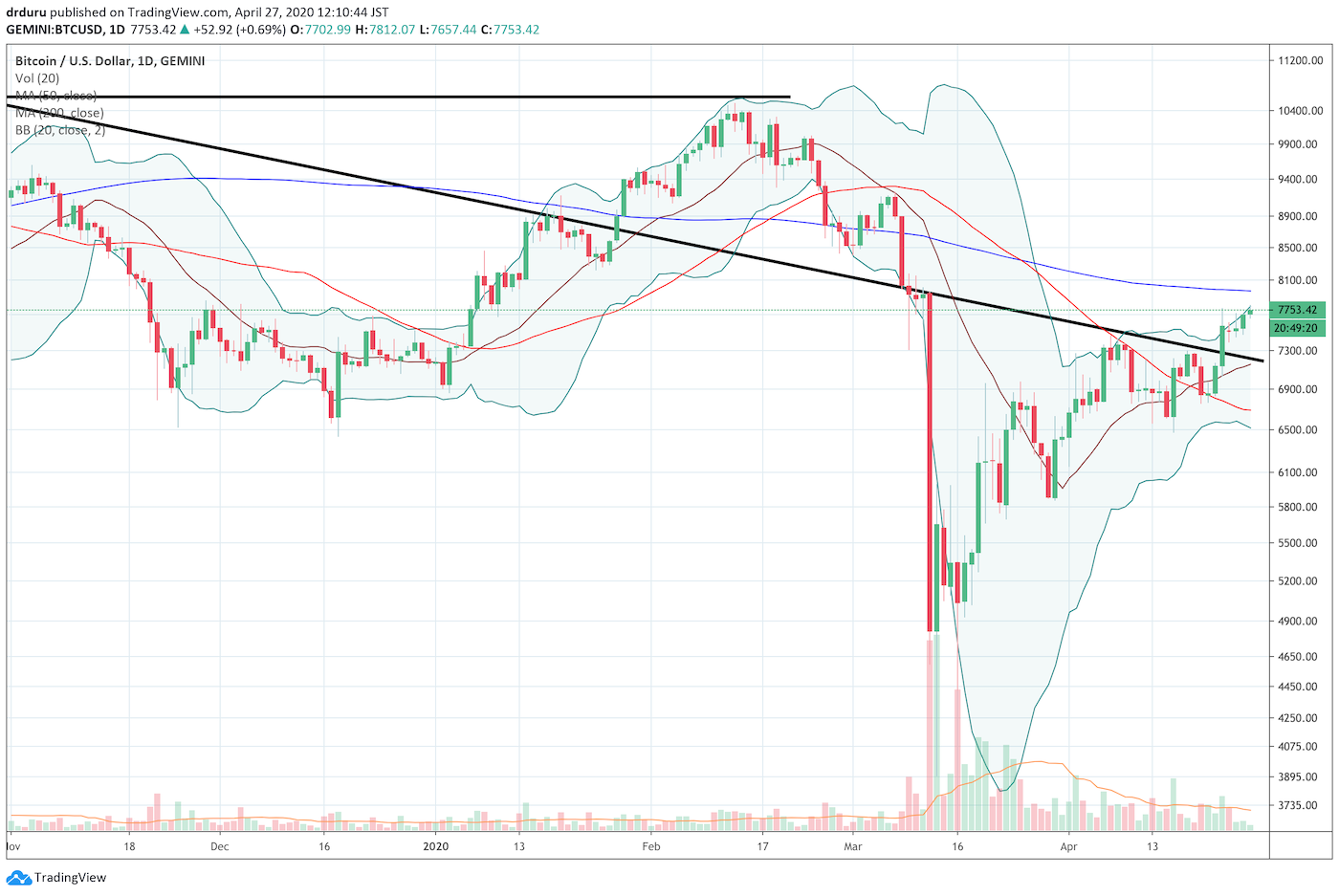 Bitcoin's near reversal coincides with an imminent challenge of overhead resistance from its 200DMA – right on the heels of a major breakout from a previous downtrend, a move that in turn confirmed a 50DMA breakout. I am watching closely as a failure to break out from 200DMA resistance would bring me back to my earlier skepticism that the upcoming "halving" of Bitcoin is an undeniably bullish event. If Bitcoin fails at resistance, I will take profits and wait to see what happens next.
Ultimately, I am still bullish Bitcoin, but the cryptocurrency continues to prove itself more of a trading asset than an investing one in this more mature stage of its existence. I will start to think differently once Bitcoin breaks this correlation from financial markets. In other words, why take on the risk of a new currency if its fate continues to ebb and flow alongside conventional financial markets? Otherwise, I might as well stick to the dollar-denominated assets that remain accepted and welcome worldwide. The May halving may turn into a non-event for the price of Bitcoin, but it may still be a pivotal event for my attitude toward Bitcoin.
Be careful out there!
Full disclosure: long SSO, long BTC/USD