Overall Assessment
I am bullish on Lennar (LEN).
The company's Q3 2019 earnings report featured the effects of an on-going pivot to serve the entry-level market and to deliver lower-priced homes. Average selling prices came down, but deliveries, orders, revenues, and margins all improved. A "land light" strategy is helping Lennar increase its cash coffers to pay down debt and repurchase stock (I also think the company is preparing for the higher risks of an economic slowdown or outright recession).
Lennar emphasized in many ways that the housing market is strong and will continue to be so. Specifically:
"We clearly saw traffic and sales continue to strengthen in the third quarter, as a combination of lower interest rates together with slower price appreciation have positively impacted affordability. And that together with low unemployment, wage growth, consumer confidence, and economic growth drove the consumer to return to a more affordable housing market."
Investors sold Lennar (LEN) after its Q2 earnings report, and I identified the episode as a buying opportunity. Investor sentiment is clearly dramatically different as the stock benefits from a three-month buying spree. I recently sold my call spread position, and I am looking to reposition myself as the calendar shifts toward the seasonally strong period for home builders.
Stock Performance
The market received the earnings report exceptionally well. The stock is experiencing strong investor demand and now trades at an 18-month high. LEN is still about 10 points, or 16%, away from the all-time high printed in January, 2018.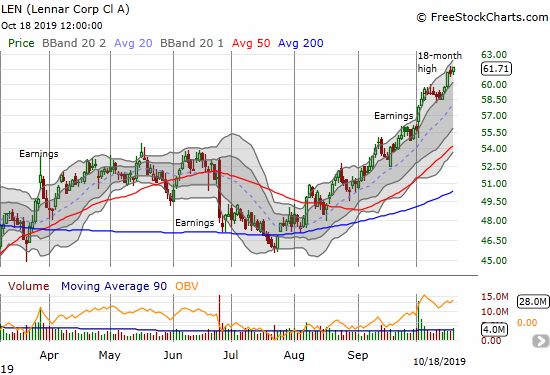 One day after reporting Q3 2019 earnings: +3.8%
Since the close after Q3 2018 earnings: +38.1%
Since the close after Q3 2019 earnings: +6.7%
For the year until the close before earnings: +42.3%; compare to +44.2% for the iShares Dow Jones US Home Construction ETF (ITB)
12-month trailing P/E: 10.2
12-month forward P/E: 10.3
Price/book: 1.3
Price/sales: 0.9
Short % of float: 6.4%
Year-Over-Year Performance (3 months ended August 31, 2019 and quarter-ending values)
Total homebuilding revenue: +3.3%
Home deliveries: +7.2%
Average selling price: -5.1%
Homebuilding operating earnings: +8.3%
Housing gross profit margin: from 20.3% to 20.4%
Operating margin on home sales: from 11.7% to 12.0%
Earnings per diluted share: +16.1%
Ending backlog value: -9.1% (number of homes -1.6%)
Cash and cash equivalents: -4.5%
Ratio of net debt to capital: from 37.9% to 35.0%
Year-Over-Year Performance (9 months ended August 31, 2019)
Total homebuilding revenue: +9.8%
Home deliveries: +11.4%
Average selling price: -3.9%
Homebuilding operating earnings: +11.2%
Earnings per diluted share: +23.5%
Year-Over-Year Guidance and targets for 4th quarter (guidance starts at the 31:00 mark of the webcast)
New orders: 12,200 to 12,400; up 15.0% to 16.9%
Deliveries: 16,000 to 18,500; up 13.0% to 30.7%
Average sales price: $385,000 to $390,000; down 6.8% to 5.6%
Gross margin: 21.25% to 21.5%; from 21.4%
EPS: $1.81 to $1.94; (the comp is not clear)
Highlights from the Earnings Call
General Guidance
"…we're very optimistic about the prospects for next year. Accordingly, we expect to generate strong cash flow for the remainder of 2019 and expect to continue to use excess cash flow to both pay down debt, while we continue to opportunistically repurchase stock."
"…there are a lot of moving parts in our business that are reflected in the third quarter as all moving in the right direction…"
Market Conditions and Characteristics of Demand
"…the market has been very strong, and it has continued to be improving…it's clear that the trend through the quarter was positive with August being our most robust month and continuing into the fourth quarter, we're seeing additional strength."
"Low unemployment, generally positive job growth, a fairly strong economy, all of these things seem to be driving consumer sentiment more than some of the new stories that we see that seem to be politicized."
"…one of the biggest problems that we have in the country right now is affordable and workforce housing, and the single-family for rent business is becoming one of the big solutions, and we are part of that solution."
Regional highlights
Texas and Florida are Lennar's leading regions for an increasing mix of entry-level homes
Inventory
Constraining growth in land holdings to move from a "land-heavier" to a "land-lighter" strategy although it means paying retail price.
Margins and Costs
"Entry level homes generally have a lower margin, but much, much higher IRRs associated with that."
Land prices continue to go higher.
Offsetting price increases to get consistent net margin with controls on production cost and SG&A.
Construction costs increased 3% year-over-year but decreased from Q2 by 1.6%
Material costs declined 3.5% from Q2: lumber, drywall, and exterior finishes dropped the most.
Lumber is Lennar's largest cost at about 13% of total direct costs.
Labor remains in a severe shortage condition, yet Lennar's labor costs only increased 1% from Q2.
Pricing Power
Sales incentives increased 60 basis points year-over-year but decreased from Q2 by 30 basis points. decreased sequentially by 30 basis points.
Incentives will continue to go down.
New markets and communities
The mix of entry-level homes will increase 2% to 4% in 2020; "we've really targeted across the board a lower price point."
Share repurchasing activity
6.1M shares for $295M
Year-to-date repurchases of 8.1M shares for $395M
Earnings sources
Be careful out there!
Full disclosure: long ITB calendar call spread