The Pairs Trade
Exactly one month ago, I pointed to a pairs trade using put options in Toll Brothers (TOL) and call options on the iShares Dow Jones Home Construction ETF (ITB). Home builders selling affordable and otherwise lower-priced homes were rapidly gaining favor. Toll Brothers, a builder of luxury, high-end homes, was greatly under-performing the general housing sector.
A pairs trade made sense under the circumstances. I assumed that TOL would suffer more than ITB in a housing sector pullback and that a TOL rally would accompany an even stronger ITB rally.
Suddenly, TOL is closing the gap trading up 23.8% year-to-date with ITB up 39.9% year-to-date. TOL is up 15.7% since my pairs trade mention, and ITB is up 7.4%.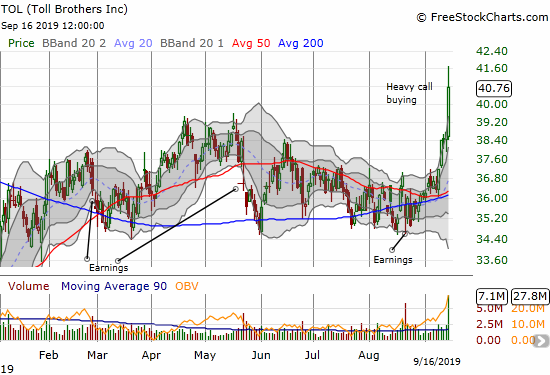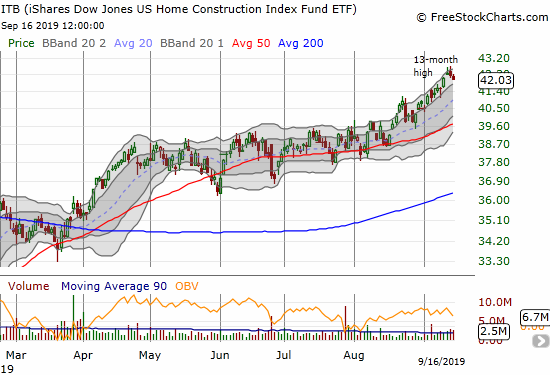 Performance Divergence Leads Into Call Buying
While ITB is performing well, the strong out-performance of TOL caught me completely by surprise. Last week September 10th TOL bounced off support at its 50-day moving average (DMA). TOL gained 2.3% on a day ITB was essentially flat. That divergence caught my attention. The strength into the end of the week confirmed for me that "something was up."
That "something", for now anyway, is a surge in call buying. Several outlets noticed the outsized call buying which I bet helped drive the stock even higher. By the time the dust settled, TOL gained 5.2%, although well off its intraday high, after a surge of call buying focused on the October $40, $41, $42, and $43 strikes. Open interest was only 26% of the 42,381 calls sold at these strikes with 24,647 calls alone trading at the $41 strike versus a paltry open interest of 11. I will watch tomorrow to confirm that this volume converts into a surge in open interest. If so, TOL clearly becomes a buy-on-the-dip stock.
Given the lack of sympathy buying in ITB or any of its components, I have to assume something specific to the stock and/or company is brewing. It is very possible that the message in Toll Brothers includes higher-end buyers finally stepping back into the housing market in a big way. This situation is different from last week's surge in M.D.C. Holdings (MDC) where its pop to an 11-year high did not create sympathy bids. MDC moved consistently with recent home buyer trends whereas TOL is busting through the presumed burden of high-end homes. Stay tuned…
Be careful out there!
Full disclosure: long TOL puts, long ITB call spread