Valuation Gap
Lowe's Companies (LOW) gets a bad rap relative to Home Depot (HD) for being the weaker operator for the home improvement and do-it-yourself (DIY) crowd. Investors are willing to pay a trailing 36 P/E, forward 17 P/E, 1.2 price/sales, and 33.5 price/book for LOW. Investors are willing to pay a trailing 23 P/E, forward 21 P/E, and 2.3 price/sales (price/book is not available) for HD (data from Yahoo Finance). The P/S ratio is the most interesting since HD's price/sales is nearly twice that of LOW's. Moreover, HD pays a 2.2% dividend yield compared to LOW's pays 1.8%.
An Early Halloween and Christmas
An even starker difference recently appeared in how the two retailers are handling their displays for the upcoming Fall/Winter holiday. Home Depot is quite focused on an extensive Halloween display full of options and holiday delights. Lowe's chose to throw up a confusing mash-up of Halloween and Christmas offerings. I used a video for Home Depot given all the action and the wide array of offerings.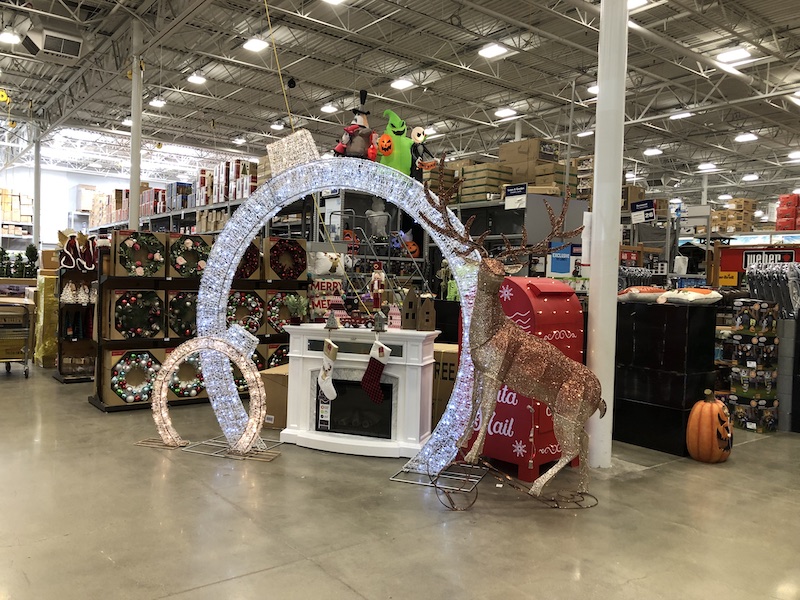 Christmas is over three months away, so I do not even understand WHY Lowe's is bothering with those holiday offerings. This over-reach has clearly caused Lowe's to come up far short of Home Depot's extensive set of Halloween offerings. This stark difference should help Home Depot achieve a foot traffic advantage in the coming month or more.
The Stock Charts
The stock charts also tell a story of distinct differences. HD is up 36.1% year-to-date and closed today at an all-time high. LOW's is up 23.3% year-to-date after an extremely choppy year that included THREE pullbacks to or through 2018's closing price. In other words, HD has not only performed better but also it delivered a much better risk/reward for the buy and hold crowd.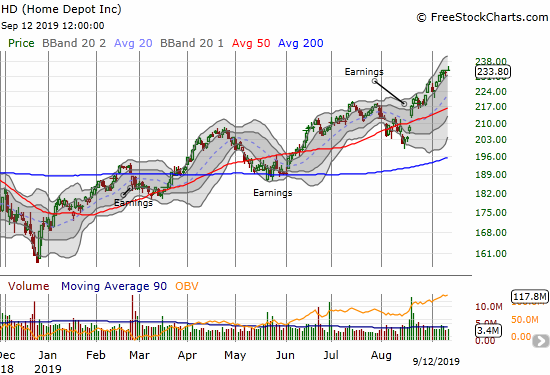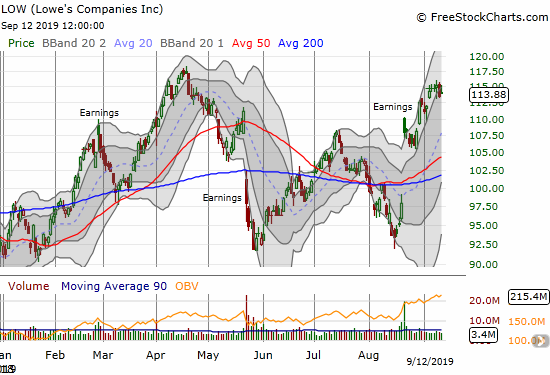 The Pairs Trade
With LOW's facing resistance at the all-time high in April (which itself barely surpassed the previous all-time high in September, 2018), this situation sets up for a potentially interesting pairs trade going short LOW versus long HD. I prefer a configuration that sets up ahead of earnings for both companies. Home Depot next reports earnings November 19th and Lowe's the day after. These earnings are conveniently right after the expiration of monthly November options on November 15th.
I use the previous two post-earnings moves to pick an upside target for HD. HD delivered a maximum post-earnings gain of 14% after May's report and 9.7% after the February report. A 10% gain from the August report puts HD at $239, just 2.2% higher from today's close. So I want to wait for a dip, hopefully at least 5%, before picking a call option configuration.
In the meantime, I am comfortable buying the short side of the pairs trade. Surprisingly, LOW's only has November options expiring on the first of the month. Assuming a November 15th expiration does not show up soon, I like buying a $110/106 put spread for about $0.80. Assuming downside risk to the post-earnings low of $106, I can target at least a triple on this put spread. When I buy HD call options to complete the pairs trade, I will target a configuration with a profit target that is at least double the value of the put options.
Be careful out there!
Full disclosure: no positions