While the month of August was full of sharp trading action which left the S&P 500 (SPY) trapped in a trading range, home builders emerged stronger.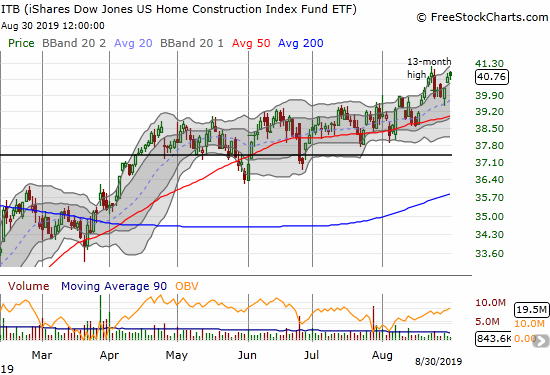 The 4.8% August gain for iShares Dow Jones Home Construction ETF (ITB) far out-performed the S&P 500 (SPY) which languished with a 1.8% loss. Ironically, the stock market's small woes transformed into big gains for home builders because of the on-going decline in long-term interest rates. Rates are declining on the heels of economic concerns, but these concerns are not translating into pressures on economically sensitive home builders. Instead, the fresh drop in mortgage rates generated sufficient housing demand to motivate investors and traders to give home builders a rare benefit of the doubt even in the face of increasing economic uncertainties.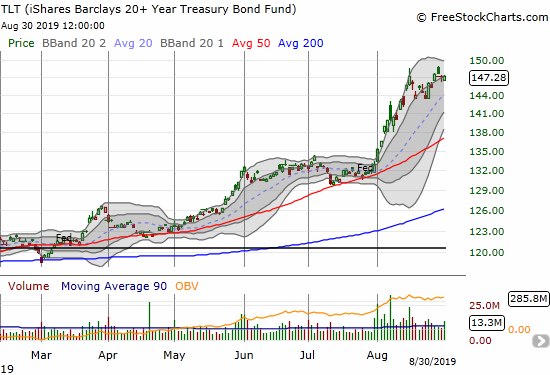 Fittingly, M.D.C Holdings (MDC) closed out August with a fresh breakout. It ended the month of August with a 3.6% gain on the day and 5.7% gain for the month. M.D.C Holdings was the feature builder when the company's July guidance led the way for what soon became an expanding set of breakouts from select home builders.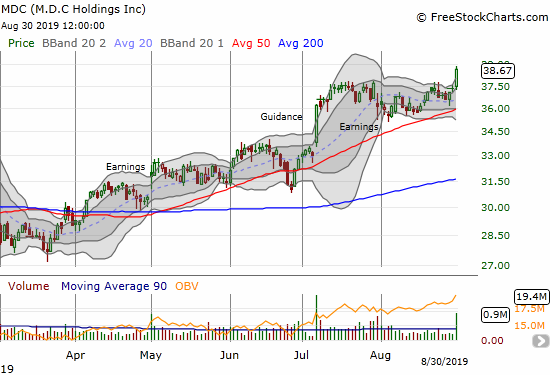 As the seasonally strong period for home builders approaches, I cannot help wondering whether investors have front-loaded a lot of that expected strength. The slow, steady climb has certainly forced me to move back into home builders far ahead of schedule. I am still looking for at least one more buyable dip in the next two months to complete my seasonal positioning.
Be careful out there!
Full disclosure: long ITB call spread, long TLT puts