Bitcoin (BTC/USD) is putting the Google Trends indicator to the test. The price of Bitcoin is surging at the same time this key indicator of sentiment is also surging (on a relative basis). Per the Google Trends hypothesis I have demonstrated over time, this surge in excitement is signaling an imminent reversal in the parabolic price run as sentiment and price combine to stretch to unsustainable extremes.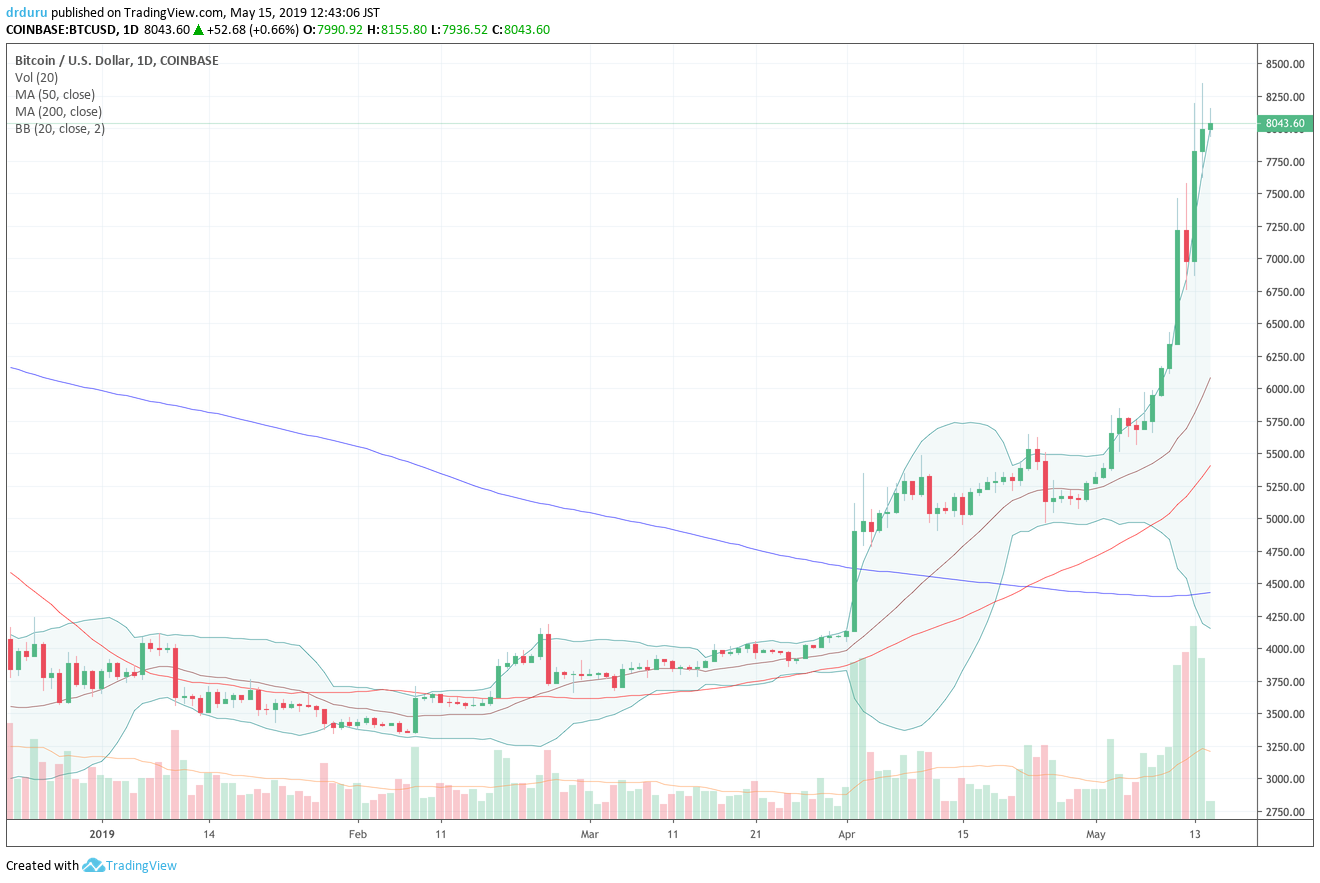 Google Trends is the indicator I wrote about as the one thing I would watch to determine any next steps for my holdings in Bitcoin. Yet, after the cryptocurrency surged through the $7250 level, well above its upper Bollinger Band (BB), I decided to take profits on my Bitcoin ahead of assessing the data in Google Trends.
It typically takes 1-3 days to get a sense of the Google Trends data, but the hourly data suggested to me that Google search interest was on its way to surging. Sure enough, Google search interest now matches levels last seen during the breakout where I started accumulating Bitcoin.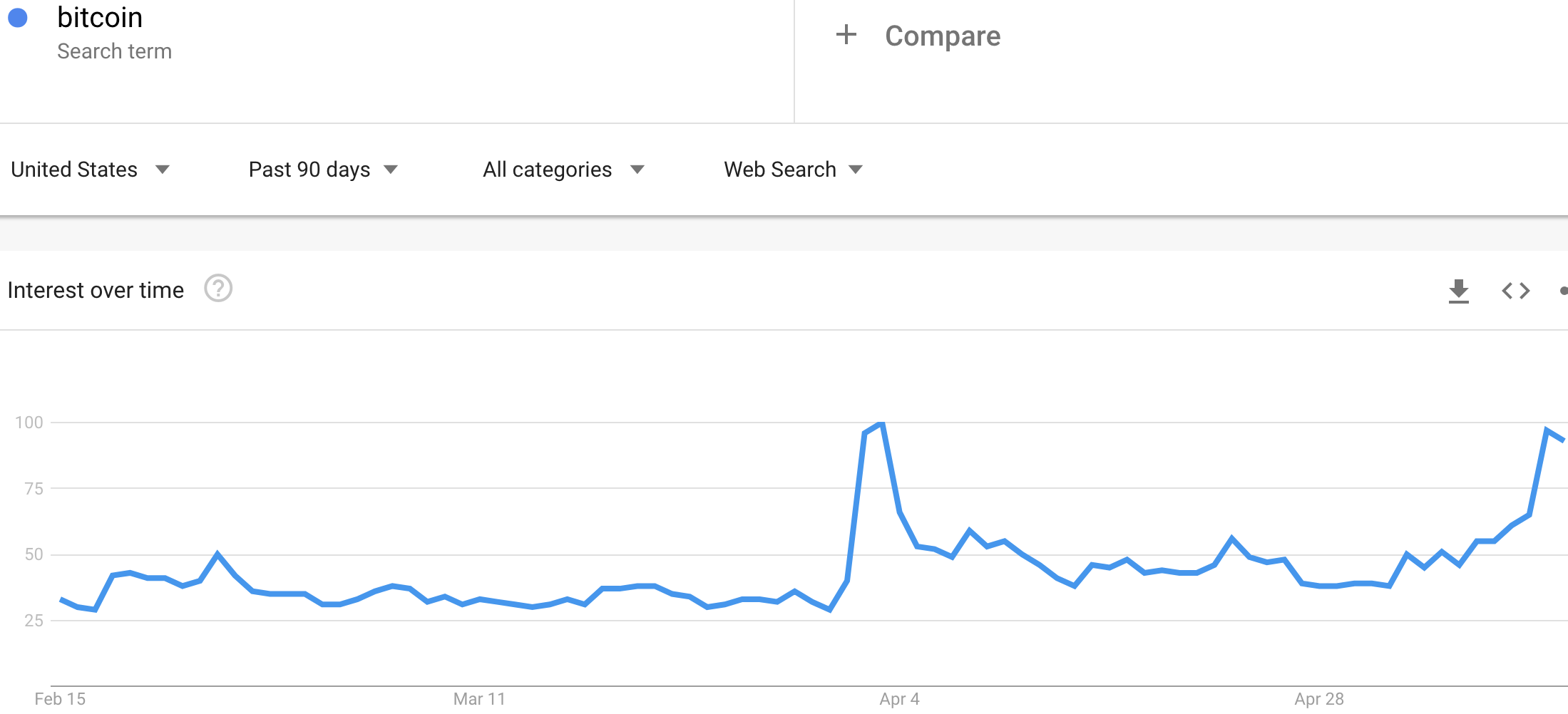 If I held as much Bitcoin as I had planned before prices took off from the initial breakout, I would have just sold half and sat on the rest. If I instead decided to hold my smaller position over the weekend, I would definitely have sold by today. Now, I am just watching to see how sentiment unfolds in parallel with price.
Google Trends is not the only indicator of greatly improved sentiment. CNBC's Fast Money is back on the case actively monitoring the Bitcoin trading action. For example, the Bitcoin "bug" is back on the screen tracking every tick. When Bitcoin punched through the $8000 level, Fast Money breathlessly reported on the "Bitcoin Boom!" and even joked about marking a top in Bitcoin. Karen Finerman speculated that Chinese buyers were eagerly buying Bitcoin as a way to sneak money out of China during increased trade tensions with the U.S. Consensus on the show approved of Bitcoin's chart pattern.
The next day, Fast Money brought Meltem Demirors from CoinShares on the show to talk about the price action. Demirors provided three explanations for the move higher after proclaiming victory for Bitcoin over other cryptocurrencies or alt-coins:
Global macro unrest and volatility in tech stocks
Privacy, including the potential break-up of Facebook (FB) and Apple (AAPL) anti-trust suits
Tech IPOs which have under-performed
Put together, Bitcoin has become attractive for investors looking for innovation and high-growth. I am skeptical that trading and investing alternatives explain the renewed interest. Combining privacy concerns and AAPL anti-trust suits surprised me. Regardless, the reason for Bitcoin's parabolic move matters little for now. Google Trends confirms the renewed interest even as it signals the current price extreme is coming to an end.
Even if THIS time FINALLY turns out to be the episode where the Google Trends indicator fails, my next entry in Bitcoin will occur on a dip in order to manage downside risks. I am still convinced that the recent price and sentiment action established a sustainable bottom for Bitcoin, but I am just as wary of parabolic moves in Bitcoin as I am in any other financial asset.
Be careful out there!
Full disclosure: no positions