Time for me to buy iPath Bloomberg Cocoa SubTR ETN (NIB) again.
NIB gapped down to start the week at least partially on the news of a surplus from the Ivory Coast. From Reuters:
Cocoa arrivals at ports in top grower Ivory Coast reached 1.547 million tonnes between Oct. 1 and March 3, exporters estimated on Monday, up about 10 percent year on year.
I was surprised by the downward push because projections last year for the 2018-2019 crop season pointed to surpluses. Those expectations have played out even as cocoa prices rallied (and dipped), so I am inclined to buy what looks like another cyclical pullback. As an example of the on-going awareness of surplus conditions, in its January, 2019 monthly update, the International Cocoa Association (ICCO) referred to favorable weather conditions in West Africa as the source of a strong supply situation that pressured prices in January. As of February 24th, the cumulative arrivals of cocoa beans in Ivory Coast's exporting ports were up 9.4% year-over-year. Cocoa bean purchases in Ghana were up 10.3% year-over-year as of January 31st. Cameroon recorded an 11% year-over-year gain on cocoa bean arrivals at its main port as of November 16, 2018.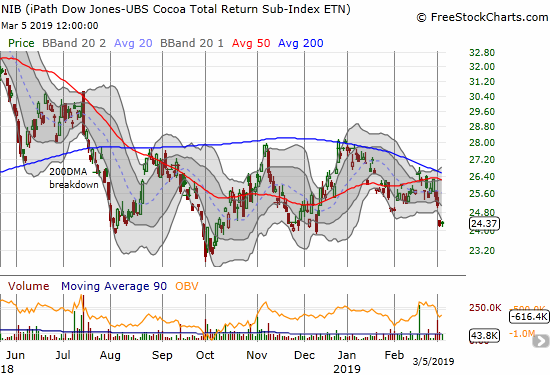 I am fond of buying NIB on the dips, especially toward or at the bottom of a trading range. Yet, time may be running out for playing a bounce from these levels as the 200-day moving average (DMA) for NIB has declined for all of 2019. This important trend line has also tightly capped NIB since the 200DMA breakdown last July. On the positive side, NIB managed to print higher highs before the 200DMA started its decline. Thus I suspect a 200DMA breakout will be a very bullish event for NIB. In the meantime, I am targeting a bounce back to what will soon be converged resistance at the 50/200 DMAs.
Be careful out there!
Full disclosure: no positions