Housing-related stocks continue to show signs of a return of buying interest. I keep tabs on these "housing moves" as checks on the health of the sector. These moves are of particular interest now that investors are actively worrying about a housing slowdown just as the stocks of home builders launch into their seasonally strong period of performance.
Zillow Group (Z) or (ZG)
The week started with the startling news that Zillow Group Director J. Hoag spent a whopping $24.8M to buy 850,000 shares of Zillow stock. Executive Chairman and co-founder Richard N. Barton spent $19.4M on 703,497 shares. The stock responded with an 11.9% gain that has all the looks of a bottom for Zillow. Given that Hoag bought shares on November 21st and 23rd, Zillow should hold this bottom between $28 and $30 for the thesis to hold. I am a buyer on dips from here. (Note well that as of the time of typing, the company has not filed any related disclosures with the SEC on these purchases.)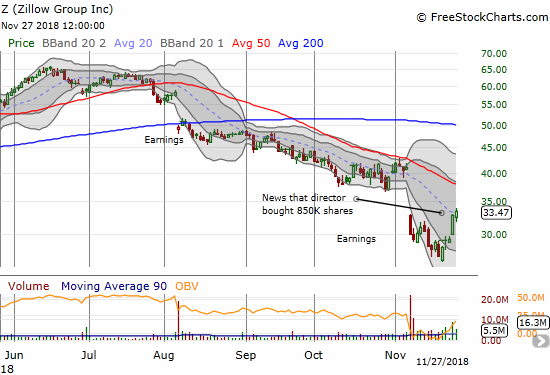 KB Home (KBH)
The rebound in KBH shares is one of the most encouraging signs of the current cycle for the stocks of home builders. KBH never closed lower after the day it delivered an awful earnings warning and has now completely reversed its post-warning loss. The next and immediate hurdle is downtrending resistance from its 50-day moving average (DMA) and the prior peak this month. I am a buyer above those levels.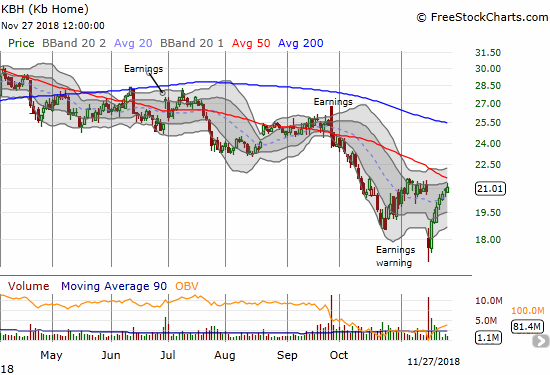 LGI Homes (LGIH)
On no new news that I could find, LGIH popped "out of nowhere" for a 7.8% gain. This move pushes LGIH close to a complete reversal of its post-earnings loss. The stock is also now making a strong push above its downtrending 50DMA resistance. I will get bullish on LGIH after it closes above the intraday high from the first day of the post-earnings reaction ($47.44). It is VERY possible that bears are finally taking profits here; shorts are a substantial 23.6% of LGIH's float.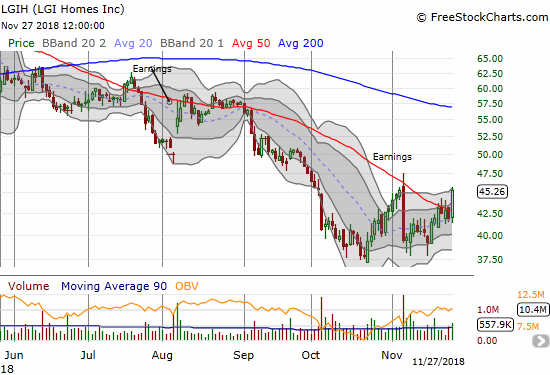 Gafisa (GFA)
GFA is a home builder in Brazil. I include it in my chart reviews mainly out of curiosity. The technical breakout shown below has edged me closer to finally buying some shares. My main hesitation is that the bearish weight in the market makes breakout moves on speculative and expensive stocks more risky than ever.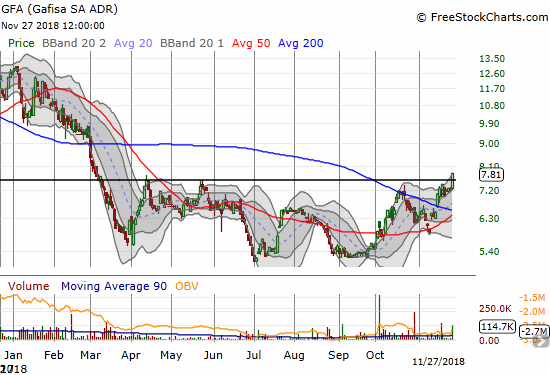 Sherwin Williams (SHW)
SHW was building itself into an encouraging recovery story after testing its May and 2018 low after a poor response to earnings. Overhead resistance from the 50DMA proved to be too much. The stock transitioned from pivoting around its 200DMA to making a fresh breakdown. I do not think SHW is a leading indicator, indeed, it was able to soar to a new all-time high from the low in May while home builders continued to languish. Still, I like to keep tabs on SHW given its amazing long-term performance; even at these levels SHW is a double over the last 4 years.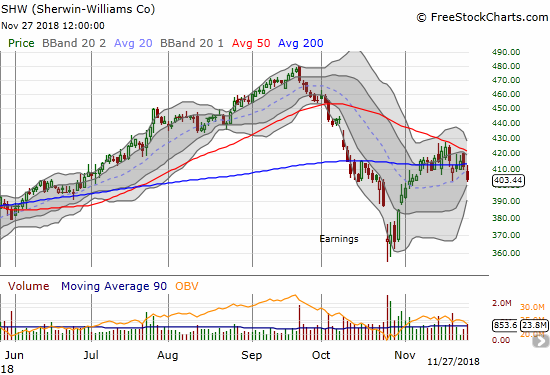 Source for charts: Freestockcharts.com
Be careful out there!
Full disclosure: no positions