I easily forget that just a year ago the iPath Bloomberg Cocoa SubTR ETN (NIB) was struggling at its all-time lows as the price of cocoa suffered through a steep bear market. One month ago, NIB hit a 19-month high after surging off the December test of the all-time lows. Taken together, a pullback to cool off the price action makes sense. Still, even as I projected an end to the rally in NIB several times during the topping process, I am taken aback by the swiftness of the resulting decline. At $27.47, NIB is right back in bear territory with a 19.8% loss from the 19-month high. NIB has retraced more than half of its heady gains from the all-time low to the 19-month high.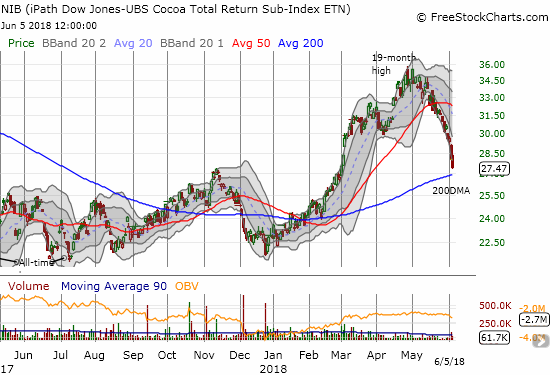 Source: FreeStockCharts.com
NIB is less than a point away from critical technical support at its 200-day moving average (DMA). This juncture looks like a great point to start nibbling on NIB again. Since I am a secular bull on cocoa – I am riding the assumption of a long-term uptrend in the demand for chocolate paired with the occasional supply disruptions – I look for reasons to buy dips. I do not think the current dip will last as long as the tortuous 18-month malaise. Seeing no large and new price-negative catalysts, I assume mostly technical factors are at work. For example, shorts may be reasserting control over trading and/or buyers are not willing to step into the fray until cocoa production forecasts start to arrive for the 2018-2019 season. Either way, I want to start buying now with a "no regret" position: if cocoa turns on a dime, at least I will have a position in play. If the sellers continue pushing prices down, I will happily add to my position at the discounts the market provides.
The latest near-term catalyst comes in the form of weather concerns in Ivory Coast. This time potentially insufficient rains are being blamed. From Reuters:
"Weeks of below-average rainfall in parts of Ivory Coast's main cocoa regions are raising concerns about the April-to-September mid-crop, farmers said on Monday.

The world's top cocoa producer is in the midst of the rainy season, and downpours this month are expected to be heavy and regular. But farmers have been concerned about a lack of rain over the past weeks."
The continued sell-off in cocoa prices demonstrates that the market is not nearly as concerned about the weather as some Ivorian farmers may be. So if the rains do come in time, I am assuming such price-negative news is already "baked in." If excessively dry weather ends up hurting cocoa production, look out above…
Be careful out there!
Full disclosure: no positions