Last week, the Australian dollar (FXA) was slammed by poor inflation data. Market expectations for a rate cut strengthened significantly as well. This week, the Reserve Bank of Australia (RBA) took heed and cut its cash rate from 2.0% to 1.75%.
In its statement on the monetary policy decision, the RBA explained that its decision "…follows information showing inflationary pressures are lower than expected." Moreover:
"Inflation has been quite low for some time and recent data were unexpectedly low. While the quarterly data contain some temporary factors, these results, together with ongoing very subdued growth in labour costs and very low cost pressures elsewhere in the world, point to a lower outlook for inflation than previously forecast."
Keeping to the more sober tone, the RBA observed a very mixed outlook on the global and emerging economies, China included. Heightened uncertainty has accompanied these mixed performances. In Australia, growth has moderated a bit.
The RBA was even barely cheered by the recent run-up in commodity prices:
"Commodity prices have firmed noticeably from recent lows, but this follows very substantial declines over the past couple of years. Australia's terms of trade remain much lower than they had been in recent years."
Finally, the RBA assured markets that the drop in the interest rate would not adversely impact the housing market given "supervisory measures" have succeeded in containing the potential for an overheated market.
The RBA's only reference to the Australian dollar was to note that its strength could complicate the on-going rebalancing in the economy away from the mining sector. The RBA chose not to hint at whether this rate cut starts a new downward cycle in rates or whether it would act against the strength in the Australian dollar. So, while this rate cut SHOULD generate sustained selling, it is always possible that traders will somehow conclude that the RBA has finally finished with rate cuts. Such a conclusion would support even more buying and strength. It is helpful to remember that speculator ran up the tab on long Australian positions ahead of the RBA decision to cut rates…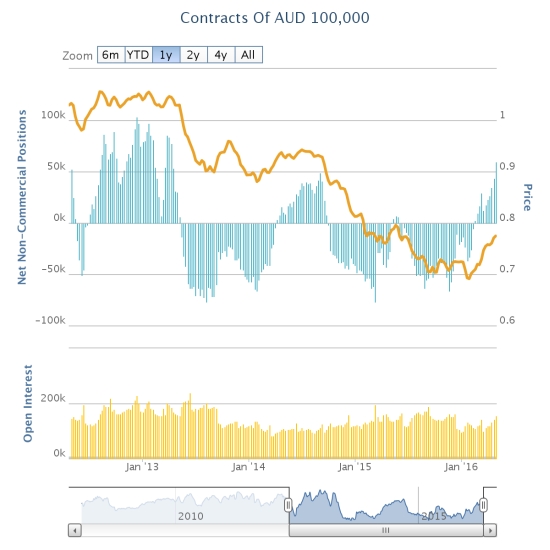 Source: Oanda's CFTC's Commitments of Traders

For now, I am going to bet on a significant unwind from these aggressively bullish positions on the Australian dollar until/unless today's losses get reversed. I closed out my short on AUD/JPY and am looking for the next fade (I am increasingly leery of a surprise Bank of Japan jack move). I have put a hold on accumulating a larger position short GBP/AUD(when is Brexit going to flare again as an issue? Just weeks to go for the vote!), and I am going back to shorting AUD/USD (going long felt sooo uncomfortable!). When the inflation numbers slammed the Australian dollar last week, I concluded that the stubbornly persistent rally had come to an end. The break in 50DMA support on AUD/USD seems to confirm this conclusion…like a 1-2 punch of catalysts.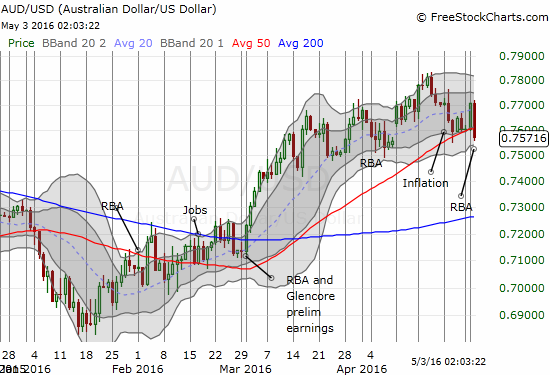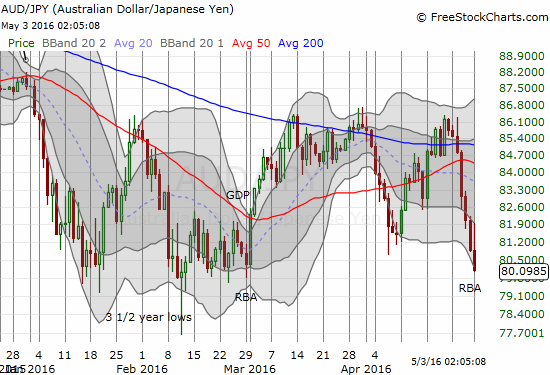 Source: FreeStockCharts.com

Be careful out there!
Full disclosure: short GBP/AUD, short AUD/USD