A little over two weeks ago I generated some simple trading scenarios for the United States Oil Fund LP (USO). The scenarios depended upon well-behaved volatility for oil, the CBOE Crude Oil ETF Volatility Index (OVX). OVX is now on the edge of breaking out above its 50-day moving average (DMA). The move was led by a huge surge on Monday.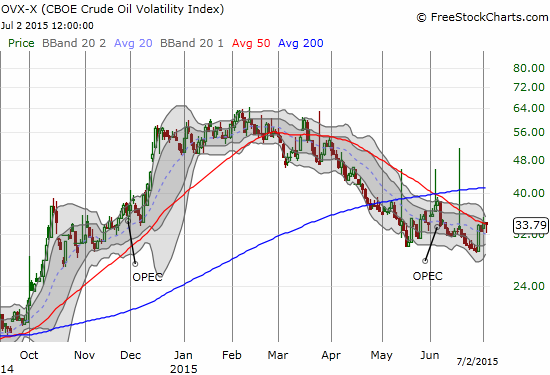 I am not clear why OVX surged so much on Monday and then made little progress for the rest of the week. Perhaps traders were anticipating the bearish news of a fresh U.S. inventory build (Wednesday, July 1).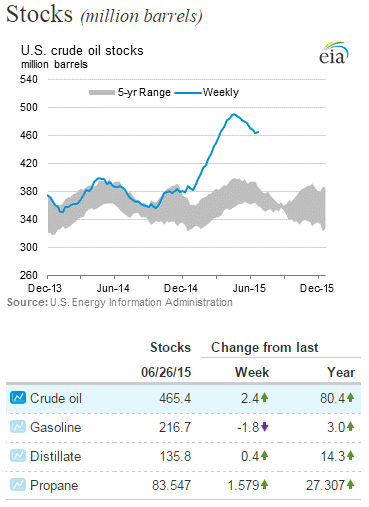 Source: This Week in Petroleum, July 1, 2015, The U.S. Energy Information Association
On Thursday, July 2, we learned that the combined oil and gas rig count increased for the first time since December, 2014. The oil rig count decreased for the 29th straight week.
OVX has not yet closed above the pre-OPEC peak, so I have not yet triggered a bearish bias against USO. However, USO is on the edge of a breakdown.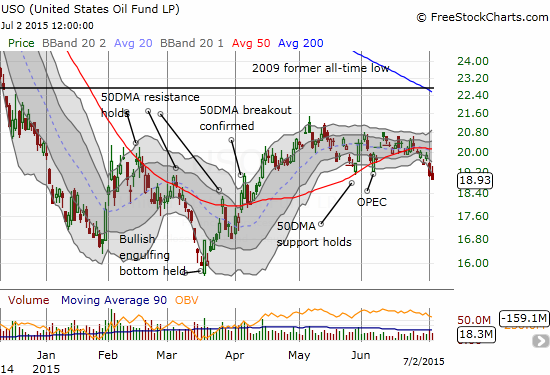 Source: FreeStockCharts.com
Sticking to my trading strategy, I doubled down on USO call options on Thursday, July 2. I am essentially betting the $19 bottom of the trading range will hold. Another lower close will confirm a breakdown below the 50DMA pivot and an end to the trading range. Even in that scenario, I will likely wait for the OVX signal before attempting a fade on USO while it is sinking. In other words, there could be a dead, "no trade" zone in the first stages of a breakdown for USO. Stay tuned..!
Be careful out there!
Full disclosure: long USO call options