(T2108 measures the percentage of stocks trading above their respective 40-day moving averages [DMAs]. It helps to identify extremes in market sentiment that are likely to reverse. To learn more about it, see my T2108 Resource Page. You can follow real-time T2108 commentary on twitter using the #T2108 hashtag. T2108-related trades and other trades are sometimes posted on twitter using the #120trade hashtag. T2107 measures the percentage of stocks trading above their respective 200DMAs)
T2108 Status: 49.5%
T2107 Status: 48.5%
VIX Status: 19.2 (a 21% gain!!!)
General (Short-term) Trading Call: Hold. See below for important caveats.
Active T2108 periods: Day #51 over 20%, Day #10 above 30%, Day #9 over 40% (overperiod), Day #1 under 50% (underperiod, ending 5 days over 50%), Day #19 under 60%, Day #121 under 70%
Reference Charts (click for view of last 6 months from Stockcharts.com):
S&P 500 or SPY
SDS (ProShares UltraShort S&P500)
U.S. Dollar Index (volatility index)
EEM (iShares MSCI Emerging Markets)
VIX (volatility index)
VXX (iPath S&P 500 VIX Short-Term Futures ETN)
EWG (iShares MSCI Germany Index Fund)
CAT (Caterpillar).
Commentary
So much for the Santa Claus rally helping to drive volatility back toward its recent lows!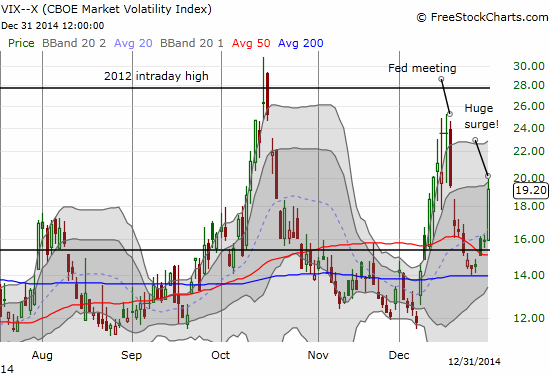 From what I could tell, there was no definitive news item that drove volatility on a 21% surge. The VIX also steadily increased throughout the holiday-shortened day; this was no quick blip or end of the day rush for protection. Since I was expecting a "calm" day of trading, I did not even notice the pop until after trading had closed. (Heck, I was not even expecting enough to happen to warrant writing a T2108 Update for the day!) Given my strategy to fade sudden surges of volatility, I did not hesitate to buy ProShares Short VIX Short-Term Futures (SVXY) in after hours trading even as SVXY had already increased slightly. My last put options on ProShares Ultra VIX Short-Term Futures (UVXY) will undoubtedly expire worthless on Friday, but I am ready to buy a fresh tranche if the volatility surge reaches a fresh extreme (and I will add to my SVXY shares as well).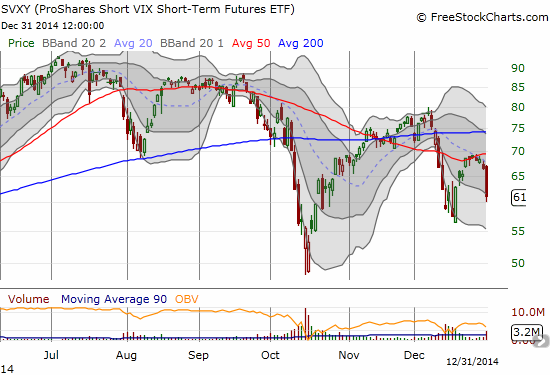 I see one big caution from this chart: SVXY has been making lower highs since July's peak. While December did not deliver a lower low, it sure seems that SVXY's long run-up is coming to an end. SVXY opened 2014 around $66 but opened 2013 around $29. This is QUITE a contrast in performance for two years that delivered healthy gains on the S&P 500.
I also found the volatility surge strange because the S&P 500 only dropped 1.0%.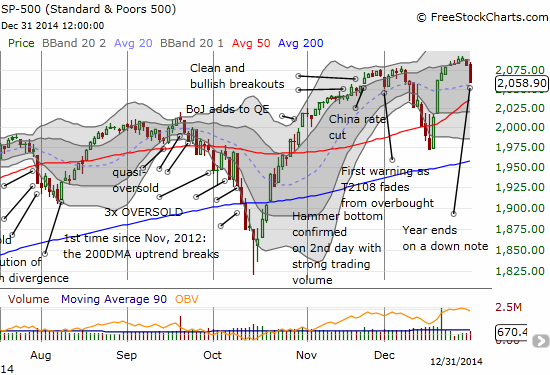 T2108 also sagged notably and confirmed the potentially ominous nature of the decline.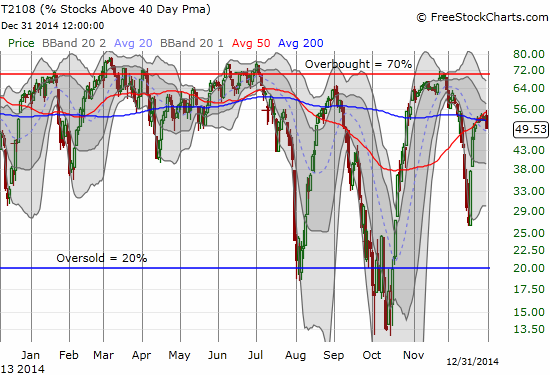 While the S&P 500 now looks fatigued, I highly doubt such a technical alarm set off the volatility surge. We will have to wait until trading begins for 2015 to understand what set off the volatility surge, if anything tangible. My assessment of fatigue on the S&P 500 comes from the multiple "small bodies" that preceded the steep decline. Taken together, these candlesticks look like another topping pattern. Missing from the picture is T2108 entering or at least retesting overbought status. Note also that the last set of all-time highs were VERY marginal. I will ring definitive alarm bells if the 50DMA on the S&P 500 breaks in short order. Before anyone gets too panicked, let's review the roller coaster that was 2014 (using SPY)…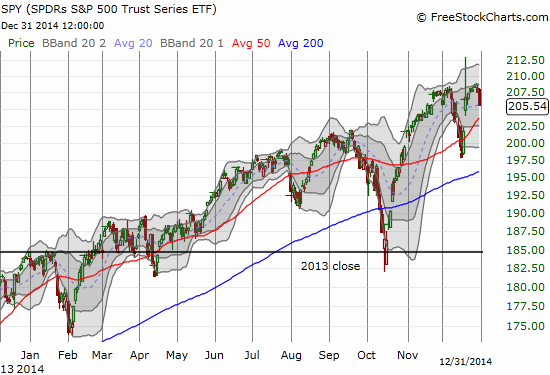 There are several NOTABLE mood swings embedded in this one-year lookback. I would not be surprised to discover that sellers of this market are fatigued. There were enough false alarms to trap a lot of bears. Only the most dogmatic, hardcore permabears are likely left to keep throwing cold water on this kind of market. Remember the fear of a negative January? In April it seemed the market was exhausted yet again by returning to flatline. Certainly we were "finished" when October erased all the year's gains in a fast sprint. It was a good time to buy the dips and thus a good time to follow T2108. As regular readers should know by now, I am NOT arguing for complacency. I am arguing for following T2108.
To emphasize the extreme nature of the volatility surge, I created a chart showing the distribution of VIX changes since 1990 where the S&P 500 changed between -.8% and -1.2% inclusive. There is nothing magical about this particular range as opposed to say, -.5% and -1.5%, but I found it illustrative of what kinds of VIX changes we should "expect" for a decline in the S&P 500 similar to the one that ended the year. Interpret the x-axis as follows: (5% to 10%] represents a range from 5% to 10% that excludes 5% and includes 10%.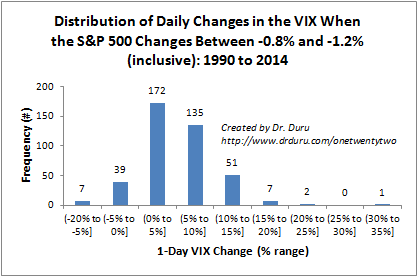 In other words, for "similar" S&P 500 losses, Wednesday's volatility surge ranks in the top three!!! This is all the reason I need to start fading volatility again. This is an incredible extreme.
Let's close out the last T2108 Update with some charts of interest. I have confirmation and non-confirmation of alarm bells. Unfortunately, more reasons for concern than not. Add this to the surprisingly bearish list of charts I generated in the last T2108 Update.
First, Caterpillar (CAT) looks as ugly as ever. I bought put options on the first day CAT sold off from its declining 20DMA. This was a classic short setup. As usual, CAT is providing an excellent hedge to my bullishness. Note that the bounce from the lows looked VERY promising given the hammer pattern that started it. That hammer was followed by a strong gap up that trapped any bears who chased CAT lower the previous day. I am next looking to see how CAT behaves at our around that thick black line which represents the close from 2011.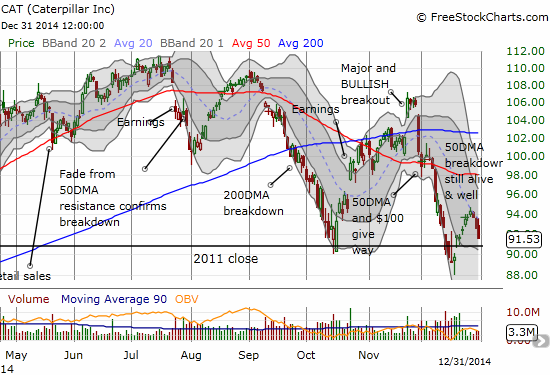 CAT's apparent confirming alarm bell is easily cancelled out by the Australian dollar's non-confirmation. As regular readers know, I check in on the Australian dollar versus the Japanese yen (AUD/JPY) in moments like these. There is absolutely no sign of stress in AUD/JPY at this level. I am short nonetheless as an extra hedge! (My bearishness on the Australian dollar makes such a move a lot easier for me).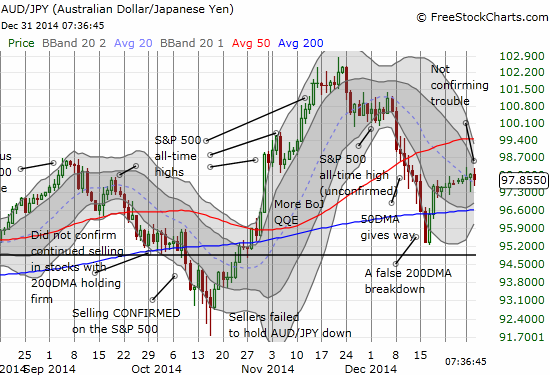 Note that a Bollinger Band (BB) squeeze is starting to develop around AUD/JPY. So, some kind of big move may indeed be around the corner. This development will be an important one to monitor.
To add to the surreal nature of the day, home builders surged despite the selling in the S&P 500. Toll Brothers (TOL) led the way with a very convincing 2.9% gain. Perhaps the company was back in the market buying back its shares?!?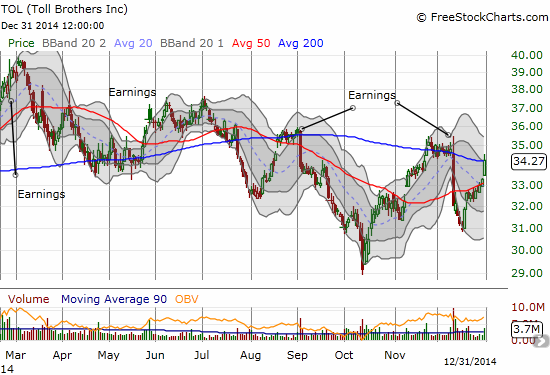 Alibaba (BABA) is giving me fresh cause for concern. BABA has broken its 50DMA and is challenging important support at the convergence of the previous downtrend and the close before it reported earnings. Needless to say, a fresh post-earnings low would be a VERY bearish development for the stock.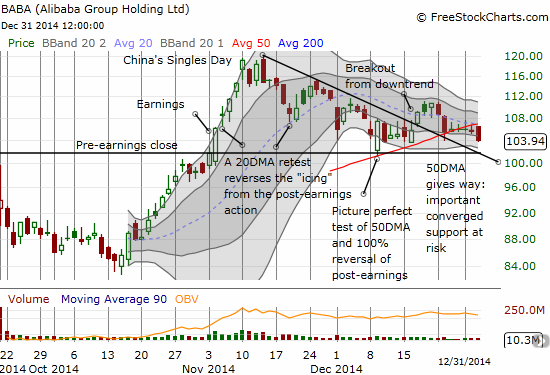 Apple (AAPL) has also added to my concerns. I was fortunate that the Apple Trading Model (ATM) predicted a down day. I was able to generate a 2.5x gain on the put options I bought to fade the initial small gain on the day. After the close, I realized that the gain could have been a clean triple as AAPL sliced right through its 50DMA. Like the S&P 500, AAPL now looks fatigued. AAPL looks worse because of the 50DMA breakdown coupled with the heavy and sudden selling of the "flash dip." That flash dip is looking more and more like a topping signal. I am next watching whether the low from the last 50DMA breakdown will hold. If not, AAPL will be in a firmly bearish position.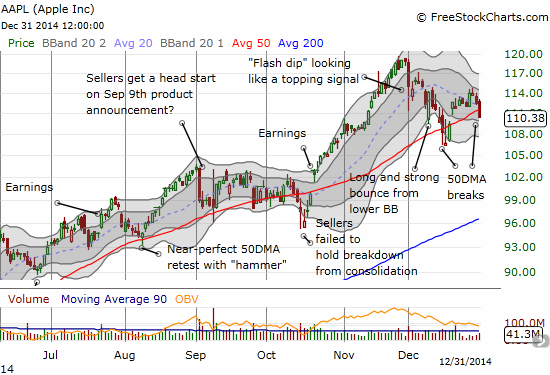 Finally, two opposing trade setups. 3d Systems (DDD) looks like it is finally bottoming. It still has a lot to prove given the persistent downtrend that remains in place. A clean breakout above its 50DMA will provide important confirmation of a bottoming process. Vmware (VMW) generated a strong showing off its December low, but that run-up has come to a definitive end at 50DMA resistance. I am not shorting the stock here because I am a fan of the company. I am just waiting for my next potential entry point for a bullish swing trade.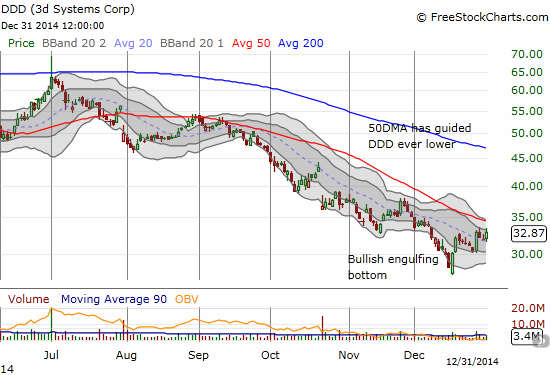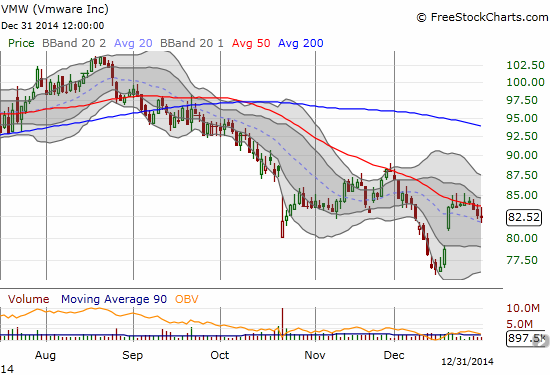 Daily T2108 vs the S&P 500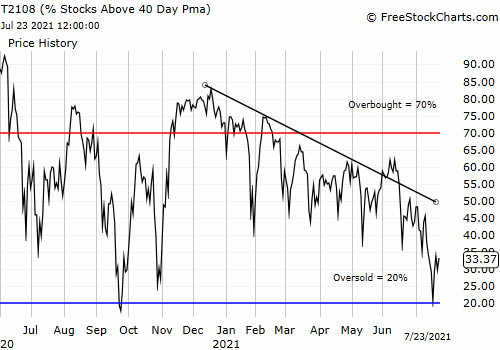 Black line: T2108 (measured on the right); Green line: S&P 500 (for comparative purposes)
Red line: T2108 Overbought (70%); Blue line: T2108 Oversold (20%)
Weekly T2108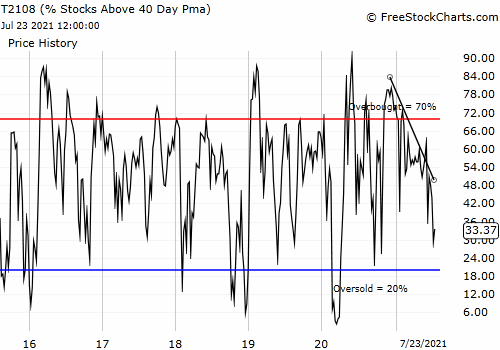 *All charts created using freestockcharts.com unless otherwise stated
Related links:
The T2108 Resource Page
Expanded daily chart of T2108 versus the S&P 500
Expanded weekly chart of T2108
Be careful out there!
Full disclosure: long DDD call options, long SVXY, long UVXY put options, long CAT put options, long BABA, short AUD/JPY