(T2108 measures the percentage of stocks trading above their respective 40-day moving averages [DMAs]. It helps to identify extremes in market sentiment that are highly likely to reverse. To learn more about it, see my T2108 Resource Page. You can follow real-time T2108 commentary on twitter using the #T2108 hashtag. T2108-related trades and other trades are posted on twitter using the #120trade hashtag)
T2108 Status: 30.0% (ends previous oversold period at 3 days)
VIX Status: 15.2
General (Short-term) Trading Call: Hold
Reference Charts (click for view of last 6 months from Stockcharts.com):
S&P 500 or SPY
SDS (ProShares UltraShort S&P500)
U.S. Dollar Index (volatility index)
VIX (volatility index)
VXX (iPath S&P 500 VIX Short-Term Futures ETN)
EWG (iShares MSCI Germany Index Fund)
CAT (Caterpillar)
Commentary
Wow. Now THAT was an oversold bounce. T2108 jumped 10 percentage points to 30.0%, putting a dramatic end to the last oversold period. The S&P 500 jumped 2.0% for a powermove that completed a bounce that started on Friday. The index made a major statement by even powering right through its 200DMA.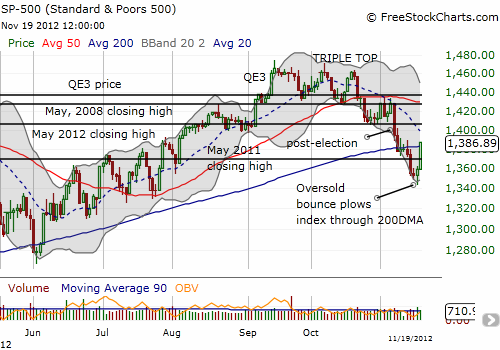 I sold all my SSO calls soon after the open since I expected the 200DMA to hold as resistance. However, as promised, I held onto my SSO shares. While my strategy is based on waiting out the Fiscal Cliff yo-yo, it has now occurred to me that this tiered approach helps solve a problem I have had under-utilizing post-oversold rallies. Selling the calls allows me to lock in profits and to provide some cushion for taking the downside risk with the SSO shares. With the S&P 500 closing above the 200DMA, I have to consider an imminent retest of the (downward sloping) 50DMA. For conservative traders who were waiting for a spike in the VIX, the choice buying opportunity has passed. For conservative traders waiting on T2108 to exit oversold conditions before buying, I advise waiting a little bit more to confirm that the 200DMA can hold.
I am also holding onto my QQQ shares for now. Today's leap seems to confirm the bottoming pattern I noted on Friday. Apple (AAPL) led the way bigtime for technology stocks. I ran out of time to write a post on the stock to quantify just how oversold it was. AAPL was a major rubber band waiting to snap back, but I certainly did not envision a SEVEN PERCENT one-day jump! (I sold a call spread a tad bit too early!)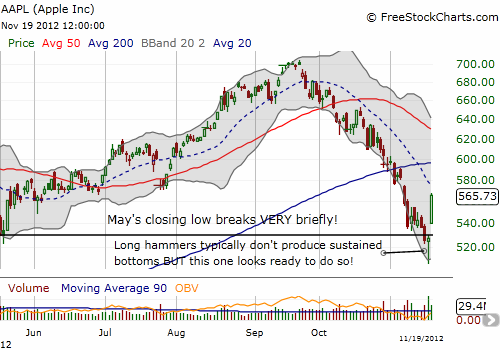 AAPL last bounced this vigorously in response to April earnings with a 8.9% one-day surge. Just like today, AAPL ran right into a declining 20DMA. The downtrend that led to this bounce lasted much longer and was much steeper than April's decline. I will be watching AAPL even more closely now. (Also note that before this year, the last time AAPL performed this well was a 7.7% jump on May 10, 2010. Before that? The 2008 panic produced five days ranging from 8.0 to 12.6%.)
Finally, I am noting that Friday's plunge in the VIX may have signaled today's rally. Just as a big plunge in the VIX on August 2nd, seemed to signal a strong upward reaction to the monthly employment numbers reported the next day. Yes – I will soon be studying the numbers to discern whether a tradeable pattern has emerged here.
Daily T2108 vs the S&P 500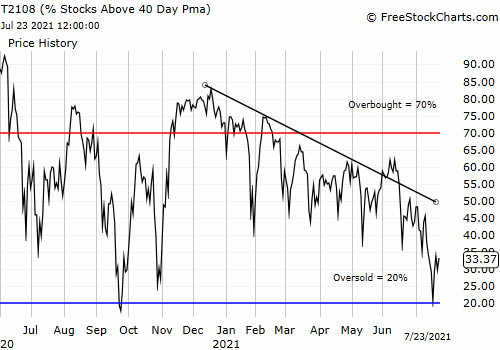 Black line: T2108 (measured on the right); Green line: S&P 500 (for comparative purposes)

Weekly T2108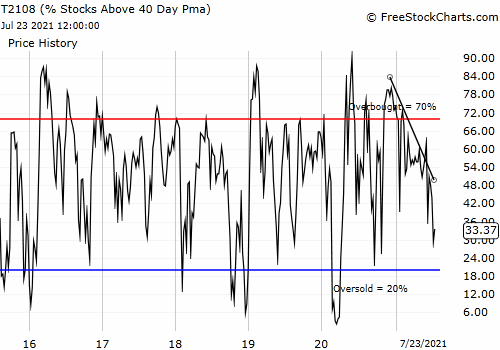 *All charts created using freestockcharts.com unless otherwise stated
Related links:
The T2108 Resource Page
Expanded daily chart of T2108 versus the S&P 500
Expanded weekly chart of T2108
Be careful out there!
Full disclosure: long SSO calls and shares, long VXX shares and puts, long QQQ, long AAPL shares and put spread