Bollinger Bands (BBs) are a powerful trading tool. They define an expected range of volatility in a stock based on recent price action. When that volatility contracts, the Bollinger Bands squeeze into a narrow channel. The resolution of that squeeze – to the upside or downside – can create a powerful continuation of or change in trend. General Motors (GM) experienced an upside resolution to the squeeze of its Bollinger Bands ahead of big news about its new electric ecosystem BrightDrop. Presumably, some traders got the drop on GM's announcement.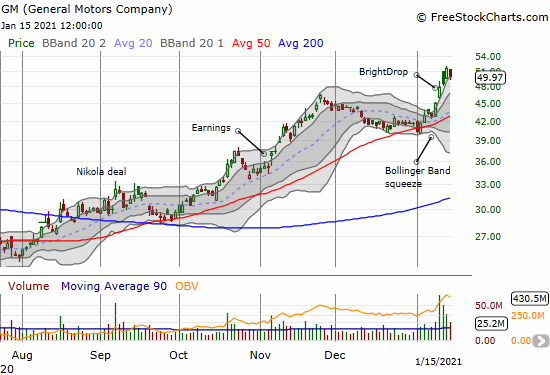 A slow downdrift in price in December reduced volatility for GM stock. The above chart shows where the Bollinger Bands narrowed. A 4.5% gain accompanied the upward resolution from the BB squeeze and triggered a buy signal: the Bollinger Bands drop before the BrightDrop news. The following day, GM soared another 6.2%. As a result, the combination created a very bullish confirmation of the on-going uptrend from the breakout above last summer's resistance at the 200-day moving average (DMA).
BrightDrop
From GM's press release:
"General Motors announced today a new business, BrightDrop, which will offer an ecosystem of electric first-to-last-mile products, software and services to empower delivery and logistics companies to move goods more efficiently. These BrightDrop solutions are designed to help businesses lower costs, maximize productivity, improve employee safety and freight security, and support overall sustainability efforts."
This news is big for investors, customers, and the environment. GM promises to develop and deliver an entire suite of products and services to transform the shipment of goods in a cost-effective and more environmentally sound way. GM solidified its place in the current excitement over investing in electric vehicles.
Federal Express (FDX) is a key beneficiary. I did not appreciate Federal Express's participation until I read the press release.
"BrightDrop is the result of extensive research and listening to challenges faced by delivery customers and then leveraging GM expertise to develop real-life solutions. An EP1 pilot program has already been completed in partnership with FedEx Express. During the pilot, FedEx Express couriers were able to effectively and safely handle 25 percent more packages per day with the EP1s. FedEx Express couriers shared feedback that the EP1s were easy to maneuver and reduced physical strain…

FedEx Express is also slated to be the first customer of the EV600, receiving their vehicles later this year.
Perhaps the BrightDrop news helped FDX finally break its on-going post-earnings downtrend. FDX gained 1.5% on the day and continued slightly higher for two more days.
The Trade
Last year, I used a Bollinger Band squeeze to describe a trade setup for Tesla (TSLA). In this case for GM, I looked backward to demonstrate the profit potential of a Bollinger Band squeeze. These kinds of technical signals can also flag imminent news. I was already long a covered call position in GM ahead of the BB squeeze. My position was called away in last Friday's expiration. As a result, I am looking for a new entry point. The trading above the upper Bollinger Band makes the stock extended, even with Friday's 3.0% pullback. Some amount of reversal of the initial BrightDrop excitement should create the next buying opportunity.
FDX also provides a potential BrightDrop trade. Presumably, the company's participation will enhance its cost structure and improve profitability. Once FDX manages to close above its downtrending 20DMA, the stock becomes a buy. This kind of a push above a downtrend confirms buying interest in a stock. Resistance at the downtrending 50DMA will present the next buy/sell challenge.
Be careful out there!
Full disclosure: no positions