Insider Trading
The stock of Camping World Holdings (CWH) has rallied an astounding 438% off its March all-time low. Despite this 2-month comeback, the stock price still attracted the attention of Chairman & CEO Marcus Lemonis. Camping World's leader spent a little over $50,000 to buy 2,444 shares of CWH stock on May 21, 2020 according to a recent filing with the Securities and Exchange Commission (SEC). While Lemonis already owns over 400,000 shares, this purchase was still a potentially bullish signal for the stock. After all, the CEO could have chosen to spend/invest his money on something else or even chosen to liquidate some shares.
Camping World Holdings President Brent L. Moody DID chose to liquidate. On May 24th, Moody sold 5,860 shares for $19.99/share or a gross $117,141 according to an SEC filing. Moody still owns 272,468 shares, so this sale was relatively small. Moreover, Moody was effectively, and understandably, doing a little profit-taking on a fortuitous purchase of 10,000 shares of CWH stock on March 5th. He only paid $10.88 for each of those shares and almost doubled his money. I wish I had noticed THAT purchase!
Unusual Options Activity
This insider activity is interesting to me because I saw a trading note on Thursday flagging trades of 6,790 September $25 put options in CWH versus no open interest at the time. These put options closed the week with an open interest of 6,145. There are no other calls or puts with a larger open interest through the September expiration. The closest in open interest is the June $10 put option with an open interest of 4,975. The vast majority of these now near worthless put options were bought on March 12th. On that day, the puts closed at a price of $4.5 with the stock closing at $6.06. That trade seems to have an eerie parallel with the latest high volume action.
So the large volume in the September 25s struck me not as a rush to make a bearish bet on CWH, but instead a bet on a continued rally. Sellers can profit even if the stock ends up churning most of the next three months whereas call buyers could only profit from a continuation of upside momentum. I also think a big bearish bet is more likely to occur with puts whose strikes are below the price of the stock. Those trades take advantage of leverage.
I decided to join the sellers and shorted a single CWH September $25 put option for $6.50. This trade is the equivalent of buying 100 shares of CWH at $18.50, a 12.7% discount to Friday's closing price. My gains through September are capped at the $6.50 premium I collected. With the stock hitting an intraday high of $23.73 the same day I sold the put, I am relatively confident that CWH can trade over $25 in the next 3 1/2 months and even expire worthless in September.
The Stock Chart
I last wrote about Camping World Holdings in 2018. During that time I expressed skepticism over Jim Cramer's bullishness about the company in the wake of an interview he did with the CEO in June, 2018. The stock was trading around $24 at the time and got as high as $27 before it resumed its steep sell-off from the December, 2017 all-time high around $47. Now, the stock has pulled off a breakout. The weekly chart below shows the stock not only recovered from the March crash, but also the stock is back in line with the uptrend from last year's all-time low (at the time). Just as the weakness starting from 2017's top was quite telling, this recent strength apears quite telling.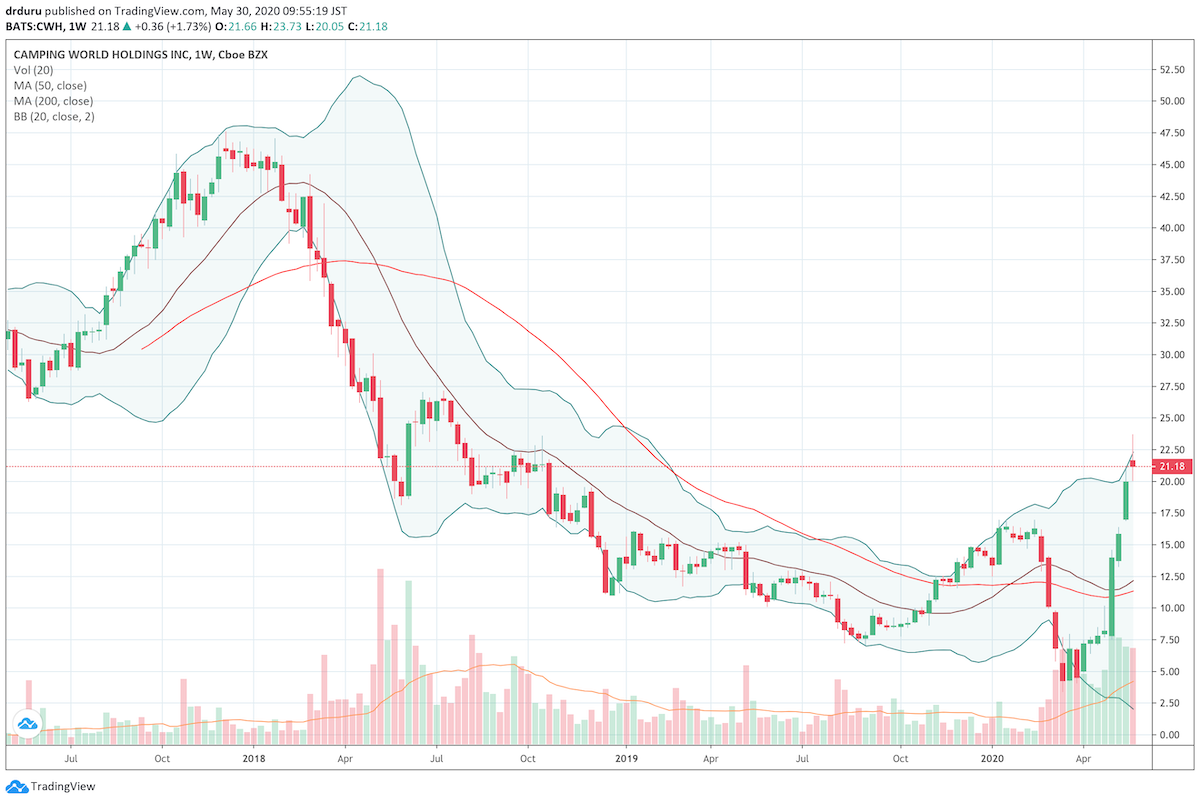 Be careful out there!
Full disclosure: short CWH put