A Startling V-Shaped Recovery
Meritage Homes (MTH) has become a poster child for the near V-shaped recovery for housing-related stocks. MTH achieved a startling feat on the heels of a 3.5% gain: at its highs of the day, Meritage Homes reached its post-earnings stock price on January 30th which in turn was close to a 14-year high. Almost other publicly traded home builders that I follow is even close to pulling off such a complete V-shaped recovery. At current price levels, MTH is acting like the coronavirus pandemic never happened.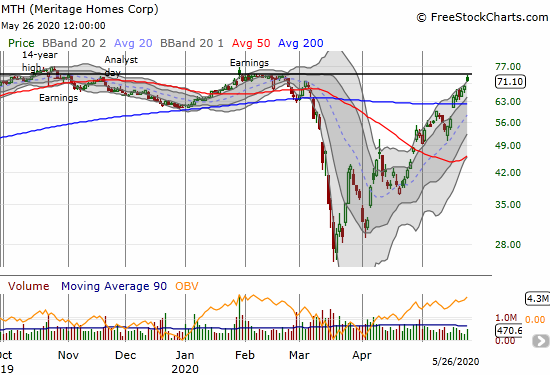 When Meritage Homes last reported earnings on April 28th, management sounded more confident in the middle of a pandemic than it did at the height of the market in prior months. After MTH reached a 14-year high in October, 2019, the stock went on a 2 1/2 month slide that sliced right through an earnings report and an Analyst Day. After Goldman Sachs (GS) issued a sell rating in early December, I finally read through the Analyst Day proceedings. I discovered that management delivered a tepid growth story. The environment for growth is much worse for MTH at this juncture than at the end of 2019, and yet the stock is trading ABOVE those early December levels.
The following quote from the April 28th earnings conference call speaks volumes about the relative confidence of management in the middle of a pandemic (from Seeking Alpha transcripts):
"We're selling more spec homes before completion and have been able to resell homes that canceled typically without any additional concessions…

I think our spec strategy is going to be the defining elements of our overall strategy. And it's going to be what allows us to gain market share in this downturn because many builders don't do it. And we believe very strongly that buyers in this environment and the environment going forward don't want to wait for a home…

it's not 2008 where we're just throwing the pots and pans off the ship to stay afloat. This is a different situation."
Management spoke confidently about (relative) demand and the company's ability to compete.
MTH was one of the stocks I got assigned thanks to selling puts during the market crash. I held the shares and sold a call against the position as a part of a strategy for protecting gains from surviving the market crash. However, even my most optimistic scenario did not have MTH reaching current levels so rapidly! I have to believe the market is way ahead of itself, but this is surely a market full of surprises.
New Home Sales
A "surprise" from April new home sales provided the latest catalyst for the shares of home builders. Meritage Homes was one of the biggest beneficiaries.
"Consensus" expectations were a very pessimistic 490K in sales of new single-family homes. After a sharp revision downward of March sales to 619K (from 741K), the 623K in April sales went from plunge territory to an apparent stabilization. This stabilization looks quite tenuous, so it will take at least another month or two of data to confirm some kind of new normal.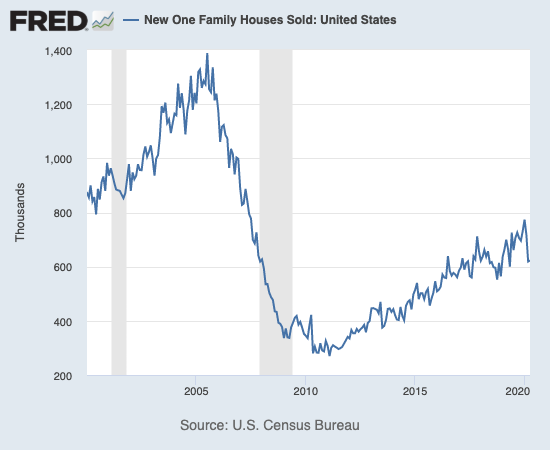 The most important take-away is that new home sales somehow managed to retain an uptrend from the 2011/2012 trough through the coronavirus pandemic. If the stabilization holds, other home builder stocks should quickly join MTH in achieving a complete reversal and comeback from the market crash in March and the accompanying housing downturn. Does this mean the housing downturn on the ground is already coming to an end, or has the stock market just finished pricing in the recovery from the downturn some many months ahead? Time should soon tell…
Be careful out there!
Full disclosure: Long MTH shares and short a covered call