Meritage Homes (MTH) reported earnings two days before October 25th when iShares US Home Construction (ITB) first challenged its climactic January, 2018 high. At the time, MTH was in the middle of an impressive post-earnings rebound. At its intraday, post-earnings low, MTH perfectly tested support at its 50-day moving average (DMA). However, the moment of truth for the stocks of home builders soon proved too much for MTH. The next day, MTH made a post-earnings closing low. In another week, MTH closed below its 50DMA. Meritage's Analyst Day brought an abrupt end to a brief rebound. MTH has sold off nearly non-stop since then. A Goldman Sachs sell rating with a $60 price target sealed the deal on MTH's on-going slide.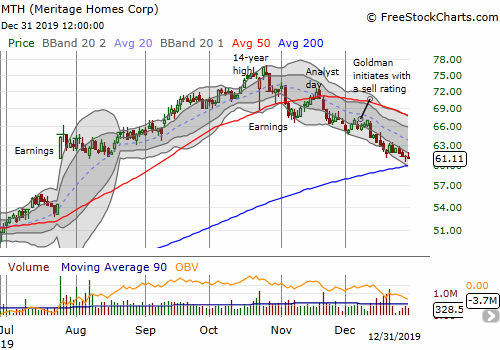 After reviewing the presentation for the Analyst Day, I concluded that investors (and analysts) are likely marking down Meritage Homes for a slower growth trajectory ahead. The company waited until its last content slide to warn analysts about what it called a "temporary decline in growth trajectory" as the company scrambles to replenish its inventory of land for building out new communities.
Meritage understandably ramped down its spending during late 2018's housing slowdown. The company took down 2018 Q3 and Q4 land spending to its lowest levels since at least 2016. Over the next two quarters, Meritage turned around and increased spending to its highest levels since at least 2016. The end result was likely higher spending per square foot and now a lag in its ability to meet demand from the increasingly attractive entry-level and lower-priced segments of the housing market. Meritage Homes is making a significant commitment to the entry-level market with its newest investments: "75-85% of the new lots we have put under contract quarterly over the last couple of years are in communities targeted for entry-level homes."
Meritage's growth slowdown will be further magnified by the decline in average selling prices (ASPs) due to the shift in housing mix to the lower-end of the price scale. Meritage expects higher absorptions from this market, but apparently not enough to maintain revenue growth levels. The following two charts from the presentation show the steady shift in Meritage's product and order mix. (MU = move-up, 2MU = second move-up, AA = active adult).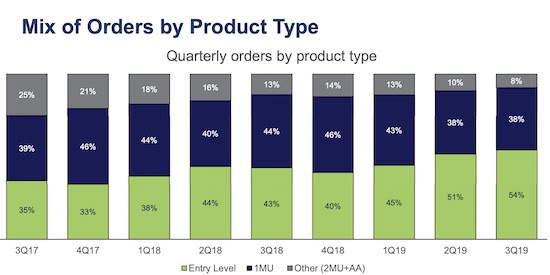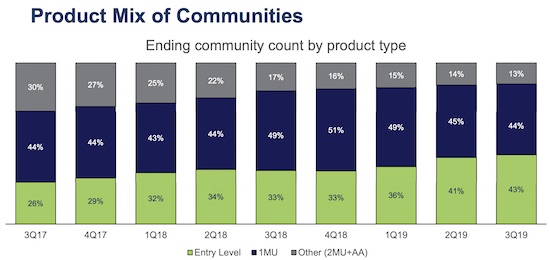 Meritage Homes provided a dramatic example of the resulting decline in ASPs from its Texas region. Meritage's best-selling home in Texas in 2017 was a 3-bedroom, 2-bath, 2 flex, 2295 square foot home priced at an ASP of $342,194. Just two years later, Meritage's best-selling home in Texas became a 4-bedroom, 2-bath, 0 flex, 2006 square foot home priced at an ASP of $285,828. Meritage calls this reduction in size and price "value engineering" as a part of its Live.Now (LN) program. LN was 34% of its communities in 2018 and 43% in 2019. Overall, ASPs have steadily declined from $424K in Q4 2017 to $380K in Q3 2019.
The shift in consumer preferences and budget to lower-priced homes has also forced MTH to get creative about preserving profits and finding ways to boost margins. The company is reducing the complexity of its build-to-order program, what Meritage calls "the most popular designs at the highest value for entry-level buyers." Meritage eliminated "a la carte" design options. I am sure the company promoted all this complexity as a competitive advantage in years past. Build-to-order is also a great method for avoiding commitment to inventory and homes ahead of demand.
Now with demand racing ahead, MTH also has to get homes into customers' hands faster. The company has dramatically moved to building spec homes, and away from build-to-order like many other builders who are scrambling to meet demand from the lower-priced tiers. MTH has sharply shifted from 7.8 spec homes per community in Q3 2017 to 11.2 in Q3 2019. MTH also reduced its cycle time from 177 days in 2017 to 147 days in 2019.
MTH also protected profit margins by reducing its exposure to goods imported from China that were recently slapped with punitive tariffs.
MTH told analysts it nudged gross profit margins in its LN program from 16.7% in Q1 2019 to 19.8% in Q3. The company provided a very selective window on these margins. Here are the home closing margins from the Q3s since 2013 excluding special charges: 2013 = 22.8%, 2014 = 20.4%, 2015 = 19.0%, 2016 = 17.8%, 2017 = 18.3%, 2018 = 18.4%, 2019 = 19.8%. In other words, MTH is trying to get margins back to levels from the early years of the housing recovery post financial crisis. In its Q3 2019 earnings report, Meritage guided home closing margin percentage to the mid to high 18s for the year. Analysts will no doubt want to get strong margin guidance for 2020 with ASPs suffering an on-going decline.
Valuation
Like most builders, Meritage sports a cheap valuation. According to Yahoo Finance, MTH has a trailing P/E of 10.8, forward P/E of 9.4, price/sales of 0.7, and a price/book of 1.3. Builders are typically considered rock-bottom cheap when P/B hits 1.0. With 2019 guidance of $5.50 to $5.70 per diluted share, MTH has an expected 2019 P/E of 10.7 to 11.1 based on 2019's closing price of $61.11.
The Trade
While MTH is trapped in a downtrend, the stock is a "no touch." At the current pace of decline, I expect MTH to challenge support at its 200DMA within another week. I am pessimistic about support holding and can see the stock eventually filling its entire gap up from July earnings. At THAT point, I am definitely a buyer as MTH would be selling for a nice discount during what is supposed to be a seasonally strong period for home builder stocks. If MTH survives its rendezvous with its 200DMA, I will also buy but with a stop-loss below the 200DMA. A successful test of 200DMA support means MTH tags (or breaks through) its 200DMA and then achieves two positive closes above its 200DMA.
For comprehensive coverage of a month of housing market data and action, see my Housing Market Review.
Be careful out there!
Full disclosure: no positions