I believe there is an old Wall Street adage that describes the inevitability of a stock hitting $100 once it gets "close enough" to that price level. One hundred is a nice round number, and it looks like a major (psychological) milestone. So when both Nike (NKE) and Carmax (KMX) suffered post-earnings pullbacks from around $100 all-time highs, I got interested from a technical point of view. Of course, when the stock market is trending higher and hitting all-time highs every week, individual stocks will inevitably hit all sorts of magic numbers.
Still, I remember Starbucks (SBUX) topping out right under $100 after a post-earnings surge in July. So at least for SBUX, the $100 price point became a major pivot point.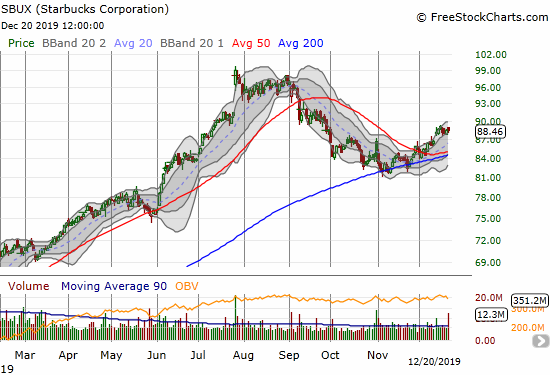 The S&P 500 (SPY) was hitting all time highs at the time SBUX soared toward $100, so it was easy at the time to believe that the momentum would continue for SBUX. The first warning came the very next day when SBUX gapped down. The second warning was a post-earnings closing low in another two days. The final warning was a September breakdown below support at the 50-day moving average (DMA). These warnings that $100 marked a final target for traders and investors provide a potential template for trading around Nike (NKE) and Carmax (KMX).
Nike (NKE)
Nike (NKE) lost 1.2% after reporting earnings the prior evening. While I have been (short-term) bullish on NKE since mid-November, I will flip bearish if NKE closes at a fresh post-earnings low. NKE stays bullish on a close above $101.50, the post-earnings intraday high. On the bullish side, I prefer to trade NKE with calendar call spreads combined with a longer-dated call spread.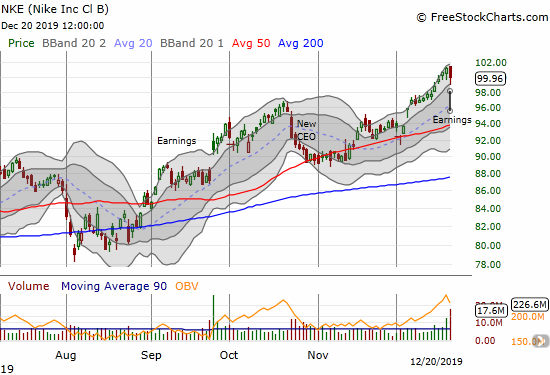 Carmax (KMX)
Carmax (KMX) is in a clear bearish position. The stock lost 6.2% on a post-earnings gap down and a 2-month low. The loss left behind a November/December double-top. The stock is over-stretched to the downside with the close below its lower Bollinger Band (BB), so I would wait for some kind of rebound before shorting and/or buying puts. The stop-loss is at a close above the 50DMA. It will take an invalidation of the double-top to return KMX to a bullish position. I also could consider going long after a test of 200DMA support.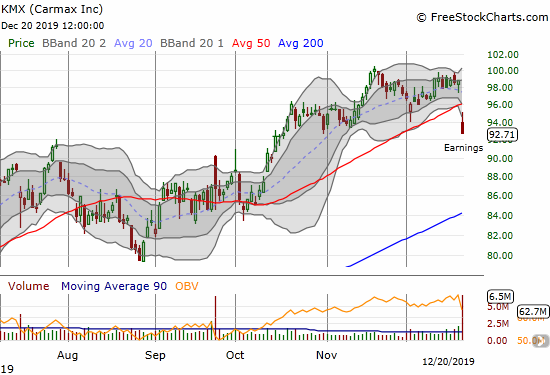 Be careful out there!
Full disclosure: long SBUX call options